Bibliophile | Martin Holmen brings queerness to the Noir genre with 'Slugger'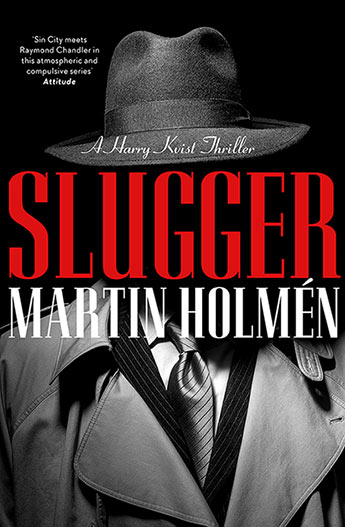 Slugger
by Martin Holmen
Echo Publishing
Martin Holmen teaches history in Stockholm and this is the third Harry Kvist book in his Stockholm Trilogy, following Clinch and Down For The Count. It is 1932 and the mafia is struggling to maintain a hold while Stockholm is in the midst of the depression. German refuges are also flooding into the city and National socialists and Communists are protesting in the streets in the run-up to the Berlin Olympics.
Harry Kvist is the determined, tough and silent 'slugger'- a classic macho antihero who is unapologetically bisexual. Holmen is quoted as saying that he wanted to give Kvist more layers and play with notions of masculinity. When Kvist finds his friend and former lover Reverend Gabrielsson brutally murdered at his church, he wants revenge.
In 1932, homosexuality was banned by law and according to Holmen, "When morality and legislation equated and large groups of people are criminalized, state-sanctioned stigma relegates these groups to a lawless vacuum. That's highly counterproductive for society but provides great fodder for a crime writer."

The heat is stifling; with the sun refusing to go down at night and the tough guys sweating profusely in their suits and hats. Former boxer Kvist has kept away from the competing mafia families but, desperate to go to America and find his daughter, he finds himself doing one last job. "Sleepless nights drive people to madness, make them lose all rhyme and reason."
Kvist carries the scars of violence – scars criss-cross his knuckles "like the runes of our ancestors, etched into stone, they tell the history of violence and wild escapades". But Kvist has a compassionate side as he cares for his landlord and trains an aspiring young boxer on a regular basis.
Holmen's thrillers have been described as "gritty, historical queer noir fiction with a unique Swedish flavor". This one certainly gathers speed as Kvist finds himself in the middle of a turf war between rival mafia gangs, and also stumbling upon a Nazi terrorist plot that has the blessing of corrupt police.
Holmen spends more time explaining where Kvist is coming from than the plot development, and it is difficult not to be cheering for this incredibly violent individual whose brain is not equipped for handling complex situations and doesn't have head space for handling more than one thought at a time.
Lezly Herbert
---