Bibliophile: Not My Father's Son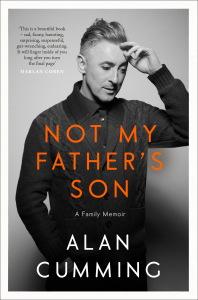 Actor extraordinaire Alan Cumming (probably best known for his role as Eli Gold in 'The Good Wife' and The Nigthtcrawler in 'X-Men X2') grew up in a beautiful part of Scotland, but all he wanted to do was get away … away from his father's fits of rage. "Every second was filled with the possibility that in an instant my father's mind would plunge into irrationality, rage and ultimately violence." Silence and denial surrounded him, but eventually "boxes full of denial and years of unresolved pain and hurt" threatened to explode.
This is one of the most fascinating and moving autobiographies that I have read. At the same time as a crew from the television program 'Who Do You Think You Are' began conducting historical digs into his family's dystopian past, Alan received information that he might not be related to his monstrous father. Alan says, "Everything that I had known as sure and true had been taken away, shaken up and then recalibrated back into my life."
As the television program revealed mysteries from his maternal grandfather's past, Alan found parallels with his life. The one hour program was actually filmed over a number of months, which was just as well as the surprises continually sideswiped him with the similarities to his story. He writes about his struggle to realign himself and to clear a path through the wreckage his father and grandfather had left behind.
His work continually draws his back to the present, and his humanity and compassion allow him to heal. Telling the world a much darker and deeper story than that of a "fabulous celebrity life" has powerful messages about "the frailty of life, the importance of family and the power of love."
Alan also reminds us that the scariest thing about abuse of any shape or form is not the abuse itself, but that if it continues long enough, it can begin to feel commonplace and eventually acceptable – but it is never commonplace and never acceptable.
Lezly Herbert