Billie Piper is in Perth and Ready to Meet Her Fans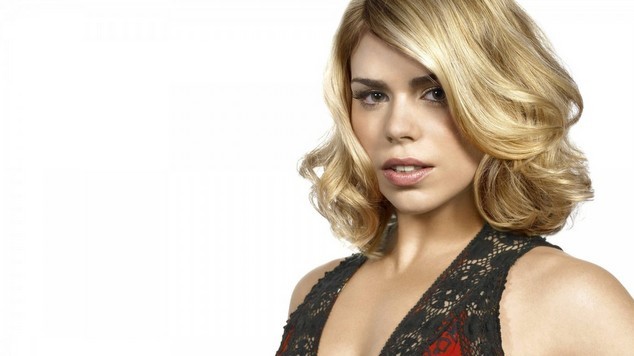 Billie Piper is in town for Oz Comic-con, a gigantic two day long celebration of film, television. comics and pop culture.
Piper first gained our attention with her music career in the late '90s. As a 15 year old she scored a record contract and delivered a succession of hit pop tunes.
By the time her second album came out in 2000 Piper was over the music industry and decided to focus on an acting career.
She quickly found success taking on the role of Rose Tyler in the re-booted series 'Doctor Who' and went on to star in the provocative comedy/drama 'Secret Diary of a Call Girl'. More recently she's just finished filming the second series of horror show 'Penny Dreadful' and has delivered an acclaimed performance in the West End as the star of the play 'Great Britain'.
A graduate of the famed Sylvia Young Theatre School, Piper always aspired for a career as a performer and her first time on screen came way before her pop music career; Billie Piper was in 'Evita'.
"I was an extra for a couple of days in 'Evita' as a weird child actor. I loved it, because I loved acting and I got to work with Madonna, who was my hero, so I loved everything about it." Piper said.
"I got to wear fake hair for the first time and I loved that, and we got to wear these beautiful dresses, so I was in my element."
Despite getting her first screen break in the motion picture, Piper confesses that she's never seen the film.
"I've never actually seen it! My friends have seen it and told me that you can spot me." Piper said.
When Piper's acting career really took off was when she took on the role of Rose Tyler, the first companion in the relaunch of the iconic TV series 'Doctor Who'.
The long running BBC sci-fi show had its debut in 1963 and ran until 1989, before returning as a TV movie in 1996, and finally as a TV series in 2005.
The new series just recently celebrated it's 10th anniversary of returning to television screens. Today it is one of the most popular shows on television and a massive generation spanning legion of fans support the show.
Piper said when she signed up for the show she didn't anticipated the fan interest.
"I had no idea of what I was getting into" Piper laughs, "none of us did, but we've had a really good time with this show and it has a life beyond just filming which is really rare."
"Usually with most projects you do it, and then it's done – occasionally someone will mention it, but this is the show where you go away and there's conventions and you endlessly reunite and you keep coming back and filming. It's the gift that never stops giving." Piper said.
One of Piper's many memorable episodes in the series was 'School Reunion' which saw actress Elisabeth Sladen return to the show as the Doctor's former companion Sarah Jane Smith. Sladen's character had left the show in 1976 – a gap of 29 years*.
Since Piper's character Rose Tyler bowed out of the show, trapped in an alternate universe, she's made three returns to the show. Given the longevity of the show, and it's record breaks for characters, we joke that we could still see Rose return for an episode in 2052.
"I think my days are done." Piper said. "But you know I said that a couple of years ago and then I came back again. The thing is they find narratives and reasons to bring everyone back again. So it's kind of out of your control."
Piper's most recent appearance in Doctor Who was for it's 50th anniversary special 'Day of the Doctor' which saw her return not as Rose Tyler – but as the personality of a doomsday weapon – that was taking on part of the personality of Rose Tyler.
Piper followed up her success on 'Doctor Who' by taking on the leading role in the comedy / drama series 'Secret Diary of a Call Girl'.
The show was based on the memoirs of a London call girl and drew comparisons to 'Sex and the City' for it's balance of comedy and drama – while overtly tackling sexual issues.
"It was a good old laugh," Piper said, "I was hysterical and…." Piper pauses, searching for the right word, "…frilly and fun and then it would also be sort of moving as well.
"I had a laugh on that show, and got to work with some amazing people, a lot of up and coming directors were on it and it's been great to see them go on and do amazing things."
When Piper took on the role she met the books' elusive author. At the time the identity of the author was a tightly kept secret. The tale had started off as an award winning blog before being published as a best selling book, all the while the real identity of the high class call girl was a mystery.
"That was really weird and really threatening," Piper recalled "Meeting someone that you can't talk about is really rare. You have story lines that you can't talk about, or auditions you can't talk about but meeting a real person who has a real story, and a life that is all incognito. It's like meeting a person that doesn't exist."
Once she signed on to the show Piper was of a select few people who knew the answer to one of Britian's best kept literary secrets – the true identity of Belle du Jour.
The show ran for four years, halfway through it's run the real identity of Belle du Jour was revealed to the world. In 2009, fearing that her identity was about to be revealed, Research Scientist Dr Brooke Magnanti outed herself as the author of the books.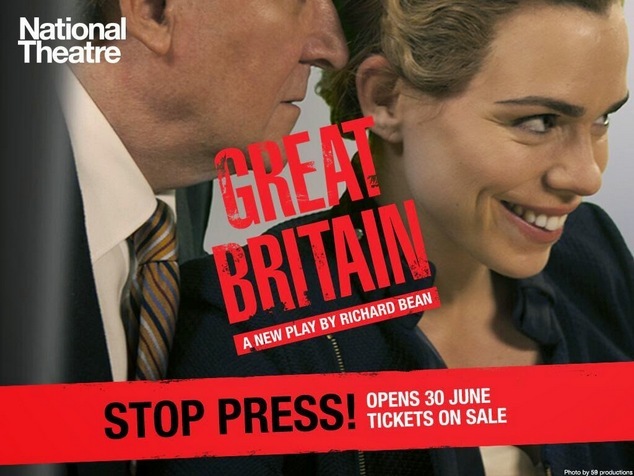 Last year Piper starred in the play 'Great Britain' at London's National Theatre. Written by Richard Bean, who wrote the smash it 'One Man, Two Governors'. The play was a satirical look at Britain's tabloid press.
Piper  played the titular character Paige Britain – an up and coming news editor. The massive show had a cast of nearly 30 performers.
"It had a big old cast, big production and huge sets." Piper said, "There were lots of integral parts and we were commenting on news rooms so it needed to have lots of energy and there needed to be lots of 'cock swingers' and 'loud mouths'." Piper said.
Piper shares that she has been enjoying doing more theatre and enjoys it's immediate rewards, something that television acting doesn't deliver.
"I have to say since I've been doing more theatre it slightly takes the edge off of filming. I suppose theatre is more fulfilling creatively, but more exhausting.
"Filming is the absolute opposite. You get quite frustrated with filming after you've done a play because everything moves so slowly. You do this same tiny moment over and over again, and you kind of long for a bit of pace and seeing a story line though rather than retelling a tiny little beat.
"But having said that you get to meet some great people and have a good laugh, so there are many virtues to filming." Piper said.
Piper's most recent work has been in the British / American horror show 'Penny Dreadful'.
In the show Piper plays Brona Croft an Irish immigrant living in London in the 19th century.
Piper stars alongside Josh Hartnett, Timothy Dalton and Eva Green.  The second season of the show is due to air later this year.
"I've just finished filming the second season." Piper confirms, but she's sworn to secrecy about what might happen in upcoming episodes, "It's such a mine field, I can't say anything! There's nothing I can reveal except that I come back and that's it, that's all I can say!"
In 2007 Piper married fellow actor Laurence Fox, best know for his role as Detective Sargent James Hathaway in the TV series Lewis. The couple have two children, six year old Winston, and Eugene who will be three this month. While we chat on the phone Piper stops to talk to her children who are playing in the background.
Piper has always been adamant that her music career is over, but she's not the only musician in the family. Her husband, who brought out an EP of music in 2013 has just signed a major label deal.
"It's weird that our lives are the opposite and are mirroring each other. He's so happy doing music and I'm so happy doing acting."
Piper declares that there is no chance we'll hear her taking part in her husband's recording sessions.
"God No!", Piper scoffs, "I'm done, but I'll be in audiences singing his words and singing along."
Piper said she was surprised to hear that her songs still get played in gay clubs in Australia, "Wow! Well I'm excited to meet people who have the musical memories as well!" Piper said.
Billie Piper is appearing at Oz Comic-Con at the Perth Convention and Exhibition Centre this weekend, April 10-11.