Bonsoir Bitches! It's Cougar Morrison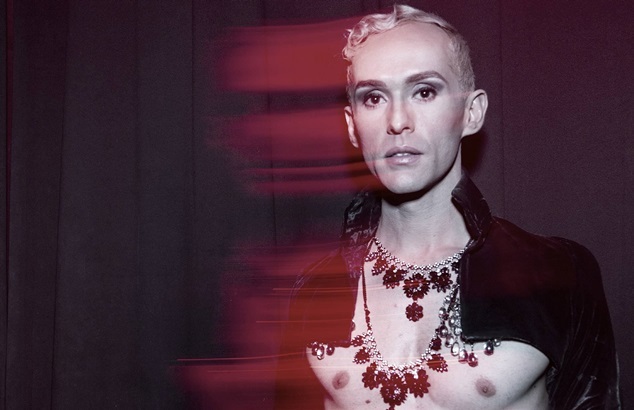 Cabaret darling Cougar Morrison is returning to the Perth stage with his all new show, Bonsoir Bitches. Recently, Cougar has been storming the local drag scene, bringing his cabaret talents to The Court and Connections – taking out the title of Pop Princess earlier this year. Now, Cougar will be mashing it all together Downstairs at the Maj this week as part of PrideFEST. We caught up with the man behind the corset, Clint Strindberg to find out what to expect from the show.
The first time I saw you, you were performing at Deville's Pad for Fringe World, where our review said you "captured the audience with tales of love, life and the perils of a gay man from New Orleans." What's your new show all about?
All new songs! It's horrendously hard work but it's really exciting to build a new repertoire and tell new stories. The big thing that I think that people who are familiar with Cougar's shows before is that they will remember him really beating himself up about being single and really lamenting on it, but he would do it in as sassy a way as possible. He would try and fill in the cracks so you don't see the pain underneath (laughs).  Clint and Cougar have both grown up a shit-ton since then. Still single – but it doesn't faze me anymore. I might not have someone to go out dancing with, but I still go out anyway!
You've started doing drag as Cougar, where as before it was more genderf*ck – has that influenced your new show at all?
There's going to be elements of that, because it's still the same name. I didn't change my name from Cougar when I started doing full drag so there WILL be a wig making an appearance. There will be a fantastic costume reveal… or several I think!
A wig under a wig?
Oh no no, that's way too hard. There's gotta be a microphone under there, I can't do it all! What drag has taught me is how to use my body more. If people have seen Cougar's show before I was really limited to standing behind a microphone or doing one armed choreography.
The thing that drag really beat out of me is that you can't do that, it's just boring for the audience to watch. They want you to just dance your butt off and really just work every single thing that you have.
My new show will be putting all that together; storytelling and dancing and singing and everything I've learned from drag as well.
You mentioned you will be performing some new songs – are they covers or can we expect some Cougar originals?
A bit of both! I might use the backing track of a song but I don't use the words from that song. I'll then put my twist of another song on top of that. I like that people are enjoying it and trying to recognise the track and then they go 'Oh my God, it's THAT song!'
Cougar has a lot of inspiration from old school, MGM musicals, Edith Piaf and Eartha Kitt – I often take lyrics from those songs. Not everyone might recognise them but they'll recognise the backing track.
That's an eclectic mix of inspirations!
Eartha's an absolute style icon for me. All of her interviews you see on YouTube where she's getting interviewed at home and someone asks her if she needed a man – as you know she was a long-standing single woman – she would say "NEED A MAN?" and just laugh to the sky! She's crazy but so powerful at the same time. She an inspiration, not so much from a music standpoint, but from a personal place.
Edith, well, because Edith and I both like to sing like a goat. I can't help it, it's just sort of how it comes out. There's also of course Marlina Deitrich for style and there's a bit of Annie Lennox in there as well. I didn't realise how much we had in common. The short hair, the strong cheekbones – the masculine face!
What is it about that old Hollywood style that attracts you so much?
It's glam, but it's not glam tackiness… there's something about the way they moved in old Hollywood, even the way that they use their hands that's very refined. It's not uppity. Their style is the basis for what Disney used to create his princesses.
If you watch, you'll see every time they go to move they'll inhale a breath and their hands are very soft and fluid. I really like that, and there weren't a lot of people using that as well.
Where did you get the name for the show, Bonsoir Bitches?
I've always said it! I always start my shows with "Bonsoir, Bitches!" It's French (which is great), it's crass (which is also great!), it's Cougar!
Cougar's a genderf*ck, but he's also a bit of a class f*ck as well. He puts on this air of saying he's from New Orleans, he's exotic, he's from the South… but if I'm honest it's because he watched a lot of Golden Girls growing up and Blanche Devereaux was his favourite. You can't beat Rue McClanahan!
He might have that aspiration to class and glamour and the Hollywood era… but he's from Midland.
Catch Cougar Morrison's Bonsoir Bitches, Downstairs at the Maj from Thursday 17th – Saturday 19th November. Tickets available from Ticketek.
Leigh Hill
Photo (supplied):- Claire Alexander