Brenna Harding: A new place to call home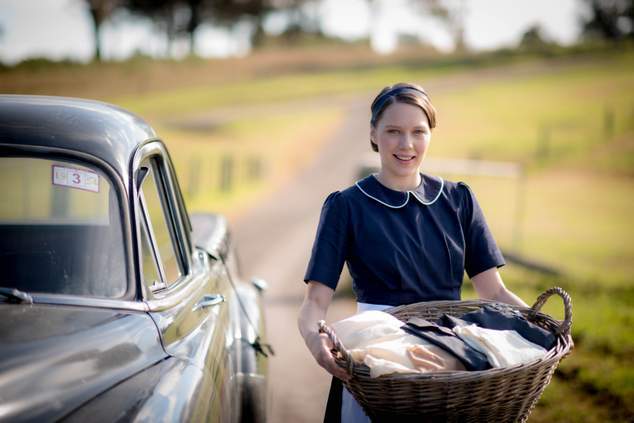 Last year the future of Australian TV show 'A Place to Call Home' looked uncertain, but now it's found a new home on Foxtel and filming for the third season is underway.
Joining the cast of the show set in the conservative 1950's is actress Brenna Harding. Best known for her starring role in the TV show 'Puberty Blues' Harding told OUTinPerth that she's happily moved from the '70's to the '50s.
"It's been interesting, I'm also going from 1970's teenage culture to being a maid at a very rich household in the 1950s. It's hard to believe that they are only twenty years apart, it seems like a very radical change." Harding said.
In the near future Harding assures us that she does get to do some projects where she gets to play a character in the present day.
"I've got some present day roles coming up and it's been weird going into costume and them fitting me out with modern day clothes." Harding laughs.
On 'A Place to Call Home' Harding plays a new character called Rose O'Connell.
"She comes along and comes to Ash Park to work as a maid, and she has a few different connections with other characters in the house." Harding said. "It seems like she's just come along to work at the house, but there's more to it."
Like many of the character on the popular series, it seems Rose O'Connell will also be harbouring a secret.
Alongside her acting career Harding has also been a vocal advocate for marriage equality. She made her first appearance on television when as a child she appeared in a segment on 'Play School' with her two Mums. At the time it was extremely controversial to feature a family with same sex parents.
One thing that Harding is passionate about is ensuring that the experiences of children raised in same sex families is clearly shown to politicians.
In recent weeks Katy Faust, a Christian American raised by a same sex couples has toured Australia arguing against marriage equality. Harding says that Faust does not speak for the majority of Australian children with same sex parents.
"In this debate, were really being talked about as hypotheticals, and what people like Katy Faust don't recognise when they're talking very vitriolically [sic] in a public forum is that there are thousands of children of same sex parents sitting at home hearing what other people have to say about their families in hypothetical sense, and they are incredibly homophobic and discriminatory." Harding said.
"They have to go to school tomorrow and there are also going to be repercussions of that in everyday life and it's going to affect how they see their own families."
To make her point Harding recently traveled to Canberra alongside Director Maya Newell and Producer Charlotte Mars for a screening of the documentary 'Gayby Baby', presented especially for politicians.
Harding said she hates the idea that a referendum may lead to that type of discussion being publicly funded by the government.
"I don't think that's fair on children sitting at home with families that have really love them."
'A Place to Come Home' returns to Foxtel's SOHO this month, tune in at 6:30pm on Sunday 13th September to see the Season 2 finale with a new ending, the new season starts on Sunday 27th September at 6:30pm.
Graeme Watson