Brent on Success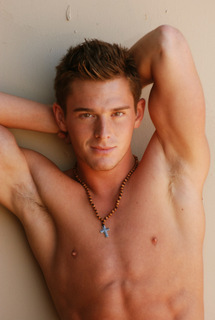 Sean Paul Lockhart is not a name you might instantly recognise, but his alter ego Brent Corrigan is one of the world's most successful adult film actors.
Lockhart's success is an intriguing story, his entry into the adult film world has been clouded in controversy. Several years after his first films were released there was concern that he may have been under eighteen when they were filmed. The distributor voluntarily pulled all of his early films from distribution. He's fought legal battles to continue using his stage name and take control of his own image and most intriguingly he's started to make a successful move from adult film to more mainstream independent films.
Sean Paul Lockhart spoke to OUTinPerth this month about his filmmaking career, his plans for the future and what a beginning in the adult film world taught him.
I saw from your Twitter account that you've just been to the huge music festival Coachella, how was it?
It was absolutely stellar! I'd never been to anything ever like it in my life and it was a wholly rewarding experience. It definitely had me reflecting about just how much music has made an impact on my life. You can actually read about my account of the festival and the bands I got to hear live on my new website. I even included all kinds of exclusive pictures! The interesting thing about Coachella was the amount of Aussies in attendance. Very popular with you guys down there!
I've read that you've been involved in a few musical endeavours, are we likely to see a CD from you in the future?
I've done some musical projects in the past – which is really fascinating to me because I've never viewed myself as a musically inclined person. The one project I did out of Chillerama, where I starred as a high school wrestler grappling with his sexuality while falling for the school rebel (who in turn bites me on the ass and we become werebears together) was a definite stretch for me.
When I was asked to audition I thought the producer and directors were nuts for wanting to make me the lead in a rock musical film that parodies Grease and I Was A Teenage Werewolf from 1952. I still cringe a little when I watch and hear my work in the project. Before it I never identified with myself as a singer! I wish I could have had more time to prepare – I wish I could have had more resources at my disposal because I know I probably could have brought more justice to the role with it. Even still, people seem to enjoy my raw realness in it. I've stayed in voice lessons and I'm quite proud to say I've seen a real improvement from where I was when I did Chillerama.
A CD? Right now I just want to get my book finished. I don't think the sounds I appreciate, the kind of sound I'd put on a CD, would strike a chord with popular audiences. I'm a sucker for the acoustic guitar, harmonica and even the banjo! Not the kind of thing you'd be hearing remixed at your favorite club.
You've just shot a new short film, the romantic comedy Welcome to New York, what was the shoot like?
I can say without a doubt it was one of my more favorite projects to shoot. It was such an invigorating, empowering feeling working on a set that comprised of a cast and crew all around my age. I think it reflects where the art of film making has come in the modern age. Young people really are the most connected with their audience and they have some of the freshest, most innovative ideas around. I just watched the unreleased trailer for the film today! I am so very proud to be a part of an ensemble cast that is as strong and diverse as Welcome to New York. I feel very fortunate to have had the chance to contribute something to such a project.
Shooting was intense. We did my scenes over two days in New York. It was very fast paced work and in instances like that an actor really has to be prepared to bring everything they can in a very short period of time. Knowing that I'm a bit anxious about how it all turned out but for now we'll just have to wait and see!
Of the film projects you've completed so far, which one are you the most proud of? 
I'm most proud of Judas Kiss, my drama feature that is out on DVD now.  We shot the film in Seattle, my home town. I truly do believe the writing on the project was hand over fist some of the best in the queer genre to come out of the last decade. The themes tackled are approached in a supremely unique way and I think in a genre where through lines have become repetitive and even boring it stands as a beacon of originality.
On a personal note, it was an acting project I had more than ample support in delivering my role. As a young and largely inexperienced actor I could not have asked for a better outcome. I believe whole-heartedly that my work in Judas Kiss secured my 2011 Qfest Rising Star Award – an accolade that very few up and coming out and proud actors have been given in recognition of their work as their career in film is taking off.
What have been the challenges in making a move from adult films to mainstream cinema?
I think the biggest challenge is how transitional my life is right now. This sort of thing doesn't happen overnight. People have to get used to the idea that I'm changing one career for another – and that even though I'm not going to be seen in the same light doing the kind of work I once was known for being pretty good at – I believe I'm just as good if not better at my new work.
Brent Corrigan still gets appearances and quite a bit of press but I haven't filmed any new scenes in more than four years! I still have a lot invested in the adult world but my heart is in mainstream. When I decided to make the move from adult to legit it was about finding more pride and substance in my work. I've always been a creative sort of person, and while I produced and directed all of the work I feature on my new Brent Corrigan website I came to a point in my company and working life where I realized I was never going to make big budget dramas or romantic comedies with porn actors.
I'm still proving myself as a viable, talented actor and I realize this sort of achievement takes time and lots of focus. I do truly believe I am on the right track and in another handful of years my background is going to be an old issue. Sure, I'm not going to book a gig working for Disney, but that's not my objective anyway. I love independent film and for now I'm perfectly content working in queer media. I'm not offending anyone with my colourful background here. Not much, anyway!
What kind of stories do you want to tell – whether as a writer, director or actor?
I want to tell stories of struggle to triumph. I think the best stories are the ones in which the hero finds it within himself to overcome anything put in front of him. I want to inspire people. I want movie goers to be able to relate and empathise with the stories I bring to life. Someday I'd like to tackle a gritty gay comedy but I think comedy is a horse of many colours. It can be difficult to choose the right one that appeals to as many people as possible. After all, we make films that are meant to be enjoyed by as many people as possible. Reaching people is a huge part of what this medium is about. True, in film, my ultimate goal is to become a director. For now I'm getting my bearings and familiarising myself with how making a film happens. When the time is right I look forward to being able to completely take the reins in my own hands but there's a right time and place for that.
You do quite a few personal appearances around the US, when are you coming to Australia?
I was at Mardi Gras for appearances in Sydney in 2008.  I've been looking forward to coming back for a time now, but I always hoped that when I did it would be for the Australian leg of my book tour. I can't divulge details right now but it's looking like some great events and appearances are in the works right now for sometime in late 2012! Keep an eye on my website for updates!
What did you learn from your time in the adult film business?
I learned that you've got to take control of your own destiny. If you're concerned about the way people see you don't let someone else dictate how your image is going to be packaged and presented to the world. We live in an age where social media and YouTube are creating stars of the motivated and – in some cases – even the talented.
I learned that you can't wait for someone to give you the world; you have to go out there and take it for yourself. The second you start relying on everyone else around you to do something for you is the second you stop moving forward at a rate of accomplishment only decided by YOU.
I never started as an adult model thinking it was going to be a career choice. The choice came to me inadvertently when I became cogniscient of the injustices that so many people suffer in entertainment – that rings true not just for the adult world. You want to get something done? Figure out how to do it for yourself. At first you might be a bit shaky, but if you keep at anything long enough you'll find value in it and so will others.
How is writing your memoirs going?
I scheduled several film projects to shoot in 2012 that pushed the development of the book to a later date. However, recently 2 or 3 have been indefinitely put on hold. In a way it was frustrating because despite an amicable split with some producing partners all of the work we'd accomplished together over a year and a half came to show very little (almost nothing) for any of it. Things become delayed or fizzle out all the time in Hollywood. You learn to accept it, determine how you can avoid making the same mistakes in the future, and you move on. The blessing for me in all of this is that I can move forward with what should've always been my most important project: the procurement of my memoirs. I'm very satisfied with what I've managed to put together so far but more than ever I am looking forward to progressing further with it now and not waiting for my schedule to clear again. But you know, if you're tired of waiting you can always get your daily dose of me at my new website!
Check out Sean-Paul's new website www.Sean-Paul-Lockhart.com and take a look at his adult themed website www.TheNewBrentCorrigan.com
Graeme Watson