The Christeene Machine Is Coming For You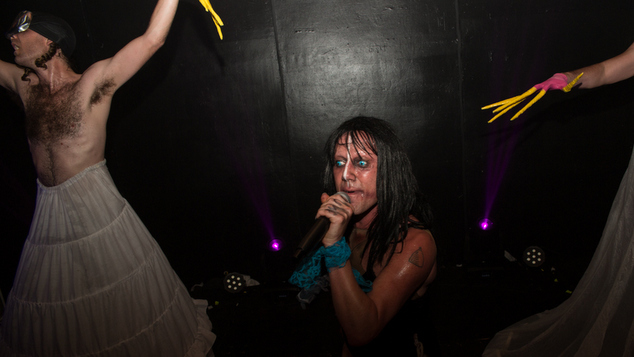 I thought I had prepared myself for last night's show.  If you know anything about Christeene, you know she's a dirty, nasty homunculus. An entity comprised from pure filth. Christeene has been dubbed a drag terrorist and had her act compared to Beyonce (on bath salts). You can prepare for that, right?
The music stopped and Christeene made her way onto the stage, hurled limply over the shoulder of a masked man, groaning loudly and clutching a bouquet of balloons. I shuffled closer to get a better gawking spot, but I kept a safe distance from the Christeene Machine.
She launched into her first track, rising from the floor. Her head was wrapped in a hessian sack, one shocking white eye peering out from underneath. Christeene oozes with the raw, foul energy I had come to expect from her videos and it comes in seemingly endless supply. Looking like a horror movie monster, she threw herself around the stage with such intensity that you couldn't look away.
Her intensity kept the audience on their toes. Having spat on one fellow up the front, every time it looked like Christeene was about to step off stage and get in to the crowd, people were visibly scurrying from her projected path, to make sure she didn't bring the filth their way. Throughout the performance, the balloons she had originally carried on stage were being tossed around like a hot potato, as if they were rigged to explode. She had the crowd running scared yet begging for more.
Between songs, Christeene seemed like a lost and confused little creature, calming the crowd after the raucous energy of her songs. The mood changed quickly as her quiet cooing evolved into loud, heated and angry ranting. Christeene's ability to mess with the mood of the room was disquieting, yet effective at retaining the shy, fearful gaze of the audience.
Christeene's energy is reminiscent of watching a horror film. Whether you're the kind of person who covers their eyes during the gory scenes or whether you live to be scared, Christeene evokes that edge-of-your-seat feeling of suspense and it is truly thrilling. Christeene goes in hard and it's a sight to behold, if you can handle it.
Catch Christeene on Friday 13 and Saturday 14 of February at Connections Nightclub. Tickets available from www.fringeworld.com.au
Leigh Hill