Christian religious leaders join forces to denounce anti-gay laws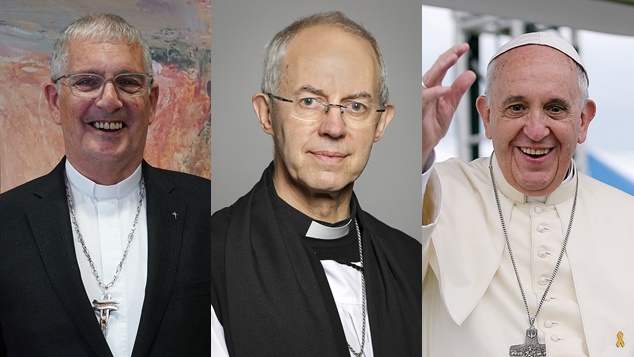 Three of the world's top Christian leaders have spoken out against laws that criminalise homosexuality.
Pope Francis, head of the Catholic Church, joined the Archbishop of Canterbury Justin Welby, and Ian Greenshields the Moderator of the General Assembly of the Church of Scotland in calling out churches that turn away gay people, and countries that impose laws targeting people over their sexuality.
The three leaders shared their thoughts during an unprecedented airborne media conference as they returned from a joint visit to South Sudan.
The trio were returning from an ecumenical pilgrimage to the country, where they combined their forces in hoping of nudging forward the country's peace process.
South Sudan is one of 67 countries that carries the death penalty for homosexuality, and LGBTIQA+ people face high levels of harassment and discrimination.
Speaking to reporters on the plane during their return trip Pope Francis said laws that punish people for being gay were unjust. He also said parents should never throw their gay children out of the house.
"To condemn someone like this is a sin," he said. "Criminalizing people with homosexual tendencies is an injustice."
"People with homosexual tendencies are children of God. God Loves them. God accompanies them," he said.
The Archbishop of Canterbury, who heads the Church of England, said LGBTIQA+ rights were definitely on his church's agenda. They recently changed their rules to allow blessings of same-sex marriages but do allow same-sex unions to be officiated by the church. The Church of Scotland allows same-sex marriages, but the Catholic Church does not.
"There is nowhere in my reading of the four Gospels where I see Jesus turning anyone away," Reverend Dr Ian Greenshields shields said. "There is nowhere in the four Gospels where I see anything other than Jesus expressing love to whomever he meets.
"And as Christians, that is the only expression that we can possibly give to any human being, in any circumstance."
It's the second time in recent weeks that Pope Francis has voiced support for gay people. The Catholic Church says that gay people should be treated with respect, but it still considers gay acts to be "intrinsically disordered."
"Being homosexual isn't a crime," Pope Francis said during an interview with Associated Press in January.
OIP Staff, image of Pope Francis by the Korean Culture and Information Service, Image of Ian Greenshields by the Scottish government, both published via a Creative Commons CC-SA-2.0 license. Image of Archbishop of Canterbury Justin Welby by Roger Harris published under a CC-SA-3.0 license.   
---

You can support our work by subscribing to our Patreon
or contributing to our GoFundMe campaign.