Controversial PrEP Posters Appear in Melbourne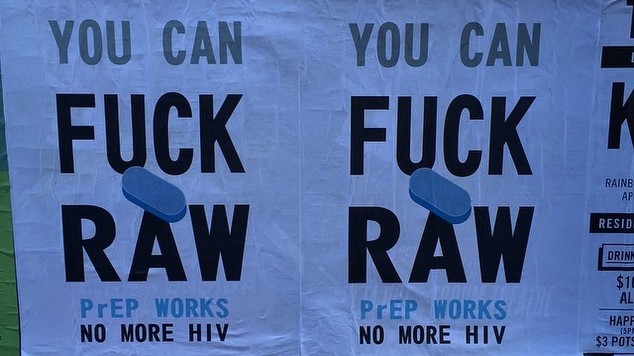 Bold posters stating 'You can fuck raw, PrEP works, no more HIV' have appeared over Melbourne yesterday.
The posters appeared around the city overnight and anew activist group has subsequently claimed responsibility for their posting.
The group who go under the name, SEEITCLEARLY2020,  have established an Instagram account and sent out a media release titled 'We Need to Get Serious About HIV Prevention, Let's Stop Wasting Time'.
The group acknowledges that their posters are meant to be shocking and they hope it starts some conversations. The group advocate for PrEp treatment to be added to the Pharmaceutical Benefits Scheme as quickly as possible.
The statement reads;
"The only way we will see the end of HIV in Australia is through the continued use of existing strategies, regular testing and the full implementation of PrEP to those who are most at risk. Our message is that if you're going to fuck raw without a condom, you need to be on PrEP – raw sex on PrEP is safe sex.
"Our current poster campaign is designed to shock, it is designed to start a conversation and it has been implemented across Melbourne because of the lack of education and the lack of awareness by existing public health authorities. So we are taking it into our own hands, and we are talking about bareback sex when no other group will.
"PrEP is the most effective means to avoid HIV transmission, with years of research and thousands of users to backup the scientific evidence – PrEP works and everyone needs to be properly educated on it, we hope this prompts people to seek information and involve themselves in informed discussion on the benefits of PrEP.
"SEEITCLEARLY2020 are a group of activists with the aim of promoting PrEP as the most powerful tool we have to end HIV. We want you to see it clearly, we want you to see everything, you need 2020 vision to understand how we will end HIV.
"We cannot be blind to reality and the reality is that HIV will continue to be transmitted by raw sex if we do not make PrEP fully accessible to Australians.
"We are unforgiving in our messages, and we will continue to shock, we don't mind if you don't agree with our message, but gay men all need to believe in PrEP and understand the power they have to create positive change."
PrEP, which is short for pre-exposure prophylaxis, is a way for people who do not have HIV but who are at substantial risk of getting it to prevent HIV infection by taking a pill every day.
The pill, which goes by the brand name Truvada, contains two medicines (tenofovir and emtricitabine) that are used in combination with other medicines to treat HIV. When someone is exposed to HIV through sex or injection drug use, these medicines can work to keep the virus from establishing a permanent infection.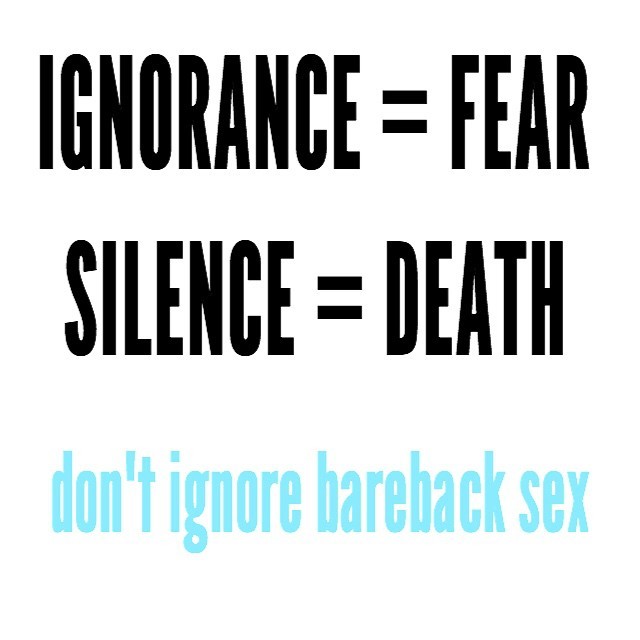 Alongside their statement and posters the group has published a number of images on their Instagram account including the slogan "Ignorance = Fear, Silence = Death".
The slogan was first used by AIDS activist group Act Up in the 1980's and was featured in the art work of artist Keith Haring. Haring died of an AIDS related illness in 1990.
While the bold language on the posters has stirred some controversy, health organisations in Victoria have stated that it shows the communities passion towards reducing the rate of new transmissions of HIV.
The Victorian AIDS Council (VAC) and Living Positive Victoria (LPV) issued a joint statement warning that the strong language used in the guerrilla awareness campaign may lead to stigmatisation of the LGBT community and those living with HIV.
"This is a passionate issue for our community, and the vocal response to the posters strong language demonstrates that." VAC's acting CEO Kent Burgess said.
"PrEP is an effective HIV-prevention tool, and we still have a lot of work to do to inform the community about how it works. We have some concerns about how the posters might stigmatise gay sex and people living with HIV through simplistic, inflammatory language, but one message is clear: our community wants and needs PrEP."
Several trials of the medication have been conducted, including studies in Sydney and Melbourne. This week Dr Robert Grant from University of California visited Brisbane for the World HIV Congress. Dr Grant told the ABC that the drug has made a huge impact on the number of new cases in San Francisco over the past two years.
"People started using it in the past two years and in those two years we've seen a 30 per cent decrease in the number of new cases of HIV infection," he said.
"So we are seeing a public health impact and seeing that people can and will use PrEP when given the opportunity to do so."
Living Positive Victoria supported the calls for PrEP to made more easily avaiable in Australia but said the need was not about allowing gay men to have unprotected sex. Brent Allan, the organisations Chief Executive Officer said he was not sure if the poster campaign was a call to action, although he said he was not sure the streets of Melbourne were the best place for the conversation.
"Living Positive Victoria strongly supports community efforts to see PrEP made available in Australia. We know all too well the impact that an HIV diagnosis has, and the long-term challenges of living with a serious illness and combating the stigma that surrounds HIV. That's why we support increased testing, early treatment, and the full range of HIV prevention technologies including condoms and PrEP."
"PrEP isn't about giving gay men a licence to 'fuck raw', it's about putting them in control of their sexual health by ensuring that they have the tools they need to stay HIV negative. It's also about breaking down the barriers between positive and negative men, reducing anxiety about HIV, and challenging stigma."
The campaign comes just days after the latest official sexual health report showed that the percentage of gay men having unprotected anal sex has increased substantially. The new report from The Centre for Social Research in Health showed that gay men were using condoms less.
OIP Staff