Drag star BarbieQ on 20 years in heels and her fiery new show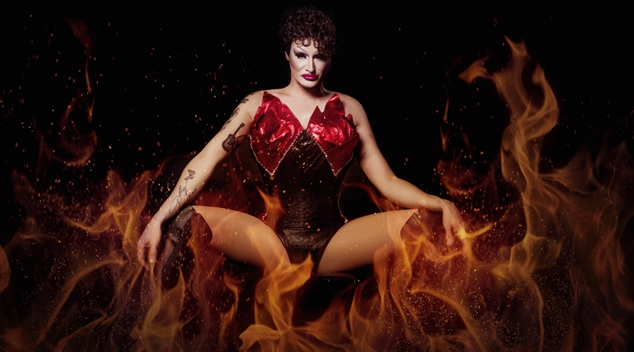 BarbieQ is celebrating two decades of divahood, marking the local icon's 20th year in drag.
The Connections Nightclub entertainment manager and woman about town has been a fixture of drag and LGBTI+ events around Perth for years, long before drag came to the forefront of pop culture through reality TV.
The queen has made a name for herself with her fabulously choreographed dance shows, quick wit on the mic, innovative performances (such as her collaborations with local circus troupe Kinetica), and so much more.
We caught up with Miss Q to find out what she's learned over the last twenty years, what advice she has for upcoming entertainers, and what we can expect from her fiery 20th anniversary show.
When did you realise you wanted to pursue drag as a career?
Actually I never wanted to be a drag queen! When I first started coming out onto the scene in 1997 I just didn't understand it – I had no idea what I was meant to think or feel, so it took me awhile to actually enjoy watching the shows.
I then became friends with some of the performers and started to understand what it was all about! I was a very new gay 17 year old so it felt like a massive new realm for me!
Fast forward a year, I lost my job, I needed money, I was broke and then I saw a poster advertising a Wednesday night talent quest called "drag factory" at DC's Nightclub.
I decided to enter as I had been a dancer since I was a child, and I ended up winning my heat (Performing Ooh Aah… Just A Little Bit by Gina G) and then the grand final (performing a drag strip to Gimme Gimme by Whigfield) which was a $500 first prize.
I then was booked by hostess Chlamidia to work at TRADE which was the big Thursday night venue back then. It eventually grew and I slowly built up my nights and my employment.
What was your first ever gig as Barbie?
My first gig was at TRADE (which was at O2 at the time, now called Air) and it was with Chlamidia and Swish and we did a Billie Piper show. Oh the days….
What are some of your drag highlights over the years?
I have so many fond memories of my past experiences that it is hard to narrow them down.
I'm super proud of creating POP as I wanted to give the younger queens an opportunity to make some money while practicing their craft – it's really hard to get gigs and it takes time to get your makeup skills and your looks together – so this gave the younger ones the opportunity to practice, gain a skill (Responsible Service of Alcohol and bartending) and to earn some money to put back into it.
My 15th anniversary show was a huge highlight for me as I never thought I would feel so much love in a 20 minute period! The room was full of faces from the earlier years of my career as well as the current club land people and it warmed my soul!
Performing at The Court for the Pulse Orlando fundraiser was also beautiful – seeing everyone come together to help people who have suffered a terrible loss in a world where we should be loving each other and celebrating individuality.
Fringe World has also been an area I never thought I would get an opportunity to perform or produce and direct entertainment. The Sinsuality series won a major Fringe World award and that was such a proud moment for me and my co-directors and cast. A little idea that turned into something wonderful which will always be close in my heart.
You are known for your jaw-dropping shows – Tell us about your journey to becoming Connections' showrunner.
Like everyone I started at the bottom and had to work my way up – the journey has not been an easy one – but it has been worth it.
I've been hired and fired and rehired by both venues due to many different aspects – drag, drugs and rock n roll was a way of life once upon a time that found me getting too big for my boots, too demanding with no reason to be that way. I wanted everything my way and yesterday, even though my skill set wasn't ready.
I slowly worked my way back in and had to fight for my place back in the pecking order as there was certainly a few people that tried (and failed) to keep me out! I got back in….
At 25 I needed change, I hadn't taken drugs in about a year and I auditioned for Princess Cruises as a male dancer and within 8 weeks of sending my video I was flown to LA to start rehearsals. I came home twice a year and still performed on those short visits and to my surprise people really enjoyed it when I was back.
Over the last year of my dancing abroad I got an email from Gavin who was the venue manager of Connections Nightclub at the time – the email warmed my soul.
They had offered me the Entertainment Manager position officially, even though I hadn't decided whether I was coming home for good – but that certainly locked it in for me – it was a dream job!
There is a movement on social media towards making sure fans support local drag performers – not just Drag Race queens. How can people get behind their local stars?
People need to remember that drag was around well before reality television! Just because one panel of judges says that this is good or this is bad – doesn't mean that everything revolves around that!
Look at your favorite drag queens or venues social media, there is so much entertainment out there every night of the week between bingo events, open stage nights, production shows, room theatre queens, retro nights etc.
The drag realm in Perth is huge and these crazy and creative people are incredible! Find them, say hi to them, take a photo with them, watch them and for goodness sake put your bloody phones DOWN and just WATCH THE SHOW!!!
What is one piece of advice you would go back and give to baby Barbie 20 years ago.
I could sit here and reel off a tonne of advice to give myself, but I wouldn't be me if I changed the path I have been on.
I've seen people come and go, I've seen trash turn to treasure, I've seen the mighty fall and I've seen the shit hit the fan. I've laughed, I've cried, I've fallen and I've picked myself up again. It's who I am.
I try not to "give advice" but to "give information" as I believe we all have our own journey so who am I to preach… but I'm still here, so sometimes information can be valuable!
What can we expect to see in your upcoming show 20?
Well it's certainly going to be sweaty! My dancers are amazing, they just blow my mind.
I've chosen tracks and artists that have really influenced me over the years or are resonating with how I feel at the moment, with a bit thrown in there just for a bit of old school drag FUN. I hope there is something in there for everyone!
Catch BarbieQ's special anniversary show 20 at Connections Nightclub on Saturday Sept 22nd and 29th, Oct 13th and Nov 3rd, as well as her regular weekly appearances at Tag A Drag Bingo, POP, Dragathon and all around town! You can also find Barbie on Facebook.
Leigh Andrew Hill