Em Rusciano is riding into Perth with 'Rage & Rainbows'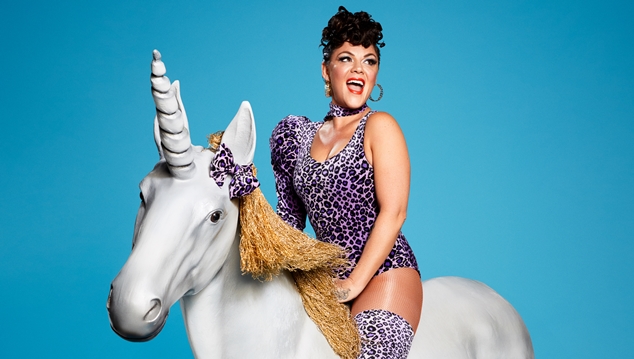 Em Rusciano is riding her unicorn back to Perth this month with her Rage & Rainbows tour, a brand-new stand up show exploring her life at 40.
The broadcaster and comedian explains the show came out of exploring her anger after a number of major life events surrounding her fortieth year, and how her gay pals helped inspire the title.
"It's multi-faceted! I'm hoping the LGBTI+ community see my tip of the cap," Rusciano tells us.

"It's about the fact that over the last year I've turned 40, had a baby and left a very high-profile job. I've swung from moments of absolute despair and anger to absolute elation and joy, and everything in between too. I wanted to understand better why I was feeling so angry and out of control so I started talking to the people around me."
"It's no secret I'm a huge ally of the LGBTI+ community and gay men prop me up every day, so I kind of had a handle on the anger coming from that community and understood it but I realised I didn't actually understand the anger coming from myself – as a mother, as a woman."
"I started asking the other mothers at school how they were twice, so I'd ask 'how are you, doll?' and get 'fine' and then I'd look them in the eye and say 'no, how are you?'  and the tears would come from a whole range of things… and I just got this sense that they were barely hanging on and I really identified with that. So I wanted explore the idea of women being encouraged and giving voice to their anger rather than making everyone else feel comfortable with it."
Though the show was inspired from rage, Rusciano says that rainbows rule the show, and promises a stand-up show with laughs for everyone.
"I have really bad anxiety and the way I tackle that is by understanding everything, being on top of things, making lists, asking questions. I was able to shine light and make fun of things once I understood why they were happening."
"I realised from when I was a young girl I was socially conditioned to be quieter and nicer, I realised it's okay to feel angry and the reason I was trying to hide and repackage it from my family because it's a way to hold women back. Anger is an emotion that makes you want to change shit and do stuff."
"I think there's a lot of humour in 'if you don't laugh, you'll cry,' and I've hit the bottom and I know what that feels like. You feel so lonely and isolated until you start seeing spots of light and climb you way up, and the stuff that happens during those times is pretty fuckin' hilarious!"
Of course, it wouldn't be an Em Rusciano show without some songs from the Australian Idol alum, and she's paired up Eurovision 2019's Kate Miller-Heidke on original tunes for this show.
"Well she thought Eurovision was going to be the campest thing she did this year, but I said to her '…no, doll,'" Rusciano laughed, "I've got a rainbow on stage and talking vaginas, okay."
"She's a weirdo like me, but she's way better at music! I could just kind of say 'I want the song to be anthemic and over the top and have a message, but also funny, and have a choir!' and she was able to translate that and make it perfect. I'm so lucky to have someone on her caliber work on the songs."
Miller-Heidke isn't Rusiano's only collaborator on Rage & Rainbows, with her father – who is also her long-time musical collaborator – coming along for the ride.
"It started off with just me and him in 20 seat venues and now he's part of my eight-piece band, and he sits on stage proud as punch. He probably hears things a father should probably never hear his daughter say… but he's a tiny Italian man whose been a musician his whole life, so he's heard and seen some pretty amazing things."
You too can hear amazing things at Em Rusciano's Rage & Rainbows around Australia this July & August, including Perth's Riverside Theatre on Sat 27th July. For tickets and more info head to frontiercomedy.com
Leigh Andrew Hill
---