Fashion and literature shape the stories on screen this September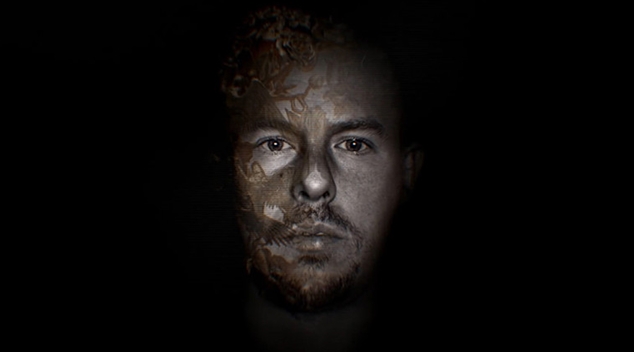 McQueen (★★★★★) Writer/director Peter Ettedgui doesn't shy away from the dark side in his powerful documentary of fashion's bad boy. With a childhood effected by abuse, Lee Alexander McQueen was famous for spectacular and controversial fashion shows such as 'Highland Rape' and 'McQueen's Theatre of Cruelty'. Always pushing boundaries, McQueen wanted people to feel emotion, whether it was ecstasy or repulsion, when watching his transgressive fashion shows. His life-story can be traced through his fascinating and disturbing creations and you don't need to be interested in fashion to be drawn into the savage beauty.
This must-watch film traces the journey of the shabby, unattractive boy who dropped out of school through interviews with family and close friends, and archival footage. It is an extraordinary, visually spectacular journey, co-directed by Ian Bonhôte, of a tortured fashion visionary who designed for Givenchy at the age of 27, headed Gucci before he was 30 and started his own street-wear brand. The camera goes behind the scenes to capture the pressure McQueen was under and also maps his gradual mental and physical decline after he was diagnosed as being HIV positive.
This utterly absorbing film is one of contrasts. At one stage of his career, McQueen was burning the candle at both ends to be in the finale of London Fashion Week while not being able to afford to eat. The unprepossessing East Ender turned the high fashion industry on its head and ended up living in Mayfair and he was at the top of his game when he shocked the world by taking his life at the age of 40.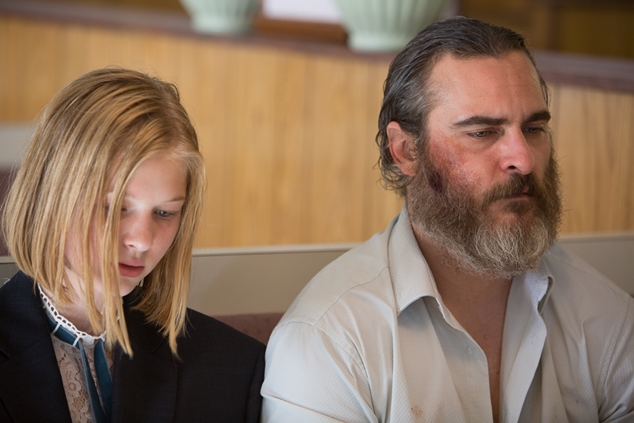 You Were Never Really Here (★★★★½) earned Joaquin Phoenix a Best Actor award at last year's Cannes Film Festival. As traumatised army veteran Joe, he is unkempt, with a bushy beard streaked with grey and dark brooding eyes. His muscular body is full of scars and so is his mind. Failing to integrate into society and suffering from the ravages of childhood trauma as well as war, Joe tracks down runaway and kidnapped girls and rescues them from pimps and paedophiles. His violence is unrelenting in this R-rated thriller, and so are the nightmares that plague his sleep.
When a wealthy senator (Alex Manette) hires Joe to find his 13 year old daughter Nina (hauntingly beautiful Ekaterina Samsonov), we see Joe's vulnerable side as the nearly catatonic waif recovers and puts all her trust in him. Based on the book by Jonathan Ames, the odds are against any happy ending. As seen in the trailer – when Nina's father apparently commits suicide, the film hits us with the shocking secret that has destroyed so many children's lives.
Phoenix wholeheartedly becomes this broken person with a tortured mind. He takes out his anger and aggression on those he perceives as doing the wrong thing and is equally destructive towards himself. This is juxtaposed with a gruff caring man who lives with his frail mother (Judith Roberts) who wants to know when he is going to settle down with a nice woman. Made more intense by the blurred lines between dream and reality, the film was given a 7 minute standing ovation at Cannes and earned Best Screenplay for writer/director Lynne Ramsay (We Need to Talk About Kevin).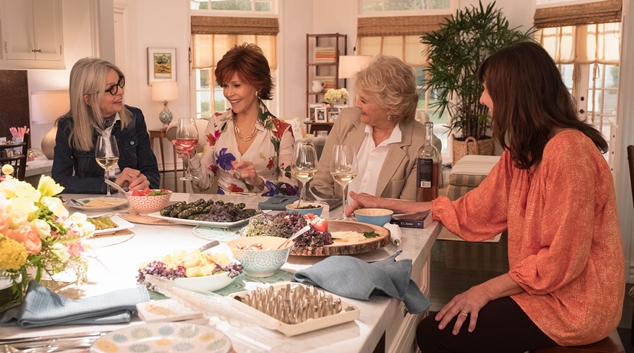 Book Club (★★★★), written and directed by Bill Holderman, is a powerhouse film featuring four veterans of the screen. Diane Keaton is dizzy Diane with two over-protective daughters and recently widowed after 40 years of marriage. Jane Fonda is determined Vivian who owns and a hotel and enjoys sex with no strings attached. Dazzling Carol (Mary Steenburgen) is trying to spice up her marriage since her husband lost interest in sex after retiring and Judge Sharon is depressed as her ex-husband has become engaged with a much younger woman.
These lifelong friends have been getting together for Book Club for over 40 years after their first book – Erica Jong's Fear of Flying. When Vivian selects EL James's Fifty Shades of Grey to read, these successful and financially secure women reconsider their love lives and try a series of outrageous antics to spice them up. Although a lot of the humour is around riding crops, duct tape and safe words, there is no whipping, tying up or sexy shenanigans. At an age when many would rather take a good book to bed, the film (like the book) is not just about sex but romantic fulfilment.
This entertaining and sentimental film is better served with wine. It has some hilarious scenes and it is best if you can avoid seeing the trailer for the film as most of them are in it. I just felt that these fantastic actors could have been extended and their characters less one dimensional. They could have made braver choices with regard to race and gender – and this would have really spiced things up.
Lezly Herbert