Gay politician's campaign posters defaced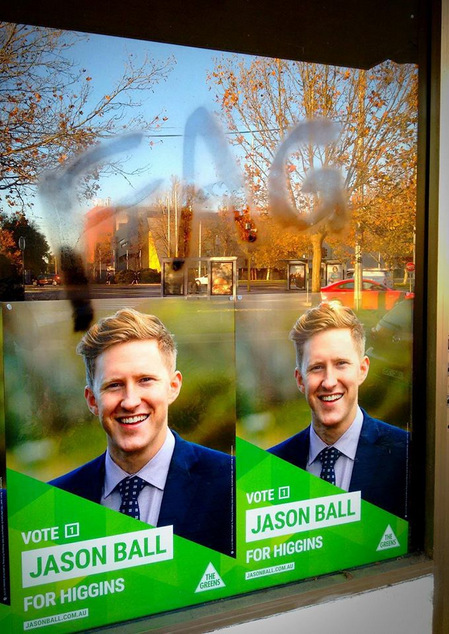 Jason Ball, The Greens candidate for the seat of Higgins in Victoria, has responded to a homophobic slur appearing on his campaign posters.
The mental health advocate, who was the first Aussie Rules player to share that he was gay, posted a message to his Facebook account.
"I post this picture not to give the haters oxygen but to send a message to young LGBTI people that I have their back. To let them know I won't be passive or silent in the face of bigotry." Ball wrote.
The political candidate said the last time he had the word 'fag' written next to him name was across a toilet door at his school when he was 15 years old.
"Now, in 2016 the homophobes are thankfully in the minority. But acts like this show we have a long way to go. And these acts do not happen in a vacuum.' Ball said.
"In recent times our community has faced relentless attacks on our dignity and basic human rights. Politicians have likened us to pedophiles.
"Religious leaders have compared the fight for equality to the advance of Nazism. This week, media commentators who have previously vilified us, leapt on the unspeakable atrocities in Orlando and used our grief as a battering ram to prosecute their own agenda against another minority." Ball said.
The Greens candidate said while people may wring their hands and offer sympathy to the LGBTIQ+ community they must also recognise that they also contribute to the problem.
"We should not have to fear for our safety just for daring to live our lives openly. We must not be scared to hold our partner's hand as we walk down the street." Ball said declaring that he wouldn't be put off by the graffiti attacks.

Ball is not the only candidate experiencing homophobic comments. Former Human Rights Commissioner Tim Wilson, who is running for the Liberals in the of Goldstein has also experienced a homophobic encounter.
Wilson told the Sydney Morning Herald that a constituent recently approached and him and said that she decided not to vote Liberal because of Wilson's sexuality.
"I've always believed that part of my life's purpose is to ensure that I am the last generation that has to put up with this stuff. I'm taking it so others won't have to," Wilson said.
OIP Staff