Gina Liano talks the explosive new season of Real Housewives of Melbourne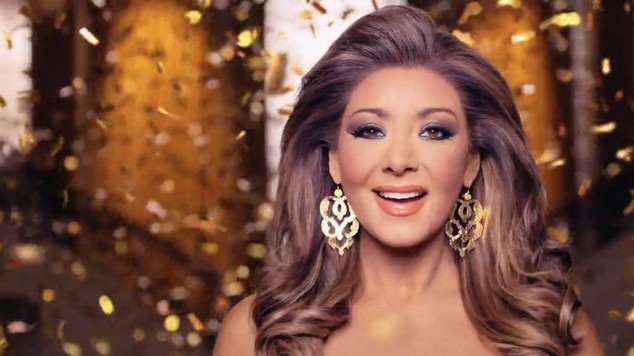 The ladies of Toorak are back with a new friend, new adventures and new drama on the third season of 'Real Housewives of Melbourne'. I caught up with the queen of courtroom couture Gina Liano as she took time out of her busy schedule to tell us what we can expect from the all new season.
What have you been up to since the last season of Real Housewives of Melbourne?
"Oh gosh. A lot.  I've done a role on 'Neighbours', I launched an autobiography in April last year, I did a stint on 'Celebrity Apprentice' and then filmed 16 weeks of The Real Housewives, so I'm flat out. I've obviously got my shoe range and my clutches and then court – certainly a lot. It's been a very, very busy time."
Was it easy to slip back into filming Real Housewives of Melbourne with all of these other commitments?
"Well, I sort of got eased back into it doing 'Neighbours' and 'Celebrity Apprentice'. I did all of those before I did the new season. It wasn't so much of an ease, I suppose. It was a pretty hectic time. Doing 'Celebrity Apprentice' was really hectic so by the time I got back into Housewives I'd already been filming for six weeks on Celebrity and I'd done five weeks on 'Neighbours' so I haven't really had much downtime at all. It's sort of become part of my life now."
So what can we expect from the third season of Real Housewives of Melbourne?
"This season is… well, it's hilarious actually. Definitely an explosive season, it will be so compelling to watch. I feel compelled to watch it, I know I'm very close to it but I think there's so much in it. There's a lot of girls now so there's so much happening."
The trailer for the season hints at someone having a baby, a wedding and what seems to be another fight around a dinner table – this time involving Pettifleur…
"The format of the show is that each episode you'll get a gathering of all the girls together at least once, and there's always an episode towards the middle or the end where we travel together. I think it's a bit true to life really; there are some people you can travel with and other people that you can't. You take them better in small doses than large doses and I think what happens at those dinners when we travel is that the tensions going on become quite explosive."
There's a new girl entering the scene this season – Susie McLean. Did you give her any advice as she came into the group?
"I did actually have quite a long chat to her when she came in, just because it is quite confronting doing reality TV. Not just when it goes to air and how it's edited and how the girls might react to towards each other but also just the exposé… I did talk to her quite a bit about production and the dynamics between the girls, how she feels and how she thinks she might handle herself.
"You know, she's a mature woman and she's quite composed and she's got a good sense of humour. She doesn't take herself too seriously. She's quite a likable girl and I've been friends with her for a long time… but that doesn't always translate on camera. I've been friends with Lydia for a long time too and some of the other girls but they didn't necessarily behave in a way I had anticipated. I think Susie was pretty consistent with who she is."
Did you spend any time with the other Housewives between filming ? When you weren't contractually obliged?
"Well there wasn't really much downtime. We film about four/five days a week and one of those days is always with them so we don't really get much time to catch up. I probably caught up mostly with Gamble and Lydia. Although, Gamble was getting married and she had a lot of preparation prior to the wedding and then she was on her honeymoon so that sort of took her out of the picture for a bit – but I probably spent most time with Lydia."
There's only a few of you in the current cast who have been there since Season 1. Would you say anyone has changed over the last 3 years or so?
"I think Janet's a little bit calmer. Not that she wasn't calm but I think she's maybe not as gossipy or provocative. You'll see why this season, you'll see a softer side to her. I think also Jackie – I think you see a softer side of all of us to be honest. What we decided to do this season was involve our families more and let the audience in – I mean it is reality TV. We all agreed to let the audience see a little bit more about our personal lives, our children, you'll see my PA and me at work and my boys.
Leigh Hill
Catch Season 3 of Real Housewives of Melbourne at 8:30pm Sundays on Arena.