Hannah Conda a Fan Favourite in RuPaul's Drag Race Poll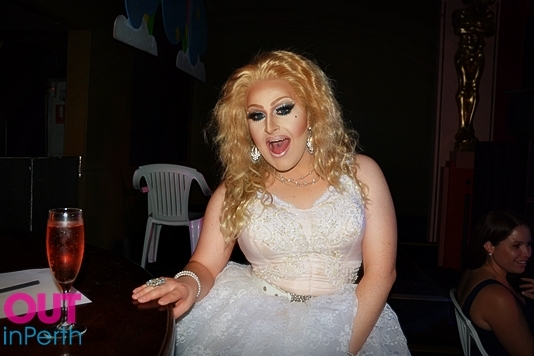 Drag Factory's well-loved matriarch and the woman who gets your balls spinning at Bingay, Miss Hannah Conda has been climbing up the ranks of a poll asking who fans want to see on Season 8 of 'RuPaul's Drag Race'.
UPDATE: 26-03-15 15:15 Hannah has now cracked the Top 10 of the poll 
'RuPaul's Drag Race', the televised search for America's next drag superstar is currently in the midst of broadcasting its 7th season and has a rabid fanbase, with queens from past seasons enjoying sold out shows in Perth on a regular basis.
Now, Perth's own queen of queens is getting attention online in a poll including drag performers from across the globe.
Logo TV has put out the call for performers to audition for season eight, and web site Dragaholic has set up a poll asking readers which queens they'd like to see on the show next year. Readers can nominate their favourite entertainer by posting a photo of them on Instagram with the caption "I want to add (entertainers name) to the @dragaholic #rpdr8vote. Vote now on dragaholic.com."
Once a performer has made the list, readers can vote them up or down by giving them either a thumbs up or down. The list comprises 200 performers. Every Sunday the bottom 20 will move away and be replaced by a new group.
The poll does not dictate who is chosen for Season 8, but allows drag fans from all over the world to support their favourite performers.
Hannah Conda has reached number 33 on the list (UPDATE: since time of publishing, Hannah Conda has moved up to number 20 on the list), putting her in the top quarter. She was alerted to her presence on the list after seeing her friends encourage voting on Facebook. She expressed her gratitude on her Facebook page:
"This morning it was so overwhelming waking up and seeing everyone's posts about the Drag Race Fan Vote. I cannot tell you how much I needed that in my world right now and cannot thank you all enough for your kind words. It really makes me understand how much I love what I do and how excited I am to share that with the world"
To vote for Hannah, check out Dragaholic's poll here.