International music collective Temps launch 'Partygatorresurrection'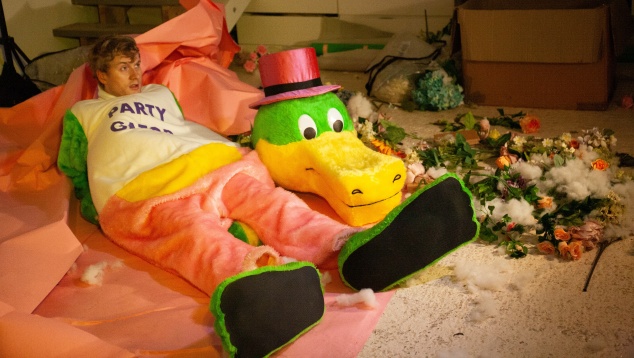 Temps, the 40-strong international music collective devised, curated and produced by James Acaster, will release their anticipated debut album Party Gator Purgatory on Friday, May 19 via Bella Union.
Having previously shared videos for the singles no,no and bleedthemtoxins, and ahead of James' appearance on The Jonathan Ross Show this weekend, Temps today share a video for new single partygatorresurrection featuring Open Mike Eagle, me oh myriorama, Low Growl, bb tombo and our very own Montaigne.
Commenting on the video, James Acaster says: "The party gator comes back to life and finds itself on a luxury yacht of sorts, sailing the seven seas of music and top notch tunes."
Featuring a vast array of musical favourite including Quelle Chris, John Dieterich, Joana Gomila, Laia Vallès, Shamir, Seb Rochford and many more, Temps' ten-track debut album was produced, curated and devised by James Acaster.
Releasing via Bella Union, this mind-bending opus rose from the ashes of an aborted mockumentary made with Louis Theroux's money.
In February 2020, James Acaster decided he wanted to make a TV series about himself. Backed by Theroux's production company, the show would see Acaster dramatically quit stand-up and side-step into the music industry with great pretension and naivety.
But first, they had to make a mini-pilot to prove the idea would work. In a van driven by the crew, Acaster travelled to his hometown of Kettering and collected his childhood drum kit from his parents' house.
After contributing to a string of teenage bands, the old kit hadn't been touched in twelve years, sitting dormant in its drum cases. The plan was to load it into the van, drive straight to a studio in London and record Acaster playing the kit for the first time in over a decade.
But they had to make a second pit stop, to pick up a human-sized cuddly toy alligator from a friends' house. The alligator was fluorescent in colour, sporting a large pink top hat and a tee shirt reading Party Gator. Acaster had won it at a county fair when he was 7, held onto it for decades, but had left it with said friends in 2012 after failing to convince a girlfriend to move it into their new flat.
Now, in 2020, the Party Gator sat on a throne in Hoxton's Holy Mountain Studios and acted as a muse for Acaster's mockumentary-self; the two of them locking eyes as he recorded his rusty improvisations for two days straight. The final scene in the pilot saw Acaster listening back to his drum tracks, declaring them to be too sloppy, and recruiting award-winning jazz drummer Seb Rochford to play over the top of them.
Then, a pandemic happened.
He spent the next two years sending tracks back and forth, between himself and his creative heroes, as they gradually discovered an album together. Genres were disregarded in favour of tightly-packed experimentalism and the death, afterlife and rebirth of the Party Gator provided conceptual guidance where needed.
Everyone was given free reign to do as they pleased then Acaster would cherry pick his favourite bits, describing themselves as DIY Gorillaz.
Partygatorresurrection is out now.
Image: Willow Shields 
---

You can support our work by subscribing to our Patreon
or contributing to our GoFundMe campaign.