King Hit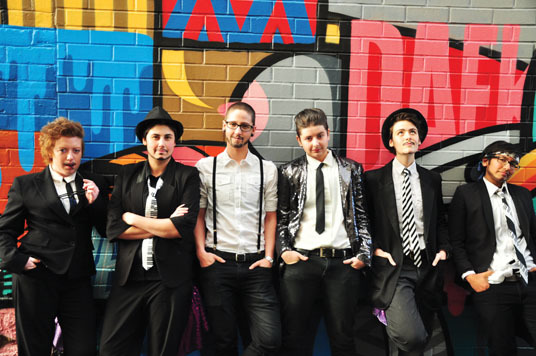 Drag Kings – definitely not women dressed as men. That was the underlying message of a coffee date with DKAP, the Drag King Association of Perth. The young energetic group of six gave OUTinPerth their own definition of what it is to be a King
'Our official definition of drag king is a person who performs masculinity for entertainment purposes', said Billy Con Carne.
Kevin Razorline chipped in – 'we're all about gender diversity and about reflecting that in our shows, using drag to showcase that. Masculinity isn't as solid or as stable as anyone thinks it is, same as femininity, same as any other type of gender context people have.'
With 'Kinging' being a rare occurrence in the queer community (and general population at large) the six performers spoke of how a lack of visibility, and in turn understanding towards their profession, can lead to confrontation. Frankie, or Frankly M'Dear, explained the coping mechanism – 'First you run and once you've calmed down you become ever more fabulous. I've been spat on in the street I've been followed, chased, yelled at, it happens all the time.'
Undeterred by negative backlash, the group spoke of how to achieve 'fabulosity', their inspirations, and who would like their shows –
'Everybody! Proven fact – everybody likes a drag king because it's so rare. Even if they don't admit it right now, I think gay boys get big fat boners from drag kings. Anyone not male assigned, they love drag kings too', said Billy.
'We're the ultimate pretty boys. I think what gay men that come to our shows should keep in mind is that just because they may mistakenly be reading us women doesn't make us lesbians. There are some amongst us like myself who are not exclusively into female identified individuals and I've had plenty of gay men flirt with me ill flirt back', said Abe L Seaman.
Guyliner, glitter, piano key ties, and feather boas – just a few things listed that tend to make up an outfit. As for inspiration, Billy Joe Armstrong (for being bisexual before it was cool), Adam Lambert, and the Blues Brothers topped the list.
For those of you that love a decent Drag Queen performance, it seems that the Kings will be packing in a lot more than their more popular counterparts – 'Drag, live music, spoken word, singing and dancing, costume changes like you wouldn't believe, double drag, competitions, facial hair, party anthems, queer anthems!'
DKAP will be performing at Honey Lounge on Thursday October 11. Grab presale tickets at Exotic Body Piercing or upstairs at Planet Video. The show will kick-start at 7pm.