Local artists to transform Central Park benches at Benchmark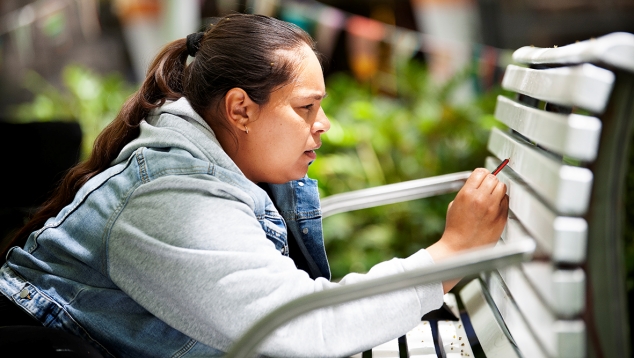 Central Park is hosting their successful Benchmark event on 28-29 September with local artists showcasing their work in the iconic building's gardens.
Benchmark provides a unique platform for WA artists to showcase their work to the community, with the event featuring the live painting of garden benches.
This month WA artists Kevin Bynder, Sioux Tempestt, Luke O'Donohoe will be live painting the benches on 28 and 29 September.
Benchmark is also championing various art forms through free activities for all ages, such as Circus Pick Up and Play Workshops, interactive storytelling, stilt-walking WA Wildflowers, Perth Plein Air sessions and live music.
Benchmark's finale is set to welcome back the four former artists Brenton See, Elly Sumner, Anya Brock and Marcia McGuire for the finale and a meet and greet.
Central Park General Manager, Tim Ward, said initiatives such as Benchmark are vital to enhance the culture and sense of place within Perth's CBD.
"We are ultimately strengthening the partnership between businesses and art, while enhancing the day-to-day experience of everyone who works at and visits Central Park," Ward said.
"Central Park aspires to lead the way in sharing the benefits of creative expression and promoting a better work life balance."
Local artist, Kevin Bynder said he is inspired to celebrate his culture alive through his work, and he will be incorporating six Whadjuk Noongar Seasons into his design.
"Opportunities like Benchmark allow me to keep doing what I do best, which is keep the oldest living culture alive," he said.
"If I can do this through my art and storytelling, then future generations can continue keeping our culture alive," he said.
The community is invited to watch Kevin and the other artists bring their creations to life on 28th and 29th of September, and to register for the free program of inspiring events and workshops.
For more information and to register, visit the website.
Image: Artist Marcia McGuire photographed by Brett Canet-Gibson
---

You can support our work by subscribing to our Patreon
or contributing to our GoFundMe campaign.