Why I'm an LGBTIQ+ ally: Local psychologist Joe Douglas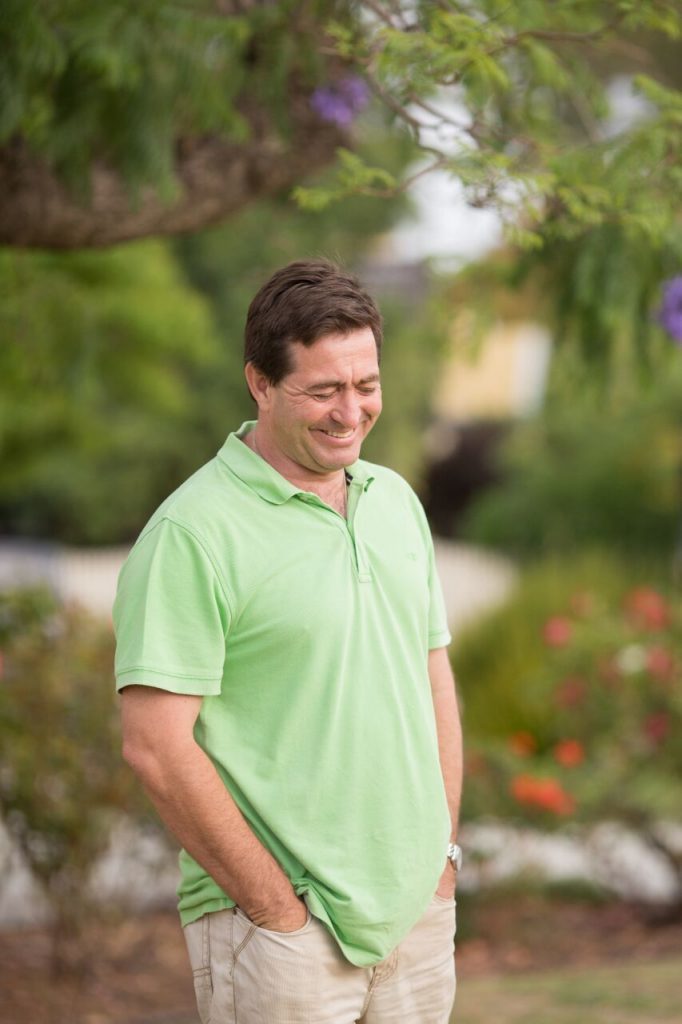 Joe Douglas is a mate. We have known each other for nearly 7 years now. He has saved my life on more than one occasion. Joe is not a big fan of labels. When I said I thought he was a straight ally, he was very reluctant to take on the mantle. He would hate that I'm telling you he's a psychologist. He doesn't work in an office. Most of his work is done from home or around a campfire. The day I interviewed him we went walking in the bush with his dogs.
Can you remember the first person you met who was LGBTI?
I think I was about four. My mum and I used to walk to the shops and on the street this man would sit in the bay window of his house wearing a kimono with his face painted and black geisha wig. I remember my mum would rush us past the house. I could feel the fear coming off her in waves. I couldn't understand why. To me he was the brightest spot on our drab grey street. Why was she so scared? When I was older I joined the army and was stationed in Hamburg. We used to go to the gay clubs because the music was better. I befriended a couple of transsexuals that used to go there. One night I spotted my friend heading out with another soldier. I wasn't quick enough to catch them before they left. I found out later that she had been bashed.
I've spent a lot of my life working with boys and men to help them develop their ability to emotionally connect. We have enough 'shut down' men in this world. What we really need is men who are learning to be open to embracing life in all its diversity.
You organise retreats for men and boys. What have you learned as a straight man that might relate directly to the experiences of gay, bisexual and transgender men?
Everyone's experience in life is uniquely their own, however there are some common things that all of us come up against. The most significant of those things is the narrow confines of masculinity. There is enormous pressure to conform to arbitrary rules about how a man is expected to behave. We tell boys that in order to be a man you need to shut down emotionally. Don't cry. Don't be afraid. Don't feel too much. Anger is acceptable. Aggression is expected.
Most boys go into survival mode during high school. Fight or flight. It's a traumatic time for all boys but probably more so if you are gay, bi or transgender. A lot of bullying happens precisely because kids are in survival mode. Everyone who is different in anyway is a potential threat; someone to fight.
Do you support what Safe Schools Coalition is doing in high schools?
School can be a very unsafe place. Teachers need all the help they can get if they are going to support students. Safe Schools is a great program. What we really need are programs that help students develop emotional intelligence so they have the skills to make it through tough times. That is the kind of work I've been doing with groups and individuals over the last few years.
Tell me about your work with Mankind Project and the New Leaf Workshop.
So many boys escape high school but seem to get stuck in survival mode. That is an exhausting way to live. Shut down, defended and isolated describes many men's lives. Ultimately it is unsustainable. Men struggle with depression and anxiety, often in silence. I believe that people do better when they work cooperatively to support each other. I've worked with Mankind Project or MKP, for almost a decade now. MKP runs weekend trainings and weekly groups that teach men how to support each other and care for themselves. That's where I met you.
Two years ago I started facilitating weekend workshops focusing on helping people develop emotional intelligence. People seem to think that some emotions are good while others are bad. I am convinced that emotions are neither good nor bad. They are just energy that needs to be shifted. The New Leaf workshops give people opportunity to explore that concept in a safe space.
Do you have any advice for people who are distressed by the homophobic messages coming from anti marriage equality lobbyists?
I understand how hard this can be. I get angry myself. I worry about what damage the plebiscite will do to young LGBTI people who are still in the process of coming out. It is important to acknowledge that these attacks are hurtful. It is important to give yourself time to feel the hurt, the anger and yes, the fear. It is important to connect with support in your community and with family and friends. It might be worth forming a support group that meets regularly. I would be happy to help set something like that up. Working together can be incredibly empowering.
Charlie Perth
To read the first of Charlie's series on LGBTIQ+ allies, check out the interview with former Lutheran missionary Neil Hart.