Look left, look right: Intersectionality in the queer community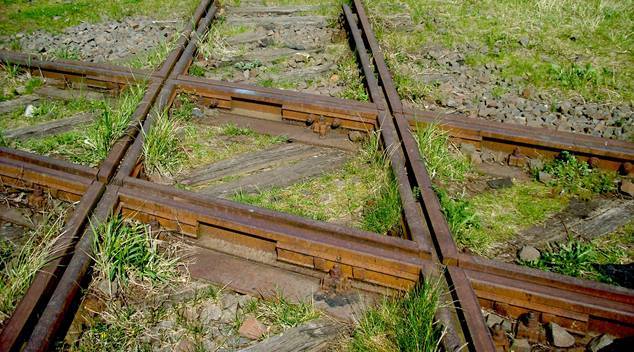 Intersectionality is the belief that systems of oppression are fundamentally interconnected and because of this they cannot be examined separately from one another. 
Intersectional identities exist in infinite and complex combinations, each layer of identity adding multiple opportunities for exposure to discrimination. As a white, cisgender lesbian my intersectionality exposes me to homophobia and sexism, but also affords me privileges that many other of my LGBTIQ+ peers may not have access to. If I was a sistergirl bisexual woman living in a remote area of Australia my intersectionality would expose me to racism, sexism, transphobia, biphobia and classism (often at the same time).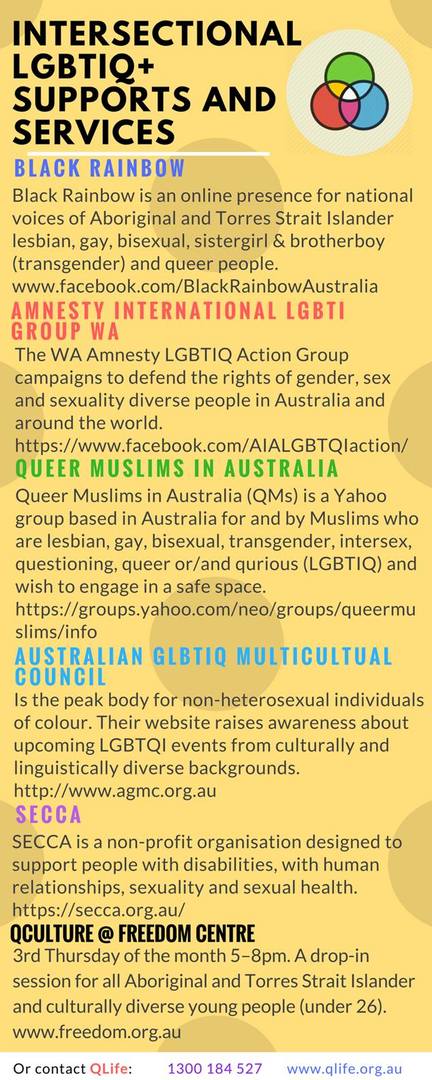 This an example of a systematic discrimination experience that I could not even begin to understand. The supports that other LGBTIQ+ people need to address the oppressive forces in their life, in order to have equity of outcome are likely to be many more and varied than those which I need.
We all have different aspects of identity. We all have different parts of ourselves and our lives. However, we are not all protected by law in the same way, we do not all experience the world in the same way and our needs are not prioritized by society in the same way.
If I am to fight for the rights of all LGBTIQ+ people, I need to also understand and fight for the rights of Aboriginal and Torres Strait Islander People, People of Colour, People with Disability, CALD communities, Immigrants and Refugees, People experiencing poverty and many other intersecting identities who experience discrimination due to who they are.
The exclusion and erasure of intersectional people from LGBTIQ+ communities can be seen by; lack of understanding or acknowledgement of intersectionality by LGBTIQ+ groups and services, lack of diversity in the representation of images of LGBTIQ+ people and the lack of diversity in the stories and experiences contained in LGBTIQ+ narratives. What this often translates to is an LGBTIQ+ space that is simply not safe for intersectional people.
The concept of coming out being a benchmark for "having achieved liberation" can also be problematic for people with multiple intersecting identities as this relies on an understanding that all LGBTIQ+ people will find a within queer contexts, a community that will understand and uplift them.
What we do know is that having intersectional identities often generates a feeling of not completely belonging in one group or another and this can lead to isolation, depression and other mental health and wellbeing issues. As a community, we cannot ignore this and must work to ensure that LGBTIQ+ spaces are safe spaces for all people, where intersectional identities are understood, supported and celebrated.
So how can the LGBTIQ+ community be better at supporting intersectionality?
First of all, we need to recognize that intersectional identities exist and they have fundamental bearing on how people experience being LGBTIQ+. For most of us, there is not just one social justice movement needed to work towards our equality.

Secondly, as a community we need to reflect on the ways that gender, religion, class, race etc. might affect our experiences of being LGBTIQ+ and in turn how society views us and treats us.

Lastly and most importantly, we need to seek out voices that reflect the lived experience of intersectional identities and listen to them. We need to learn about these experiences and how we can be an ally to communities that we do not belong to. We need to demand that these voices are placed at the centre of LGBTIQ+ public narratives.
I am not the voice of all intersectional experiences, but I can use my voice to encourage the LGBTIQ+ community to start the conversation. To recognize that the insight we gain from the different spaces we exist in can only serve to increase our connectedness, resilience and humanity. At their core LGBTIQ+ rights are human rights and understanding intersectional identities helps us work towards equality for all LGBTIQ+ people.
Bella Broadway
---
Support OUTinPerth
Thanks for reading OUTinPerth. We can only create LGBTIQA+ focused media with your help.
If you can help support our work, please consider assisting us through a one-off contribution to our GoFundMe campaign, or a regular contribution through our Patreon appeal.