Lyle Shelton: There's hardly any homophobia in Australia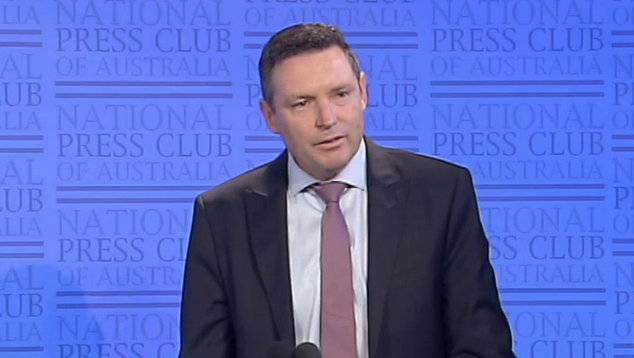 Lyle Shelton, from the Australian Christian Lobby, and Karina Okotel, Vice President of the Liberal Party, spoke at the National Press Club today to outline their opposition to marriage equality.
Last week The YES campaign put forward their case for change, and a week later it was the turn of the NO campaign to deliver their opposing argument and take questions from journalists.
Shelton said that there had been vile comments on both sides of the Australian marriage debate but started his address by offering a personal apology for statements Christian organisations had made in San Francisco almost four decades ago.
"Going back to the early 1980's at the height of the AIDS crisis in San Francisco, when gay men were dying like flies. People who represented Christian organisations said some very hateful and hurtful things." Shelton said.
" I just want to say here today, for those who might think that people like myself and Karina represent that viewpoint. I want to say that we're sorry for what happened back in those days."
Shelton said the AIDS crisis was a generation ago, and before his time, but he felt wounds from those comments were still there today for the LGBTIQ community.
Shelton said Christians had a mixed record of dealing with the LGBTI community and nuns at St Vincent's Hospital in Sydney had been the pioneers of dealing with the first people in Australia who were afflicted with HIV.
"They were taking the fist AIDS victims of this mysterious disease that was starting to afflict men in Sydney, and the nuns at St Vincent's treated those men when the disease was largely a mystery. The lifted cups of water to their lips and that was, I think, a moment of great compassion." Shelton said. "They pioneered the treatment of AIDS in this country."
Shelton said the push for marriage equality was an attempt to change the established order of society.
The Managing Director of the Australian Christian Lobby said that Australians should reject the push for same-sex marriage because it would affect religious freedom, freedom of speech, bring in radical sex education in schools and undermine the rights of children to know their biological parents.
Shelton said the religious protections that have been suggested in the bill put forward by Liberal Senator Dean Smith were too narrow to protect all Australians religious convictions, and might be worn down over time.
"The protections for freedoms that are proposed are not worth the paper they are written on" Shelton said.
Shelton said he acknowledged that many same-sex couples already had children though previous heterosexual relationships, IVF, and in a small number of cases, adoption, but Australia should not open a path that takes our country to the potentials of anonymous sperm donation and commercial surrogacy.
Shelton said the "final frontier" of the LGBTIQ agenda was unknown and people should vote 'No' in the postal survey.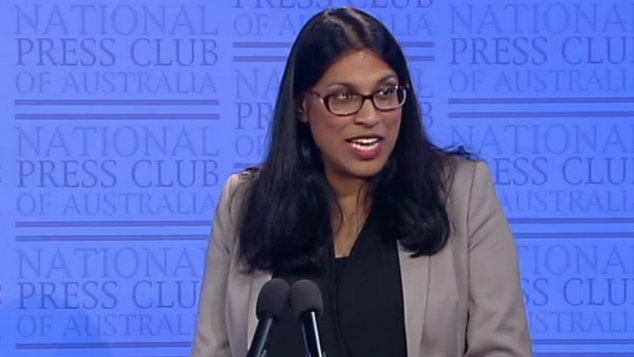 Taking to the stage Karina Okotel began by sharing an anonymous letter that was sent to Marijke Rancie. Rancie has been featured in the media as 'Political Posting Mumma' and she makes video arguing against the Safe Schools anti-bullying program and opposing same sex marriage.
Reading out the letter, which described Rancie's views a hysterical, Okotel said a culture had developed where it was acceptable to mock, vilify, shame and abuse people who questioned whether or not same sex marriage should be legalised.
"I've been called a homophobe, a bigot, and told that my views are disgusting" Okotel said. "I count anyone brave who has added a Facebook banner saying their voting 'No' because almost inevitably they've copped a torrent of hate."
Okotel said that while the YES campaign had framed their debate as one about equality and justice, she holds concerns about religious freedom and freedom speech.
The Liberal party's Vice President said in Massachusetts after same-sex couples were allowed to wed children had been read a book that included a story about two people of the same sex kissing.
Later during the proceeds, journalist Paul Karp from The Guardian Australia asked Okotel why she was opposed to children seeing an image of two people of the same-sex kissing, noting that such an image would not necessarily be about normalising same-sex marriage, but would about the normalising of queer attraction and love.
Okotel said she would be opposed to a child seeing any image of people kissing regardless of the gender of the people.
"My issue with an image of two people kissing, whether they be of the same sex, or opposite sexes, is that I believe it should be up to a parent to decide when their child is exposed to sexualised content- and that, to my mind, is sexualised content. I wouldn't be happy with my children, in the early years of primary school being read books with people kissing in them."
Okotel said it was her right as a parent to choose when her children would be exposed to people kissing.

In her speech, Okotel said around the world there had been examples of religious freedoms and parental rights being curtailed because of same sex marriage.
"Clearly there are significant consequence in terms of the impact on free speech, religious freedom and the rights of parents." Okotel said. "And this is just at the beginning when same sex marriage has only just been legal for short period of time in a minority of countries."
Okotel said she was worried about the a generation of Australians who would grow up with same sex marriage and gender theory, and the type of legislation the next generation might create.
The mother of three, said she was a fighter for justice and equality and was standing up for the vulnerable children who had been left out of the marriage debate.
"In legalising same sex marriage we are telling children that they must not feel any yearning or incompleteness in not knowing, or having any relationship with, or being parented by the person from whom they received half of their genes." Okotel said.
Answering questions from journalists Shelton said if the final result of the postal survey was that the majority of Australians endorsed changing the marriage laws, he'd respect the democratic process, but would always believe "the truth about marriage" regardless of the result.
"If we lose, we'll have to respect the result." Shelton said.
Shelton said it was disappointing that same-sex marriage supporters such as Labor Leader Bill Shorten and Liberal MP Tim Wilson have made statements declaring they would continue to advocate for change if the NO vote was successful.
Shelton said he didn't think there was much homophobia in Australia.
"I do know what homophobia is." Shelton said, answering a question from Buzzfeed's Lane Sainty, "I don't think it exists in much in our country. Maybe there are some people who have that, but I think the vast majority of people who are engaging in this debate, from our side, who are concerned, don't bear any ill will or animosity towards their fellow Australians regarding their gender or sexuality."
Shelton said homophobia implied an irrational fear of gay people and that was not where the Coalition for Marriage was coming from.
"It's a convenient slur often used to try and intimidate people like us into silence."
Answering a question about whether the protections for religious freedom would also allow people to discriminate on the basis of race, Shelton said it was not something he would be in support of.
OIP Staff
---
Support OUTinPerth
Thanks for reading OUTinPerth. We can only create LGBTIQA+ focused media with your help.
If you can help support our work, please consider assisting us through a one-off contribution to our GoFundMe campaign, or a regular contribution through our Patreon appeal.