Malaysian religious police raid transgender event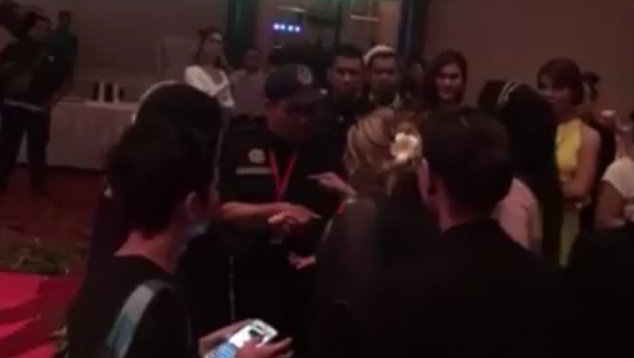 Malaysia's religious police have been filmed having a heated argument with transgender activists after they raided a beauty pageant allegedly without a warrant.
The Malay Mail Online has reported on the raid that occurred at the upscale Renaissance Hotel in Kuala Lumpur.
Around 200 transgender people were attending the function when the religious police intervened. Initially police reportedly stopped anyone leaving but ended up only detaining and charging the organisers.
Lawyer and activist Siti Kasim has spoken out about the raid. Siti was detained along with the events organisers but not arrested. Siti objected to the religious police's actions as they did not have a warrant.
"The officer told me that it's against the law to have a beauty contest — it's 'haram' in Malaysia, based on a fatwa," Siti told the Malay Mail Online. "It's not a real beauty pageant, it's a show," she added.
The 1996 religious edict which has been made into a law stops Muslim women in Malaysia participating in beauty pageants. Siti highlighted that as the religious police don't recognise transgender women in the first place – the law could hardly apply.
Ira Sophia, the organiser of the event has been ordered to face court over the event. Asian Correspondent has reported that Sophia, who is herself transgender, was detained by the police for a day before being released.
The religious police have indicated that she will face charges for ignoring their orders and encouraging vice under the country's Shariah Criminal Offences Act. If convicted Sophia could face a fine of RM3,000 or two years imprisonment – or both.
The case will be heard on May 5th.
Siti Kasim shared a video of the raid on her Facebook page.
Community group criticises raid 
Free Malaysia Today (FMT) has reported that a non-government community group has been critical of the raids.
Kommuniti Muslim Universal Malaysia http://kmumalaysia.org/(KMU) said the religious police, official known as the Federal Territories Islamic Department (Jawi), had moved a long way from their original purpose of combating terrorism.
The KMU said the religious police were now acting like terrorists themselves and described the participants at the raided event as "innocent victims".
The KMU described the actions of the religious police as a misuse of power.
OIP Staff
---
Sources