Melbourne police break man's arm in bungled raid on gay bookshop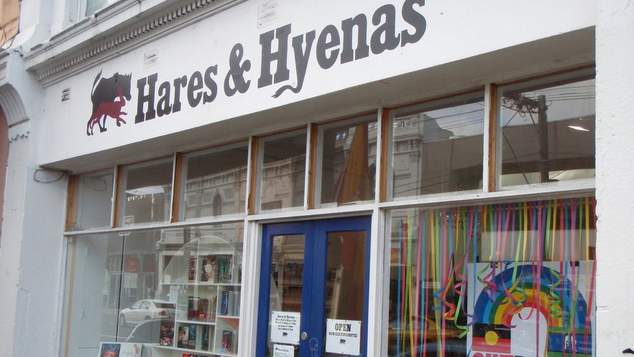 A case of mistaken identity has lead to police raiding Melbourne's famous gay bookstore Hares and Hyenas. The bungled raid resulted in one man suffering a head injury and multiple fractures to his arm – there is a fear he will now lose the use of his arm.
Victorian Police say the incident will be referred to their Professional Standards unit, but have admitted it was a case of mistaken identity.
The owners of the bookshop, which is a pillar of the local LGBTIQ+ community, posted to Facebook sharing their experiences. Rowland Thomson and Crusader Hillis said police failed to identify themselves when they entered the premises around 2am on Saturday morning.
"The police broke in through our garage as they thought that an armed member of a Lebanese gang was inside," they said.
"At no stage did they identify themselves as police. They just stormed into a dark room shining torches and it was impossible to identify them as police."
Hillis and Thompson said another man, Nik Dimopoulos, ran from the building "thinking it was an anti-gay home invasion", and was subsequently arrested on the street.
During the altercation Dimopoulous allegedly suffered a head injury and his arm was fractured multiple times. The bookshop's owners say that police tied Dimopoulos with cable ties and were unable to remove them even when it was clear he had been injusted.
Victoria Police have confirmed Dimopoulos was mistakenly identified as the suspect in a home invasion and carjacking case.
Police say officers had been tracking a stolen car at high speed and had tracked it to the Fitzroy address. The car had previously been used in a home invasion.
"The male was arrested on a roadway after leaving through a front door," Victorian Police said in a statement.
"The male sustained serious injuries as a result of the arrest and was subsequently conveyed to hospital where he remains.
"The man police arrested was mistakenly identified as the suspect police were searching for that had fled the stolen vehicle nearby.
"Victoria Police acknowledge the distress this situation has caused the victim and the incident will be thoroughly investigated by Professional Standards Command."
Victorian Police Minister Lisa Neville told The Age that the community deserved both a "full explanation and investigation".
"This is matter will be rightly subject to a full investigation. This will be crucial to understand how this has occurred and ensure it doesn't happen again," she said.
"I want to acknowledge the distress this situation has caused the victim and extend my thoughts and deepest sympathy to them during this difficult time… As this investigation is ongoing it would be inappropriate to comment further."
A spokesman for the Victorian Gay and Lesbian Rights Lobby told the newspaper that a full investigation should be launched to determine if police were aware the building was an LGBTI venue, and if this affected their actions.
"I hope that it isn't anything to do with that … Victoria Police have done a lot of work to up-skill their officers to deal with members of our community." spokesperson Dale Park said.
"We don't want that work to be undermined by an incident like this, and how they respond to this will be absolutely crucial to regaining the trust of the community," he said.
OIP Staff
---