Michael Franti: Music With a Message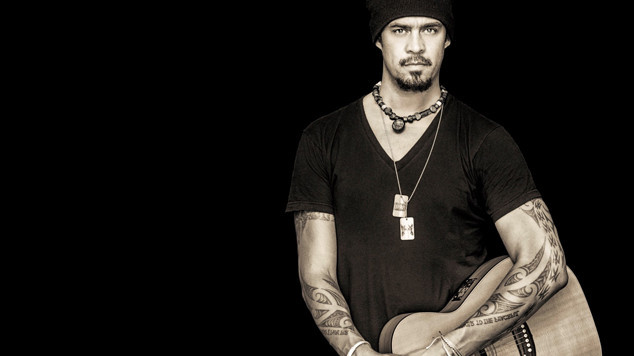 Franti first arrived on the music scene as front man of The Disposable Heroes of Hiphoprisy. In the early '90s the band got worldwide attention with their combination of hip hop and
industrial music.
On the band's debut album he rapped about social justice and politics on tracks like 'Television – The Drug of a Nation' and 'Everyday Life Has Become a Health Risk' and the band delivered their take on the punk classic 'California Uber Alles'.
Twenty one years ago he changed direction when he launched Spearhead, a new music project that was musically focused more on soul, roots and blues sounds. Under the Spearhead moniker Franti delivered a gentler message. Today Franti acknowledges that he's been on quite a journey as a musician.

"Well when I first started out, two things: one is that I didn't play any instruments, I just had my voice. I rapped and eventually with the Disposable Heroes I learned how to use drum machines and samplers, and the studio became my instrument."
Franti credits collaborator Charlie Hunter with showing him that he could make music that was more melodic, while staying true to his political beliefs.
"During that time I started working with Charlie Hunter, who's this incredible jazz guitarist, and I would sing with Charlie and he would play on guitar, and I'd rap over it and I would hear how just adding a little bit of melody to the chords he was playing, it would change, he was playing the same note but changing the chord underneath it, it just made an entirely different melody and emotion. I learned how to express emotion through melody and that became a different way of addressing issues."
Fanti said.
Throughout his career Franti has always been a vocal advocate in the fight against HIV/AIDS whether it's been through contributing to fundraising initiatives like the 'Red Hot and Jazz' project or sharing his own experiences.
"When I made the first Spearhead album, there was a song called 'Positive' on it. It was a song about getting tested for HIV and the first song that I wrote for it was more in the Disposable Heroes style, it was like 'fuck the government, they're not responding to this crisis that's taking place in the world and I'm really pissed off about it.
"Then when I went to get tested for HIV myself, I realised that the emotion that I was feeling was not anger, it was fear. It was sadness and it was anxiety about thinking about all the people I had had unprotected sex with, could I have this virus?" Franti shared.
"So the song that I wrote took on a much different tone, and from that I realised that every issue that is in my heart I had different emotions attached to it and to express those is what really making music is about and that just making every song being about pumping my fist and raging against these things that are happening outside, but more about looking at what's happening inside in me.
Franti notes that when he wrote about his experience of getting tested for HIV it was at a time when artists were just beginning to raise awareness through music.
"When I was writing that song 'Positive' it was at a time in San Fran Cisco where I had four friends of mine die in a six month period, of AIDS. And there were no songs about it. And certainly no one writing songs about testing.
"It was something that I felt a personal connection to and I think today, young people have grown up with an understanding of HIV and AIDS but maybe not a clear understanding of where it's surfacing today. Maybe it is time for there to be more songs about it." Franti said.
Franti shares that his own family has been through a journey of understanding homosexuality when his sister shared that she was gay.
"I have one sister who has been essentially, she not legally married, but she's essentially been married for over thirty years to the same woman." Franti said.
"I was adopted, my birth mother is Irish, French and German. My birth father is African American and Seinole Indian and the Franti family who raised me, they had three kids of their own and then they adopted me and another African American son, so there's five kids in all. We all look completely different.
"My mother was instant that all the kids were treated the same, or equally, because we're not all the same. We all had the same opportunities, she really instilled in us the belief that when went out into the world that we were supposed to treat other kids the way we wanted to be treated." Franti said.
"It didn't matter if they came from a different neighbourhood or school, or played on a different soccer team or went to a church or a mosque or a synagogue, everyone whould be treated the same."
"That was not however the case in our household for gay people. My father, who raised me, was very homophobic and he'd sit in front of the TV and say 'Oh those queers…'" Franti shared.
"Later when my sister, who had dated men for a few years, met a woman…, it really challenged my father up until the point where he passed away. But before he passed away he really came to grips with an understanding of loving all his children, and loving all people.  It was amazing for me to see my Dad go through that transformation."
Franti said that when he arrived in San Francisco in the early 1980's HIV and AIDS was front and centre in his world.
"I moved to San Francisco in right out of High School, it was the early 80's a time when HIV and AIDSwere just becoming a part of the conversation. Being in the music industry and involved in fashion and activism I had all kinds of people I worked with, and I was friends with who were gay." Franti said.
"Growing up with the childhood that I had, it was one where I felt like an outsider my whole life. Being a brown son in this family. I've always identified with people who felt like outsiders. I felt at home with the gay community in San Franscisco. It's always been a part of my adult life." Franti said.
Michael Franti and Spearhead are performing at Red Hill Auditorium on Saturday 18th April. Also on the bill; Blue King Brown, Donavon Frankenreiter and Tijuana Cartel. Head to www.redhillgigs.com.au
for tickets.
Graeme Watson