New Late Night Hangout – Darlings Supper Club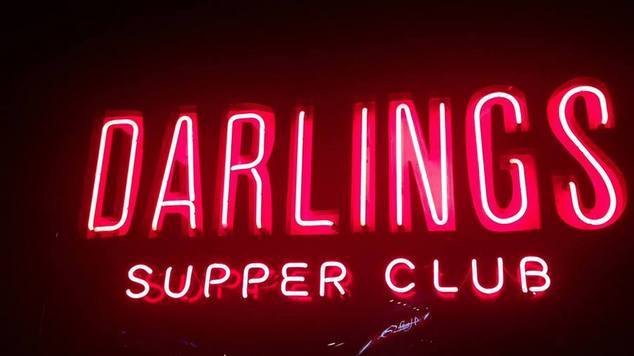 Darlings Supper Club is set to open it's doors any day now bringing a new eating choice to those in search of a late night feast or snack.
The Asian fusion restaurant offers an interesting mix of creative dishes, quality drinks and mind-blowingly good desserts.
Taking over the former Laker's Bar and Grill on Lake Street, the venue is well placed for people looking for some quality food before heading out to their favourite nightclub, or more importantly as it's open to 3am – seeking a substantial meal or snack after some time on the dance floor.
Prior to their opening the team invited us in to sample their wares and get a first look at their take on Asian Fusion cuisine.
On arrival we sampled a selection of prawn crackers given a classy twist, there were three kinds classic prawn, Emping Melinjo and Keropok Ikan Tamban, all served with a side of Shichimi salt.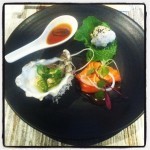 We sampled some ocean trout sashimi with lemongrass and Szechwan, then downed some oysters with citrus and sake dressing and pickled seaweed, the highlight though was a Scallop and prawn dumpling with truffle and roasted garlic soy wrapped in wasabi leaf. I'd never had a wasabi leaf before but they were incredibly tasty.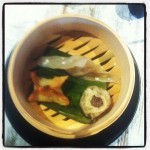 We moved on to trying some of the dumplings, having become addicted to quality dumplings on a trip to Hong Kong last year I've been seeking a great dumpling venue in Perth and the Darlings crew may have nailed it The peppered kangaroo loin, hoisin, garlic, lime offering is one that people will talk about, while the accompanying sticky pork with chili and tamarind and king prawn with coriander and kaffir lime leaf showcased a great variety.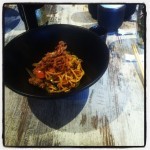 A bowl of pork noodles with xo sauce, Asian greens and toasted peanuts could have slipped into being disappointingly bland if if it wasn't for a salted spatzelli that was added on top, which resuscitated the dish.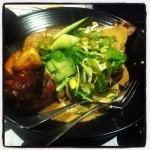 A massive Malaba curried goat leg with pickled vegetables and steamed coconut rice to share around the table was a hearty dish. Unlike the delicately created dumplings and entrees this was a big meal. A chunky leg of goat that could be shared amongst a table full of friends. While the dish was delicious it would have been taken to another level if a spicy chutney had also been included.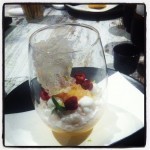 The desserts were simply amazing, the lime and lychee tapioca served with a lime rice cracker freeze dried raspberries and coconut gel was simply one of the greatest things I've ever eaten. We also sampled a peanut soy and chocolate dessert with peanut and caramel choc crumble peanut espuma, candied and salted peanuts, soy gel, lemongrass cream,choc shards and micro herbs.
The food was great and it's going to beat the other late night offerings of pizza, burgers or that late night restaurant were you've eaten everything on the menu twenty times before.  Alongside the food there is also unique offerings of imported beers, sake and Japanese whiskey.
The venue is the latest project for Andy Freeman who owned Luxe Bar and is also behind Varnish on King Street. Boasting an impressive team lineup the venue is going to be managed by Sam Astbury who is behind well known Melbourne venues The Red Hummingbird and The Emerald Peacock.
David Allison, the Executive Chef has worked with some of Australia's best chefs including Rockpool's Neil Perry and Shannon Bennett at Vue de Monde, while Head Chef Nick Kent has come to Perth after working in a host of Sydney's best known eateries. The desserts are created by Brendan Owens who has spent time working at Singapore's 2AM Dessert Bar.
The venue has great decor, a large alfresco area out the back and sitting at the bar, or out the front of the venue watching the people go by is sure to be a popular past time.
Darlings Supper Club is at 47 Lake Street, Northbridge and will be open 7 days a week from 3pm – 3am. For more info head to their website or follow them on Facebook.