New organisation for gay people opposed to marriage equality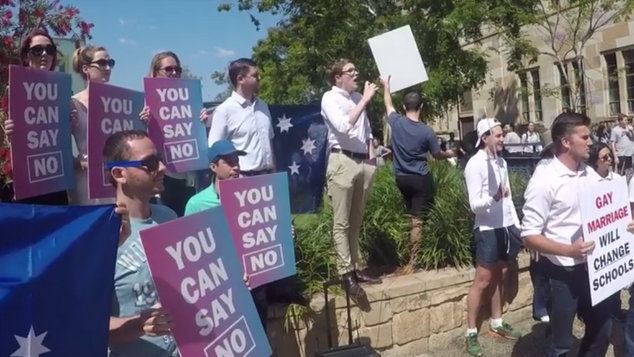 A new student organisation called 'Our Voice, Our Vote' claims to represent tens of thousands of gay people who are opposed to marriage equality.
The Queensland based organisation held a demonstration at Queensland University on Monday and were jeered by other students who support changing the marriage laws.
A video posted to the group's Facebook page shows spokesperson Wilson Gavin arguing that many same-sex couples are opposed to the changing the marriage laws. The video was re-posted by former Prime Minister Tony Abbott, giving it wide spread attention.
"We're here today because we support marriage as it has always been, between one man and one woman." Gavin said in the video.
"I am here specifically because I am a gay man. I'm a gay conservative who wants to see marriage the way it is."
Speaking over a PA system, Gavin said people shouting from the crowd wanted to "drown him out".
"They want to down us out, they want to drown me out. They want to speak for me, they want to speak for me because I am gay and I'm standing up against them.
"There are thousands of gay people in this country who are against same sex marriage. We see the effects it will have on the family, on schools, on politics, on churches, these people hate us." Gavin said.
What a beautiful day for being brave!
Thanks Wilson… if only you weren't being drowned out…
#dontdrownusout #thegaynovote #abiggayno

Posted by Our Voice. Our Vote. on Sunday, September 17, 2017
Later in the day the spokesperson appeared on ABC Radio National's Drive program and told host Patricia Karvelas there were probably tens of thousands of gay people opposed to marriage equality.
Gavin said he had created the organisation to give a voice to LGBTI people who are opposed to marriage equality because there voice is not being heard in the debate.
"We're in the minority, but I would say we're a sizable minority. I would say that in Australia there would be tens of thousands of people who are LGBT who are voting no."
"At its core  I just think marriage has always been an institution between a man and a woman, and I think that's what's best for families, that's what's best for societies." Gavin said.
The nineteen year old student said he was deeply worried about the negative ramifications that would come about if same-sex couples were allowed to marry. Gavin listed examples of cases in the United Kingdom, alongside reports that a Canberra contractor had lost her job over position against marriage equality.
Gavin said the YES campaign for marriage had been filled with vitriol and that while the government could construct a bill that allowed sufficient protections for religious freedoms, he was worried about what came next.
"I'm worried about the YES mob, these bullies that are drowning out people and violently assaulting people as we saw at the University of Sydney last week. No matter how many laws are in place, the amount of vitriol that we've seen coming from the YES campaign is truly alarming."
Gavin said the comments on social media against people who were opposed to marriage equality had been "truly appalling".
"I think the NO campaign itself has been absolutely exemplary in the way its been treating LGBTIQ people like myself. I find that it has been very respectful, and very accommodating of respectful debate. Where as the yes campaign just seems to be pre-occupied with drowning out people who are supporting 'No' no matter what sexuality that are." Gavin said.
The organisation has listed a range of reasons why they are opposed to allowing same-sex attracted people to wed, describing the push for marriage equality as part of an extremist agenda that also includes support for anti-bullying programs like the Safe Schools Coalition.
The group also argues that LGBTI people should not have access to marriage because they are unable to procreate within their relationships.
Describing marriage as a heterosexual imposition upon their gay lifestyle, the group says that heterosexual marriages are the bedrock of society.
OIP Staff, OUTinPerth approached the group for a direct comment. 
---
Support OUTinPerth
Thanks for reading OUTinPerth. We can only create LGBTIQA+ focused media with your help.
If you can help support our work, please consider assisting us through a one-off contribution to our GoFundMe campaign, or a regular contribution through our Patreon appeal.