New Pope is Anti-Gay Rights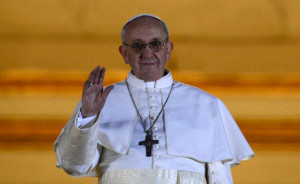 Around the world Catholics are rejoicing the election of the first Latin-American Pope, Cardinal Jorge Bergoglio, who will now be known as Pope Francis. 40% of the worlds Catholics reside in Latin America, Pope Francis was originally from Buenos Aires.
Unfortunately (and unsurprisingly), celebrations aren't extending as far as the queer community, the newly elected Pope is known for opposing both gay marriage and same-sex adoption. Pope Francis has previously said:
"[same-sex marriage] is a destructive pretension against the plan of God. We are not talking about a mere bill, but rather a machination of the father of lies that seeks to confuse and deceive the children of god".
The pope opposed the legalisation of same-sex marriage in Argentina back in 2010; he has also referred to homosexuality and same-sex adoption as 'discriminating' towards children.
Although the new Pope has anti-homosexual views, other cardinals in the running demonstrated more rampant homophobia. Ghanian Cardinal Peter Turkson recently defended Uganda's "Kill the Gays" bill, and condemned condom use in Africa.
Members from the global LGBTIQ organisation All Out expressed disappointment in the new anti-gay Pope: "The Catholic flock around the world have been pushing their leaders to reform and modernize the Church. They are going to have to push even harder now that their leaders have shown they are not listening to their call to include LGBT people as full and open members of the church", said Andre Banks.
The Pope tweeted from a new account shortly after his election, stating "HABEMUS PAPAM FRANCISCUM", which means "We have Pope Francis".
A press conference scheduled for next week will further outline how the Pontiff will rule in his new position.
Nadine Walker