Nicole da Silva: Wentworth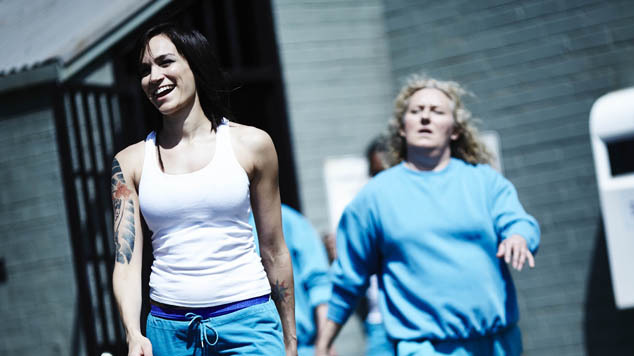 On Wednesday nights people are staying home to catch each episode of Foxtel's Wentworth with the re-imagining of the classic Australian series Prisoner becoming a ratings hit.
The character we love most of all is the dangerous, charming, and scheming Francesca 'Franky' Doyle.
Actress Nicole da Silva spoke to OUTinPerth from Los Angeles.
Francesca 'Franky' Doyle is an incredibly intriguing character. It's a rare character to see it's a multilayered character, what have you liked about playing her?
Exactly that, I love that she's so complex. I love that she's got all these layers to her, that over the series I got to explore and I got to go deeper into and just when you think you know one side of Franky, she turns around and you get something else. I think that's whats so intriguing about her and certainly that's whats so fun to play.
From previous roles you've had with 'Rush' and certainly with this show, you've become a bit of a lesbian pin up!

Have I? Bring it on, I love that! If that's the case, it's awesome.
How do you reckon you'd go if you did end up in prison?

I reckon I would do okay! I have to say. Speaking with a lot of the inmates, current inmates and ex inmates you realise how much of it is about knowing who you are and where you stand in the world.
As long as you stay strong to that you're okay. I don't want to test that out mind you, I'd be happy to leave it as a hypothetical.
As part of the preparation yourself and other cast members went and visited a prison, the Dame Phyllis Forest Centre, was that an eye opener?

Yeah, it really was. You have a certain perception about what prison would be like and you have a certain idea about what your reaction to it would be like, and then when you're there and you're thrown into it and you're thrown into the reality of it.
What I found more confronting is I went out to a male maximum security prison and that was much more confronting for me because the energy of that place was really dark.
The section we went to in the male prison was pretty tame in comparison to the rest of the prison, you come to a moment there where suddenly I was in a room with maybe 20, 40, men who were on the inside for various number of things and I suddenly realised how vulnerable I actually was in there.
---

---
This is unusual that there are so many women in one show, what was that like as a workplace?

It was great, it was a really supportive workplace and there was a strong sense of camaraderie between all of us, male and female, we really came together because we knew we were testing the boundaries of Australian television. We knew that the original had come before us and been such an iconic show that we gathered together and did our best.
Were you familiar with the original show?

No, not that familiar, since doing the show and getting the part everyone went back and watched some of it, but before that I was completely fresh.
I grew up in the country and we only had the ABC but you still knew about it.

That's the thing. Even though I would have watched it, you're right, I knew references from it. I'd heard vinegar tits, I'd heard about The Freak. I knew certain things about the show. So really it permeated Australian culture, if not global culture.
And the steam press, it should probably get its own billing.
And the steam press, yeah!
Wentworth airs Wednesdays at 6.30pm WST on Foxtel's SoHo channel (8.30pm on SoHo+2)
Graeme Watson
Image:- Ben King