On This Gay Day: Remembering Ricky Wilson from the B-52's
Ricky Wilson from The B-52's was born on this day in 1953
Ricky Wilson was the guitarist in the popular band The B-52's, he was born on this day in 1953.
He grew up in Athens, Georgia. In mid 1969 he made friends with another teenager Keith Strickland and the pair began making music together performing under the name Loon. When he was still a teenager Wilson shared with Strickland that he was gay. The pair later collaborated with some high school friends in a band named Black Narcissus.
After graduating from college and travelling around Europe they returned to Athens. Here they formed The B-52's alongside Wilson's younger sister Cindy, Kate Pearson and Fred Schneider. They played their first show in 1977 at a friend's Valentine's Day party.
The band stood out with an unusual sound that combined the emerging new-wave sound with classic surf rock, and Wilson's unusual guitar tunings. The band had a distinctive look wearing Op-Shop fashion, while the two women wore giant beehive wigs. Their first single Rock Lobster was an underground hit selling 2,000 copies. It got them gigs at the famous New York venues CBGB's and Max's Kansas City.
The band were soon signed to Island Records and flown to the famous Compas Point Studios in Nassau, Bahamas to record their self-titled debut album. A new version of Rock Lobster was a giant hit and suddenly the band were travelling around the globe, including a memorable appearance on the Australian show Countdown. 
Just before his death in 1980 John Lennon declared The B-52's to be one of his favourite new bands and said his album Double Fantasy had been inspired by Rock Lobster.
Soon the band were back in the studio recording their follow-up record Wild Planet. The single Private Idaho brought them more success and would later inspire filmmaker Gus Van Sant to name his acclaimed film My Own Private Idaho. 
In 1982, during the recording of what became the band's third album Whammy! Wilson discovered he had contracted HIV. At the time the disease was only known as AIDS, it would be several years before scientists would discover the virus behind the growing number of deaths occurring amongst gay men. He confided his illness to close friend Strickland but kept it a secret from the other band members.
In 1985 while recording the band's next record Bouncing Off the Satellites his health suddenly deteriorated. He died on the 12th of October that year, aged 32. Wilson's death came as a shock to his remaining bandmates, including his sister. They were unaware of his homosexuality or his illness.
"Ricky didn't tell me what was going on. I can't tell you what was in his mind. I was shocked and a lot of things I had to deal with because Ricky didn't confide in me. It kind of threw me for a loop when all of a sudden I got a phone call from the hospital saying 'your brother's dying'. And then I never did get to say goodbye to him. So it really screwed me up." Cindy Wilson recalled in a 2018 interview with The Age.
Following Wilson's death the band went into seclusion, they did little promotion of their new album, and stopped touring. In 1987 they got back together to make a public service announcement in support of amfAR: The Foundation for AIDS Research, but it would be several years before they resumed their musical career.
In 1989 the band reunited and put out their next record. Cosmic Thing would become the biggest album of their career featuring the mega-hit Love Shack. Australia, which had shown the band so much support in their early career embraced the party hit, and it spent 8 weeks at the top of the charts.
Cindy Wilson took some time off from the band and did not appear on their 1992 album Good Stuff, but returned for 2008's Funplex. After this Strickland retired from the band, and they have continued touring with the trio of original members.
While Ricky Wilson never shared that he was gay with most of his bandmates, since his death Fred Schnieder has also publicly spoken about his own coming out experience, and Kate Pierson has shared that she is bisexual. Pierson was in a relationship with artist Tim Rollins from 1981 until 1986. In 2015 she married artist Monica Coleman, the couple first got together in 2003.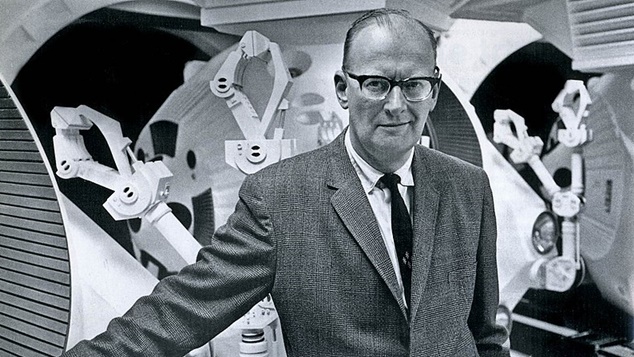 Sci-fi and inventor author Arthur C. Clarke died on this day in 1998 
Arthur C. Clarke was a British science fiction writer, inventor, and futurist who is widely regarded as one of the most important and influential science fiction authors of the 20th century. He is best known for his novel 2001: A Space Odyssey, which was later adapted into a groundbreaking film by Stanley Kubrick.
Clarke was born in Minehead, Somerset, England, and showed an early interest in science and technology. He served in the British Royal Air Force during World War II and later pursued a career as a writer and inventor. He wrote dozens of novels, short stories, and non-fiction books over the course of his career, exploring themes such as space exploration, artificial intelligence, and the future of humanity.
In addition to his writing, Clarke was an inventor who helped develop early satellite communication systems and proposed the concept of using geostationary satellites for global communication. He also popularized the idea of space elevators, which would use cables to transport people and goods from Earth to space.
Clarke moved to Sri Lanka in 1956 and lived there for the rest of his life. He had a huge interest in scuba diving, and while he mostly lived in Colombo, he opened a dive school and shop near Trincomalee.
Clarke received numerous awards and honors for his work, including multiple Hugo and Nebula awards for his science fiction writing. He was also a Fellow of the Royal Society and was knighted by Queen Elizabeth II in 1998 for his contributions to literature and science. The Queen has previously awarded him a CBE in 1989 for his services to British cultural interests in Sri Lanka.
In his later years Clarke was unable to travel as he faced the effects of post-polio which saw him use a wheel-chair and deal with halting speech. He still delivered many addresses to scientists and literary fans, though they were usually pre-recorded.
Sadly as Prince Charles prepared to travel to Sri Lanka to present Clarke with his knighthood a British newspaper published accusations that the author had paid young boys for sex. When journalists asked Clarke if he was gay he responded 'No, just mildly cheerful."
The royal trip was cancelled, but investigations by the Sri Lankan police proved there was no truth in the accusation. Britain's Sunday Mirror apologised for their story. Finally in 2000, his investiture took place.
Tragically, the 2004 Boxing Day Tsunami destroyed the diving school he had created.
Despite his death in 2008 at the age of 90, Clarke's work continues to inspire and influence science fiction writers and enthusiasts around the world. His vision of a future where humanity is connected through advanced technology and exploring the depths of space continues to captivate the imagination of generations to come.
He weas buried next to his partner, Sri Lankan man Leslie Ekanayake, with whom he had died aged 30 in 1977. Clarke's diaries have been retained but he ordered they could not be published until thirty years after his death.
Arthur C. Clarke is remembered in many ways, there's an annual science fiction writing award that bears his name, he's had asteroids, dinosaurs, research institutes, video game characters and major roads named after him, plus a mountain on the Charon, the moon orbiting Pluto is also named in his honour.
OIP Staff, Image of Arthur C. Clarke show shim on the set of filming '2001: A Space Odyssey. Published under a Creative Commons Attribution 2.0 Generic (CC BY 2.0) license. The image from the archives of ITU Pictures. This post was first published in 2023, AI technology assisted in the development of this story. 
---

You can support our work by subscribing to our Patreon
or contributing to our GoFundMe campaign.