Pell apologises to Jewish Community for Q&A Comments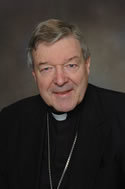 Catholic Cardinal George Pell has apologised to the Jewish community for comments made during the Q&A debate on ABC TV on  Monday night. The Cardinal referred to the Jewish people as intellectually inferior to the Egyptians and Persians as well as apparently forgetting the Holocaust by saying that no people in history had been punished like the Germans.
In a statement to The Australian Jewish News Cardinal Pell said;
'My commitment to friendship with the Jewish community and my esteem for the Jewish faith is a matter of public record, and the last thing I would want to do is give offence to either,' he said.
'This was certainly not my intention, and I am sorry that these points which I tried to make on Q&A on Monday did not come out as I would have preferred in the course of the discussion.'
Pell has not further clarified comments made regarding homosexuals. You can find OUTinPerth's review of the  Q&A here