Perth Fashion Festival highlights bright future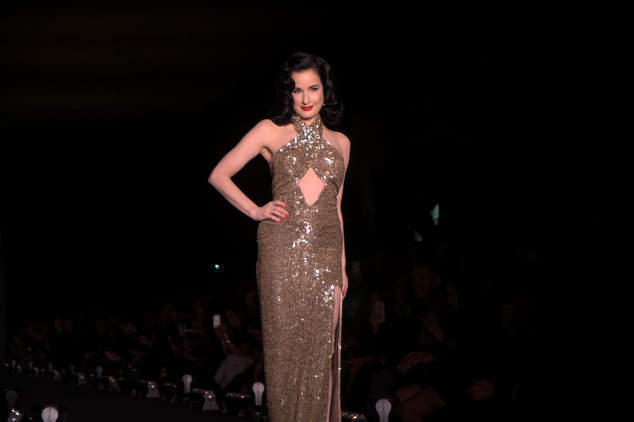 West Australian fashion reached new heights this weekend just gone. From the hyperglossia of WA Designer Runway #2 to the astounding profound beauty of Akira, the double whammy of Steph Audino and Ae'lkemi and the rock 'n' roll' hip-wiggly fun of Wheels & Dollbaby, one thing is certain – Perth fashion is at new frontier.
Saturday evening saw Fashion Paramount come alive with an onslaught of WA talent. As mentioned in earlier #TPFF2015 reviews, the WA Designer Runway shows are a cavalcade of what makes Perth fashion unique, fun, distinct and contemporary. And there were plenty of highlights.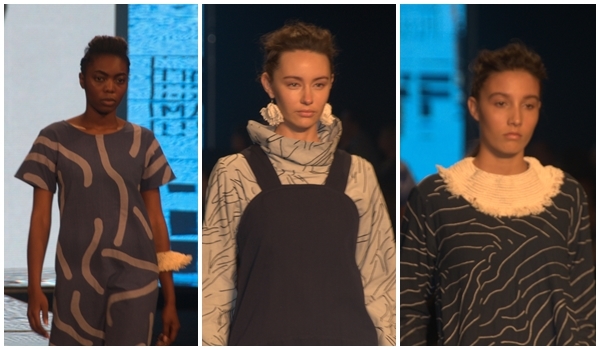 Jonte was incredible, offering a selection of garments that fused stripped back and sparkles in a most magnificent manner. Gowns were augmented with flourishes of ribbons cascading down. The collection had a sublime goddess-like quality, an elegance where brilliant details shimmered and shined. Make that 'shine shine shine'…and if I were to pretend I was Jackie G from Real Housewives of Melbourne, I predict big things for this label as they continue to moved from strength to strength.
WA fashion icon and staple Meagon Salmon offered up a micro-collection that hinted at new sophistication, but with her usual ludic faire. Floral white lace dresses and separates mixed appliqué and tiny flower cut-outs to great effect. Add theatrical woodland creature headpieces, and Salmon certainly showed the new wave how it should be done.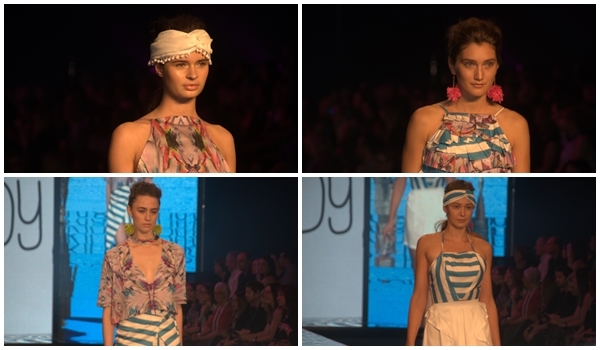 Morgan Marks is one of those boutiques that when I walk past, I always have to pop in and have a quick squiz. They mix moody monochromatic prints with an architecture of function and form, all billowed out in beautiful ease. Their runway collection delivered more of the same, more certain than before. Directional, edgy and effortlessly elaborate pieces made for a brooding romantic moment.
The highlight from this parade would have to be PET. They brought eye-popping outrageousness to the runway, and marvelously so. Monochromatic flannel throwcoats were layered over a print that collaged squiggle and stripe: think Lichtenstein's palette infused with a Linda Jackson aesthetic and admiration for Australiana. Their collection was bold and brave, this print even braver, creating a micro-collection that married the audacious with the adorable perfectly. This is summer's must have WA label for getting around in.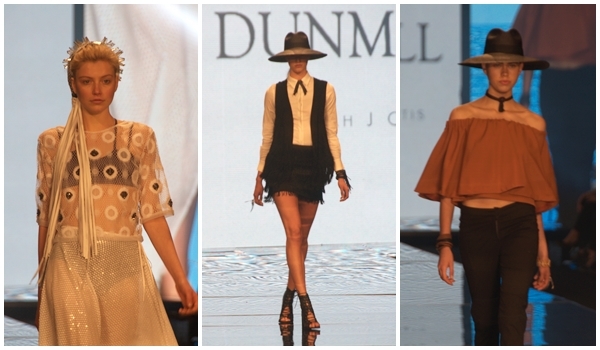 Saturday night closed with Akira by Akira Isogowa. This show was next-level, literally.
While some of you may look at the photos of the garments and think 'really?' you have to remember that a fashion show is an experience. There are the clothes, yes. But there is also the mood of the models, the soundtrack that sets that mood, the visuals that are projected, the lights, smoke machine, and even the subtle fragrances that some designers use.
To make a parallel – imagine you're at Connies and that song you just LOVE comes on and you jump and squeal and starting dancing…well, Akira was like that. Except without the disco. Or the dancing.
What he presented, instead, was a moment of sublime perfection, a moody moment of introspection matched with gorgeous garments and brilliant styling. Birdcall and a single piano were the only soundtrack – used to great effect – as Akira led his models through the zen of his fashion garden.
His Asian heritage was evident in every garment, from the karate belt straps that dangled to the new-wave obi's (think zippers, not that old school wrapping technique) and overcoats embroided with tradition motifs of cranes, koi and plum blossoms.
Here, Akira's colours played in different directions to what you would expect. He made yellow moody as it accentuated melancholy. Red became wise. Peach wasn't so sweet. Black was a tempest of desire.
And the flowers! There were flowers sewn as embellishment, flowers dragged the length of the runway, flowers worn as boas, flowers worn as blindfolds.
Now, if you bring all these elements together you can begin to imagine the moment Akira created. It was as if time seemingly stood still inside a meditation of his making. It was so beautiful some people began to even cry – fashion should move you.
His collection highlight's included a white cocoon jacket embellished with beads in pearl, gold and silver, a black velvet cape and a red leather bolero desconstructed and adorned with a floral motif that spanned up over the should and down the back. Oh, and there was a peach and tulle gown made from a multitude of layer after layer.
Incredibly presented, Akira's show was a dreamspace filled with eloquent, delicate women, the kind who love to adorn themselves with fantasy and art.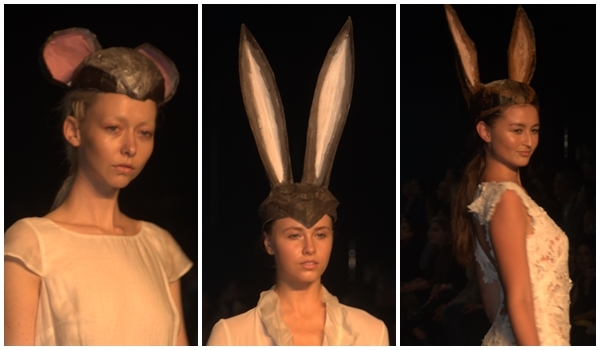 Now let's move to Sunday night where Fashion Paramount appeared inside Ascot Racecourse.
Steph Audino opened the night, and rightfully so. There is something very sexy and honest about this designer's work. All eveningwear, her gowns have a youthful vibrancy and playfulness that you can just tell is serving her well and develop into a distinct signature in time. The music made her collection in a soul train of sartorial perfection, where fuschia was funky and monochromatic elegance hugged the model's frames.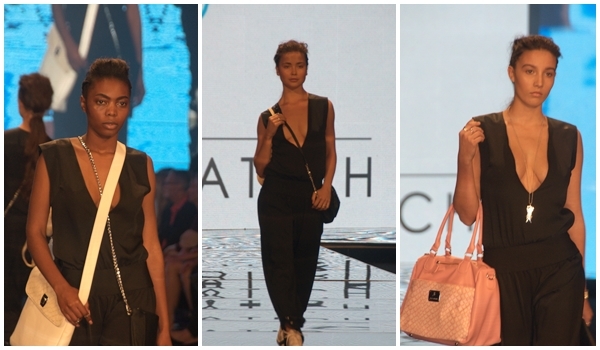 Accents of sheer panels (sooooooo much sheer on all the runways this year), ostrich feathers and a refined placement of sparkles brought her whole show together. Audino is definitely one to watch, not only for how she approach to eveningwear (she is still playful it appears, which is a very good thing) but because of how she does business and how that mood translates into her clothing – she's developing her own loyal tribe of followers. And rightfully so.
One designer who has a distinct tribe of fans is Alvin Fernandez at Ae'lkemi. And this gentleman is just going from strength to strength. No…wait…he's going beyond, darling. Beyond.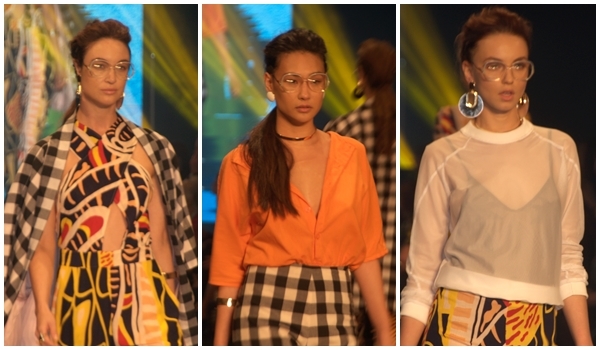 His European sensibility is so refreshing to see. He designs clothes for the woman who has somewhere really important to go, like a gala dinner or the south of France…the kind of woman who wants to make a statement when she arrives. And in Ae'lkemi, she does just that.
Pantsuits and bodysuits were paired with dramatic show-stopping capes that billowed and twirled. More manageable mini-capes were accented with lace flower appliqués while tuxedo inspired moments added a strut of confidence. But where Fernandez shines in is his mastery of beading and featherwork. He actually uses these elements to make an architecture that effectively eroticizes the curves of a woman even more so.
Put simply, Ae'lkemi was beading brilliant.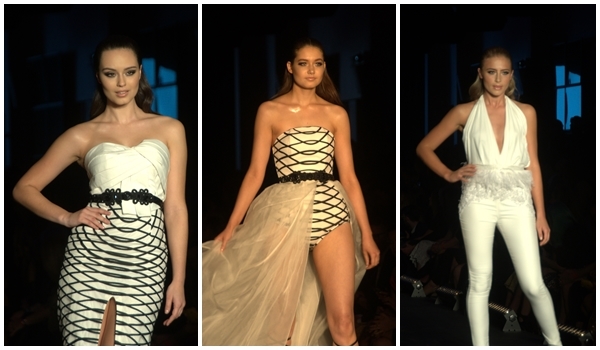 Wheels & Dollbaby closed #TPFF2015 with a collection that encapsulated their usual love affair with the vintage pin-up silhouette. Chinese silks and details enthused the runway as sass, charm, audacity and flair came to the forefront.
Highlight from the show – besides that incredible worldclass wiggle that Dita Von Teese has – would have to be the curvy models. My god these girls were on fire. They stomped that runway more fiercely than any other model during TPFF has. And the crowd rose to the occasion, cheering them on. Wonderful to see…and encouraging.
So…upcoming trends? Well, as I've mentioned, there is an overplay of sheerness almost. But it is coming into summer, and the body and how we present ourselves is still an extremely political space in culture. Sparkle plays down those politics to great effect. Australiana is a big theme, not just in that rustic rover kinda way, but an embrace of artistic expression of Australia in the late 20th Century…y'know, that era when we showed the world that yeah, we were Aussie, but also more than a touch kooky too.
My favourite trend, however, was what can only be referred to as warrior princess. There were subtle moments across the shows when some designers presented clothes that were strong – in their opinion and construction – clothes that did away with the nonsense of sparkle and offered a calm, certain confidence.
This, in my mind, is where fashion needs to go next – we need to take the utilitarianism of the '90s and reinvent its function and form through the fantasy that is so evident in all aspects of our lives at current. After all, we are on the brink of a new frontier (we always are really) and a sparkly dress may look fabulous, and may command, it hardly rallies the troops. Add a cape or deconstructed functionality or even a stated awareness of ecology and then you'll have our attention.
Still, the future is bright, and there are some WA designers who look set to make it even brighter.
Scott-Patrick Mitchell
Here are some more highlights from the weekend's runways.