Peter Foster highlights Trans Day of Visibility in WA parliament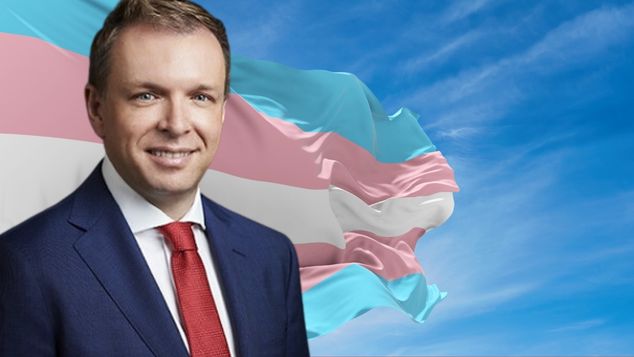 Western Australian Labor MLC Peter Foster, who represents the Mining and Pastoral region in the Legislative Council, highlighted Trans Day of Visibility to the WA Parliament this week.
In his speech the MP called on Liberal leader Libby Mettam to outline if she agreed with comments recently made by Upper House MP Nick Goiran in relation to Victorian Liberal Moira Deeming, and suggested Pride WA should reconsider the Legalise Cannabis party's participation in PrideFEST events.
Legalise Cannabis MP Sophia Moermond spoke at the recent Let Women Speak event on the steps of the Western Australian Parliament alongside British activist Kellie-Jay Keen. Keen is known online as Posie Parker and has promoted anti-transgender views.
At the event Moermond said she saw rising "Lesbophobia" in society and suggested that the increasing number of people who are transgender put too much of a burden on Australia's Medicare system. The politician's comments have been widely derided, with many people highlighting that Medicare does not currently cover many health procedures needed by people who are transgender.
Foster said Moermond's participation in the Let Women Speak event really called into question her previous support for LGBTIQA+ communities.
"That same member attended PrideFEST Fairday last year and co-hosted a stall with party members, and her actions earlier this month really call to question her support for the LGBTQIA+ community. I suggest that she reflects on this, and I hope that the organisers, Pride WA, re-evaluate further stall requests from that particular member." Foster said.
The Labor MP however used the majority of his speech to restate the challenges faced by people who are transgender, and also highlighted that transgender people make many positive contributions to society in a range of fields.
"This day is an opportunity to celebrate the achievements and contributions of trans and gender diverse people to society. This is a community that has historically faced marginalisation, discrimination, and violence.
"Trans people are often subjected to social exclusion, economic inequality and, horribly, physical and emotional abuse. Trans and gender diverse people are also more likely to experience mental health issues such as depression and anxiety. At the same time, they face significant barriers to accessing health care and other services." Foster said.
The MP said Trans Day of Visibility was also an important opportunity to celebrate and uplift the voices and experiences of trans and gender diverse people.
"Trans Day of Visibility is also an opportunity to highlight the contributions of trans people to society. Trans people have made important contributions in fields such as art, science, politics, and activism.
"By celebrating these achievements, we can help to promote positive representations of trans people in the media and public consciousness, and challenge harmful stereotypes. But visibility alone is not enough to address the challenges faced by the trans community.
"It is important to recognise that trans people continue to face significant barriers to access health care, education, employment, housing, and other essential services. This in turn leaves many trans and gender diverse people at much greater risk of poorer health outcomes.
"Discrimination and violence against trans people still exists. Around the world—although I am very proud to say not here in Western Australia—legislative efforts to restrict trans people's human rights are on the rise. Trans Day of Visibility should be a call to action for allies and supporters of the trans community. We must accompany visibility with concrete action to support trans rights and equality.
"Our schools and workplaces must be welcoming and inclusive of trans and gender diverse people. We must support trans-led organisations such as the amazing team at Transfolk WA, and we should challenge transphobic attitudes and behaviours when they arise." Foster said.
OIP Staff, image created digitally. 
---
Do you need some support?
If you are struggling with anxiety or depression, support and counselling are available from:
QLife: 1800 184 527 / qlife.org.au (Webchat 3pm – midnight)
QLife are a counselling and referral service for LGBTQIA+ people.
DISCHARGED: [email protected] / discharged.org.au
Discharged is a trans-led support service with peer support groups for trans and gender diverse folks.
Lifeline: 13 11 14 / lifeline.org.au
Beyondblue: 1300 22 4636 / www.beyondblue.org.au
---

You can support our work by subscribing to our Patreon
or contributing to our GoFundMe campaign.