PFLAG launch campaign to "give PM a backbone" on marriage equality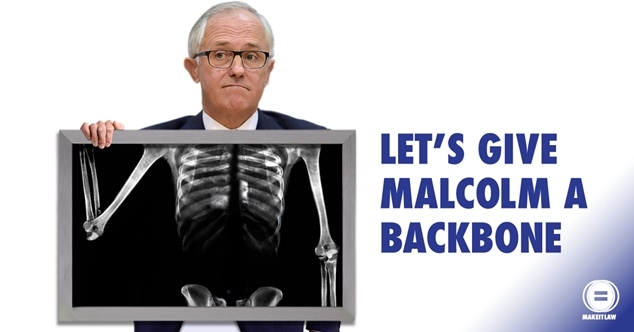 In a new push for a free vote on marriage equality, Parents and Friends of Lesbians and Gays have launched a campaign to give the Prime Minister a backbone.
The campaign calls for supporters of marriage equality to urge Malcolm Turnbull "to grow a backbone and show leadership by allowing a free vote" in parliament.
Emails generated as a part of the campaign will be fashioned into a spine that will be delivered to the PM by representatives of PFLAG.
PFLAG's national spokesperson Shelley Argent says the organisation has had great success getting through to members of the PM's party with email campaigns, and now it's Turnbull's turn to feel the heat.
"Many Australians are disappointed Mr Turnbull hasn't yet taken the lead on marriage equality by allowing a free vote so we're on his case," Argent said.
"Emails that are sent to Malcolm Turnbull calling for a free vote will be collected together, turned into a spine and delivered to him. The simple message is that we want Malcolm Turnbull to show some backbone on marriage equality."
PFLAG have partnered with fellow advocacy group just.equal to lobby against the government's recently proposed postal plebiscite.
Veteran marriage equality advocate Rodney Croome has said the plan is "inherently rigged."
"The result of a voluntary postal vote on marriage equality will not be representative, will carry no weight and will not be binding on parliament," Croome said.
"It will be a wasteful, worthless and damaging exercise that will bring marriage equality no closer at all."
You can check out the campaign at givemalcolmabackbone.com.au