Protestors outnumber supporters at Kellie-Jay Keen Perth event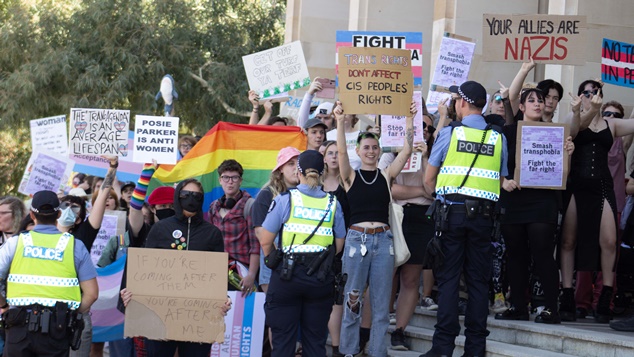 Transgender rights activists were clearly in the majority as Kellie-Jay Keen held a Let Women Speak event on the steps on the WA parliament. Around 150 people attended the protest while the British provocateur touring the nation drew a small crowd of supporters that numbered less than a hundred.
Warning: This story has comments and images which might be distressing to some readers. For 24-hour crisis support and suicide prevention call Lifeline on 13 11 14. For Australia-wide LGBTQI peer support call QLife on 1800 184 527 or webchat.
Kellie-Jay Keen is currently touring Australia holding public speaking events where people are encouraged to voice their concerns about people who are transgender. Her events are live streamed to her global audience. After drawing small crowds in both Sydney and Melbourne, today she appeared on the steps of the Western Australian parliament.
Keen, who appears online using the moniker The Posie Parker, has previously argued that transgender people should not be allowed in single-sex spaces, and that transgender youth should not be able to access medical treatments.
Keen has been accused of being transphobic and having links to far-right groups. The recently released 'State of Hate' report from Hope Against Hate noted far right extremism is growing in the United Kingdom, and the report highlighted the role the campaigns of Kellie-Jay Keen were playing.
Her Australian tour has been sponsored by CPAC, the Conservative Political Action Conference and been championed by anti-transgender organisation Binary. Binary was previously known as The Marriage Alliance, one of the most extreme sections of the No campaign against same-sex marriage.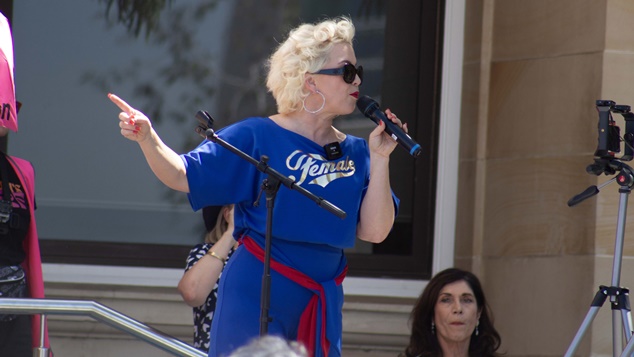 As Keen addressed her followers the protestors tried to drown her out with chants of "Stand Up, Fight Back", and "Posie Parker you can't hide, you have Nazis on your side."
Keen's supporters returned fire accusing the protestors of supporting pedophilia, encouraging them to "Embrace Jesus", waving rosary beads at the protestors, and making the sign of the cross. One Nation supporters were highly visible amongst the small crowd listening to Keen, holding up cut outs of federal MP Pauline Hanson.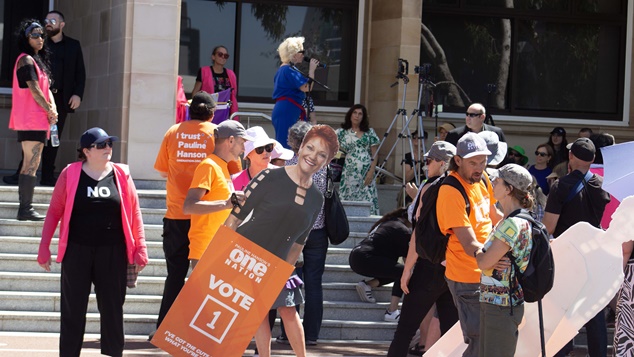 OUTinPerth spoke to several protestors who shared their motivations for attending the event.
"I'm disgusted that groups like CPAC can import basically foreign hate merchants. The Australian electorate was very clear in the last election, candidates who ran on these imported transphobic platforms were obliterated at the polls." Pauli Kidd said.
"The electorate has already spoken. These people lost on the marriage equality issue, and they think targeting trans people will give them an in, if you can annul one group of people, you can annul the next, and the next. Hopefully the line stops here, and people like this never get to the point where they are dictating policy."
Prue shared that she'd joined the protest to support her daughter who is transgender. "She couldn't come today so I wanted to show my support for her, I think we all have rights, and we're all human and we should all tolerate each other."
Other participants spoke about their hope that younger people who are transgender would have an easier journey than they had experienced.
"The rhetoric that is being shared here is potentially about the eradication of trans people, its already tough enough for young people without them having to hear these comments." Stacey-Mae said.
Addressing the crowd one of the protests organisers JJ Blackburn said Keen's views did not need to be imported into Western Australia, and it was wrong to describe Keen as a 'TERF'. The acronym standing for Trans Excluding Reactionary Feminist. Keen has proclaimed that she is not a feminist, but also embraces the label.
"These are the ideas of the far-right." Blackburn said. "They are anti-trans, every move they make is designed to attack the rights and freedoms of trans people, and one of the most oppressed sections of our society – trans women."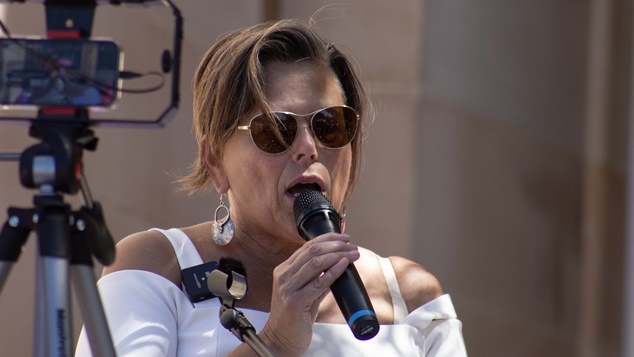 Legalise Cannabis MP Sophie Moermond says Medicacare will be put under pressure 
WA MP Sophia Moermond from the Legalise Cannabis Party was the first speaker at the event, earlier in the morning she had escorted Keen into the WA Parliament building.
Addressing the crowd Moermond said her speech would probably be "political suicide" but she had a long list of concerns about people who are transgender.
Moermond said there had been a rejection of science in favour of ideology when it came to transgender health treatments, and she held concerns about affirmative care models, the puberty of young people who are transgender, violent offenders who are transgender being held in female prisons, reduced safeguarding of children, transgender women being allowed to play sport, and the "silencing of women's voices."
"We are creating a whole generation of children that will need lifelong medical care. I am concerned about the medical costs that already overburdened Medicare system is dealing with now." Moermond said.
The Legalise Cannabis MP said she believed there would be a large number of people choosing to "detransition" and this would put further strain on Australia's health system.
"I am concerned about the increase in homophobia I am seeing around the world." Moermond said, "In particular 'Lesbophobia' that triggered and pushed by this movement. The denial of biological sex denies the basis for same-sex attraction, and that is homophobia."
The MP later posted the same statements to her social media pages, where one commentator asked her if she also held any concerns about growing levels of transphobia in society?
While Moermond said a growing number of transgender people who change gender and then later regret their decision will put Australia's healthcare system under pressure, the available research has shown that this rarely occurs.
In 2022 the World Professional Association for Transgender Health said evidence of later regret is scant, but people undergoing gender transition should be informed of the possibility during psychological counselling before undertaking medical treatment.
A study published in January this year by OHSU, an Oregon based health provider that provides gender reassignment services, found that of 1989 that people who engaged with their program between 2016 and 2021, six people had later reverted to their previously held gender identity.
Moermond was elected to the Western Australian Legislative Council in 2021, she is one of two members of the Legalise Cannabis party in the parliament, the other is Dr Brian Walker. Dr Walker has previously voiced his support for LGBTIQA+ law reform.
Legalise Cannabis argue that prohibition of the drug denies people the right to autonomy and self-determination over what they take into their own bodies. The consider it to be an intrusion into bodily integrity, a human rights violation.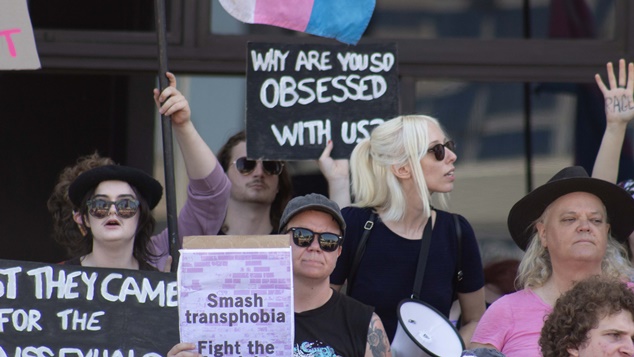 TransFolk of WA respond to 'Let Women Speak' event 
Advocacy and support organisation TransFolk of WA released a statement outlining their concern about the event.
"The primary focus of TransFolk of WA is the peer support and care for the trans and gender-diverse community of Western Australia. As part of our services, we engage in learning opportunities and discussions with individuals and organisations that reach out to us, in good faith, for that reason.
"We are deeply concerned by the exclusionary attitudes and harmful rhetoric espoused by some individuals who claim to be feminists, but use their platform to attack and marginalise transgender women.
"We know for a fact, through the lived experience of our community and numerous peer reviewed studies, that the platforming of these violent, anti-trans voices leads to a measurable increase in violence on our community. In the inverse, putting trans and gender-diverse voices at the centre of discussion of our community leads to greater societal understanding and acceptance.
"TransFolk of WA is also in unwavering solidarity with other marginalised groups sometimes also targeted by the multi-dimensional discrimination of these exclusionary individuals and organisations.
"We must work together to create a society where all women can live free from discrimination and violence. We believe that women's rights are for all women, including trans women and trans feminine people. It is important that we advocate for the rights and safety of all women, regardless of their gender identity." TransFolk of WA said.
Kellie-Jay Keen's Australian tour will now progress to Adelaide, Melbourne, Canberra and Hobart before she heads to New Zealand.
Graeme Watson 
---
Do you need some support?
If you are struggling with anxiety or depression, support and counselling are available from:
QLife: 1800 184 527 / qlife.org.au (Webchat 3pm – midnight)
QLife are a counselling and referral service for LGBTQIA+ people.
DISCHARGED: [email protected] / discharged.org.au
Discharged is a trans-led support service with peer support groups for trans and gender diverse folks.
Lifeline: 13 11 14 / lifeline.org.au
Beyondblue: 1300 22 4636 / www.beyondblue.org.au
---

You can support our work by subscribing to our Patreon
or contributing to our GoFundMe campaign.