Rainbow Migrants is hosting 'Karaoke with an Accent' at Connections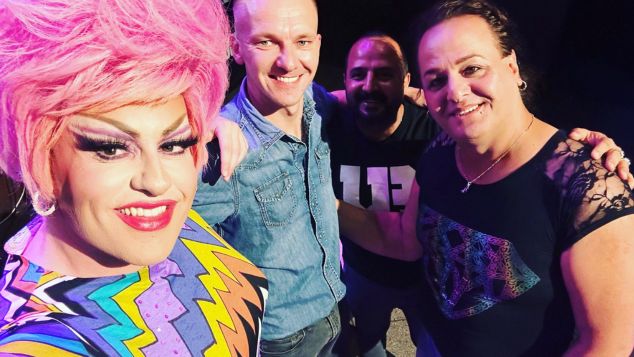 Community group Rainbow Migrants is hosting a karaoke event at Connections later this month, it's called Karaoke with an Accent. 
The event aims to celebrate the unique backgrounds and voices of rainbow migrants, fostering an environment of love, respect, and a sense of belonging. It's open to solo stars and harmony squads, and you can sing in your language, spice up your English, or rock those Auslan notes. The event does not have any cover charge.
Organisers says the event is all about love and respect, describing it as a safe haven where everyone can be themselves, surrounded by the warm embrace of Perth's acceptance. All Rainbow Migrants events are intolerant of all bullying, ageism, ableism, racism and all forms of antisocial behaviour.
Multicultural LGBTIQ+ immigrants arriving in Perth from the far corners of the globe can find social support through a project called Rainbow Migrants.
Funded by the WA State Government's Office of Multicultural Interests, the project was launched earlier this year as a 12-month pilot and has identified a need for more support for new arrivals into Perth who identify as sexually and culturally diverse.
Many of these immigrants have been subjected to marginalisation, discrimination and even abuse in their home countries and choose to relocate to Australia because of the rights and protection they are afforded here.
However, they find it difficult to connect with like-minded community members and services due to cultural and language barriers.
The Rainbow Migrants project is being run by award-winning charity Umbrella Multicultural Community Care Services Inc, whose founder Anna Harrison was recently cited as a Member of the Order of Australia for her service to multiculturalism in Australia and to aged care.
Headed by University of Western Australia academic Dr Lukasz Krzyzowski, the project's primary goal is to provide social support and advocacy for LGBTIQ+ migrants from multicultural backgrounds, regardless of age, visa status, education, abilities, or English language proficiency. The project aims to foster social connectivity, intergenerational and intercultural understanding.
In partnership with the Northern Suburbs Community Legal Centre, Dr Krzyzowski is currently running free weekly information sessions on issues impacting LQBTIQ+ migrants. Topics include cyberbullying and navigating the housing tenancy system. He is also offering training sessions to government departments and the private sector and recently ran a successful workshop for the Water Corporation in Perth.
Dr Krzyzowski said much more needed to be done to bridge the gaps in social interaction.
"The more work we do in this space, the more we identify the gap in social support and networking opportunities for LGBTIQ+ migrants who now call Perth home," said Dr Krzyzowski. "I am grateful to Umbrella Inc for supporting this project."
The karaoke action gets under way on Saturday, 23rd September 2023 from 7:30pm – 10:00pm.
Head to eventbrite to reserve your spot. 
OIP Staff, 08-09-23 an earlier version of this article stated the event was being held at The Court, which was incorrect. OUTinPerth apologises for the error. 
---

You can support our work by subscribing to our Patreon
or contributing to our GoFundMe campaign.