Raven: The Dark Prince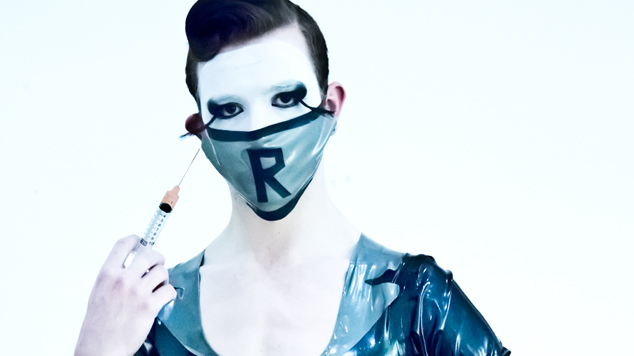 Raven, the Dark Prince of Boylesque, has been hailed as one of the best burlesque performers in the world. In 2012 he was crowned Mr Boylesque Australia. Next month he'll be bringing his dark performances to Perth.
You're known as the 'Dark Prince' of boylesque, where does the darkness come into it?
As I have grown as a burlesque performer I have found that I tend towards the darker and emotion provoking style of performance and I find audiences are most excited when they're on the edge of understanding. So a lot of my acts have a political, fetish or horror element to them. I do comedy, but even when I am making people laugh my darker style of performing is able to achieve that edge.
How does your work challenge commonly held notions of beauty and gender roles?
Part of what makes up the edginess of my performance is the mash of elements that go against a whole bunch of assumptions about how people should look or act. I often rock out a corset and a mean pair of heels at the same time as flashing my furry butt, and I'll stick nails up my nose just before I tassel twirl.
When it comes to putting an act together I'm more than happy to say f**k you to anyone putting limits on where I can go with it and the fun for me is when I get the audience applauding at something gross like bleeding from the mouth, or the straight guy who first thought I was a woman when I walked on stage cheering loudest at the end even after seeing my furry butt.
What will people have in store if they attend your boylesque workshop?
My workshop is a bit of a crash course in Boylesque. I will talk briefly on the history of male burlesque as I believe it is incredibly important to know where the art form comes from and how it has evolved. I am quite the burlesque nerd and proud of it!
I will then teach the art of stripping out of a suit without the use of press studs or snap tape. It isn't as easy as it may seem and there are some sneaky techniques I will be teaching to make it that little more easier so it looks effortless! Oh I will probably dance and sing around like a nut as I am quite energetic!
The Perth International Burlesque Festival kicks off on June 30th. Raven will be performing at the 'Dark of the Cabaret' on Friday July 11 and at the 'Glitter, Garters & Tease' show on Saturday July 12. Plus he'll be delivering a boylesque workshop on Wednesday July 9.
Head to www.perthburlesquefestival.com for all the details.  
Sophie Joske