Retro Cassette Friday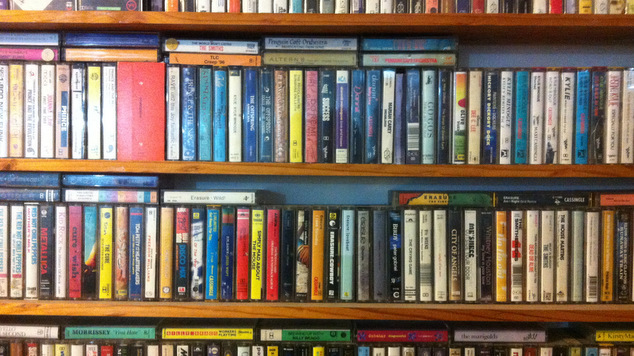 After a few weeks break Retro Cassette Friday returns to the OUTinPerth office. This week we take out three albums from the 80's, two of the artists will be in town soon too.
Big Fun, A Pocketful of Dreams
Jive, 1990


At the end of the 80's production boffins Stock, Aitken and Waterman were at the height of their success, so many artists were in their charts with their Hi-NRG Euro-pop sound, from Kylie Minogue, Jason Donovan and Rick Astley to Bananarama, Donna Summer, Lonnie Gordon, Mandy Smith and mountains of others. One outfit we might have forgotten is the trio Big Fun. They arrived with a cover of  'Blame It On The Boogie', a song made famous by The Jacksons, and released a bunch of SAW penned singles including 'Handful of Promises' and 'Can't Shake the Feeling'. The rest of the album features more SAW songs, and a couple of covers including Carol King's 'I Feel the Earth Move' – which had been a hit for Martika two years earlier. All the members of Big Fun were gay, but kept it a secret during their time in the spotlight. Sadly this album, which is all kinds of camp, has never been released on CD.
Chic, CHIC-sim
Warner,  1992
Twelve years after Chic split up and the disco era ended Nile Rodgers and Bernard Edwards reformed what was one of the disco era's biggest bands for one more album. While this album was not a hit, maybe it was all just bad timing, a few years later the acid jazz movement would be in full swing and this collection of disco meets hip-hop sounds would have fitted in perfectly. This album's packed with Nile Rodger's grooves, a little more jazzy than disco, but if you're discovering his back catalogue through a love of 'Get Lucky' – this is worth tracking down. Nile Rodgers and Chic will be at The Astor on 13 December.

Check out the video for Chic Mystique
Tony Hadley, Self Titled
Slipstream Records, 1997
Best known as the voice of Spandau Ballet, this Tony Hadley's second solo album a collection of mostly covers. Most artist who are around for a substantial period of time will eventually put out a covers record, sometimes as a way of filling record contract requirements, but sometimes – like here – through a genuine interest in the songs. Hadley gives his take on Duran Duran's 'Save a Prayer' – featuring the songs original singer Simon Le Bon on backing vocals, a smooth version of Bryan Ferry's 'Slave to Love', a take on Hall and Oates 'She's Gone' plus Black's 'Wonderful Life' and Tears for Fears 'Woman in Chains'. The original songs included are just as worthy as the cover material, and Hadley's strong voice stands out. Tony Hadley is playing at The Astor on 30 October.