Review | Almost Lesbians ticks all the boxes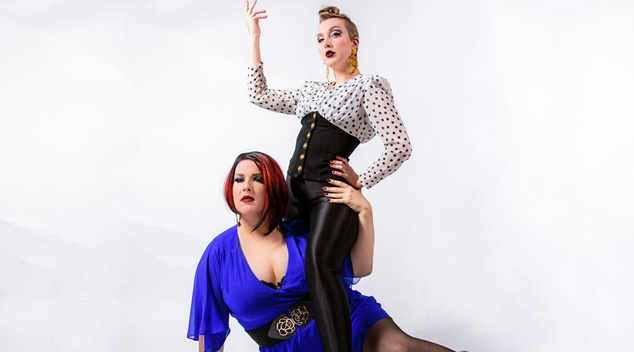 Almost Lesbians | Perth Town Hall | ★ ★ ★ ★
It was freezing cold as we were lead into the venue. The Supper Room, so named for it's corridor like shape in which you could maybe fit one admittedly very long dinner table, wasn't what I'd call an ideal venue. I'm still not convinced that anything behind the forth row would be able to see a damn thing.
The air conditioning in this place, or maybe just the insulation, must have been insane. Shorts had been a bad idea. But as the performance started, any poor fashion choices on my behalf instantly fled my mind as we were dropped into the life of two Almost Lesbians.
Anna is a trans mostly-woman. Sophie is bisexual. Together they make a comedy duo which is almost lesbians, and they navigate that nuance pretty well.
The sets about the queer community are incredibly natural. Anna and Sophie manage to be funny without over sensationalising their experiences, or playing up the usual extroverted image that the community often gets. That's pretty refreshing.
For the queers amongst the audience, it feels a little like jokes that you would find with your own friends bought to stage, given a projector, and taken to their natural extreme. And yet their experiences are absolutely accessible to a much wider audience.
This does mean that some of the sets need polishing. They should make sure they have details like dance moves and digital cues down before opening night, and be aware of their performance space. Granted, as I've said, the venue was pretty tough for anyone, so they did all right in that respect.
Self awareness in this sort of performance is often a little hit or miss. In Almost Lesbians, it was definitely a hit most of the time. The opening sequence is an excellent parody of dramatic and indulgent social commentary and this tone follows through the entire performance.
They're aware of their audience and they definitely aren't afraid to make fun of themselves.
The running checklist of what is contained in a 'Best of Fringe' performance held each segment in place quite well right up until the end, where you could see them reaching just a little.
Their banter was truly exceptional. I feel as though performance artists of this kind often feel as though they will bore an audience by talking too much, but anecdotes make up some of the strongest sections of this performance. They lose the opportunity to add weight to their performance at the end, when they diverge from this strength.
That being said, the finale had me crying from laughter, so there's a box they can check off.
It was just a really good, honestly funny show. No bells and whistles, but an excellent performance, especially for those of us who are closer to a female identity.
Annique Cockerill
Almost Lesbians runs until the 18th of Feb. Grab your tickets from the Fringe World website.
Image Credit:- Jamie Breen
---
Support OUTinPerth
Thanks for reading OUTinPerth. We can only create LGBTIQA+ focused media with your help.
If you can help support our work, please consider assisting us through a one-off contribution to our GoFundMe campaign, or a regular contribution through our Patreon appeal.