Review | Jessie Gordon and Mark Turner bring you peace and 'Calm'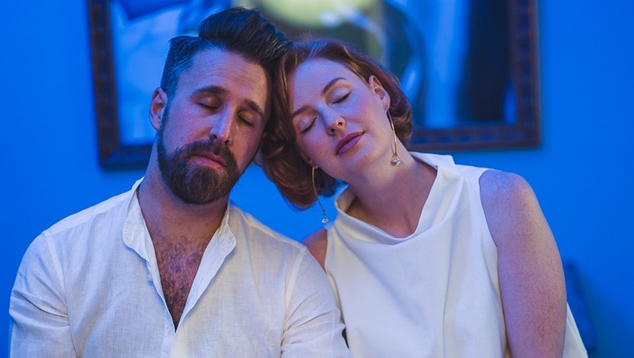 Calm | Moana Hall | ★ ★ ★ ★ ★ 
The duo of Jessie Gordon and Mark Turner have created a score of rhythmic melodies familiar to the ear, reworked into an hour-long musical sound bath of calming aural hypnotic melodies, taking us on a journey, with no particular destination; beautiful and peaceful.
Enter the exceedingly beautiful Moana Hall, filled with history and sublime natural acoustics.
Allow your mind to wander, close your eyes, and drift to another place, even if you start to dream; this is perfectly fine.
The audience surrounds Jessie and Mark, all seated as light filters through three beautiful arched windows, lamps illuminate Mark and Jessie, and fairy lights carpet the floor like magical grass in another world.
The room is warm on one of those hot Perth days when the temperature is still 30 degrees early evening. Black ceiling fans spin on a painted black ceiling, large fans purr in the corners of the space to keep us cool.
We are transported to an imaginary place, maybe a late-night music club from the mid-20th century; although it's 7pm in Boorloo Perth in 2023.
Jessie's voice fills the room with harmonic resonance, a soothing voice that allows you to peacefully drift away. I close my eyes and open my heart mind and ears to this aural splendour.
Mark's voice intertwines with Jessies into song, both Jessie and Mark sing harmoniously together, creating a peaceful soulful journey. The duo are in sync and the hour flies by like a dream.
Mark is an octopus moving from piano to acoustic guitar to electric with a myriad of foot pedals and sound machines spread across the floor.
Calm is a sound bath of ideas and improvisation, a journey with no particular destination utilising acoustic and electric guitar, keyboards, synths, saxophone and voice.
Jessie and Mark are a music match, simply magical. They have created a wonderfully hypnotic and dreamy experience soothing the chaos of life.
The sublime immersive improvised soundscape washed all the day's noise away. Gently leaving us calm like a cool breeze on a summer night. A beautiful, blissed-out way to spend an hour.
Soaring harmonies, tranquil layered sounds and gentle beats wash over you and transport you to a place of deep rest. Incredible show, held within an intimate venue.
Both Jessie and Mark perform during the Fringe season in other events and Mark performs at the Fremantle Arts Centre, check the Fringe World and FAC web page for further details.
Guy Gomeze is an artist, arts worker, photographer, writer, and occasional curator, they have worked in the arts for 25 years between the east coast and west coast of Australia.
---

You can support our work by subscribing to our Patreon
or contributing to our GoFundMe campaign.