Review | Mimma: Standing ovations for A Musical of War and Friendship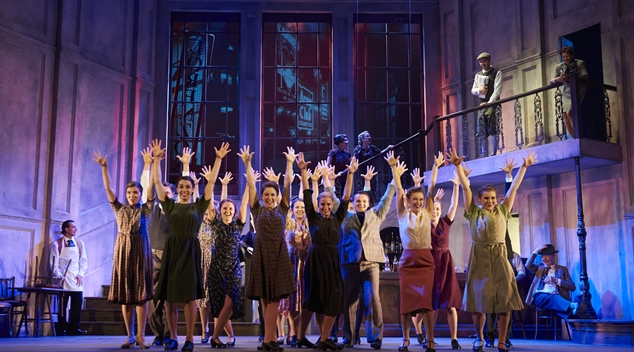 Mimma: A Musical of War and Friendship | Regal Theatre | til 21st April | ★ ★ ★ ★ ½ 
"Mimma!" The word conjures up images of a mother figure, of a desperate cry for one's own mother but in the case of this newly created epic musical, Mimma is the central character, a journalist from Turin, penning words like weapons in her family's underground newspaper against the Fascist regime in Italy, led by Mussolini. To me, Mimma, is the epitome of a mother – protecting Italy and the rest of her family. Even if she is not yet a mother herself, she is a mother to her cause.
As the lights go up, we are confronted with a small rowing boat in the middle of the ocean at night as a group of refuge Italians, (reminiscent of our own Boat People), flounder for survival in a dramatic and highly effective prelude cameo scene that sets a high benchmark to what we can expect.
The main curtains open and, to a round of applause, we are not disappointed. The huge scale of a Tuscan-style, natural stone mansion complete with sweeping staircase, sparkling chandelier, looms before us. Cleverly, this set was used throughout and adapted well for the nightclub scenes in London.
Mimma Marini, played by the soprano-darling of Andre Rieu fame, Mirusia Louwerse, was the true embodiment of an independent, head-strong Italian journalist. Her acting and accent were impeccable and her voice like the nightingale referred to in the show – sweet, yet rich and full bodied. I was impressed by the depth and commitment to character and, as testament to the true actress in her, mesmerised by her story.
Hats off to Holly Meegan, playing the role of London-based jazz-singer Sarah Parker, who becomes Mimma's life-long friend. Another rising star both in real life and in the story, this pint-size soprano was an absolute diamond in her portrayal of a true British "gal" in the late 1930's/pre-WWII. Her brisk English accent was top notch as was her vivacious character which lifted the tone of sombre themes whenever on stage. A touch shrill at times, hers was a perfectly formed musical theatre soprano voice, hitting the high notes as well as the chest voice of a 1930's style jazz singer. She and Mirusia had a closely-knit chemistry on stage and their contrasting characters gave extra dimensional interest to each scene.
At times, I did wonder if the show should have been called Sarah Parker rather than Mimma as the former tended to have more of a central focus in many of the London scenes when Mimma faded into the background. Even when Mimma was imprisoned, I felt the actual spotlight should have been on Mimma instead of Sarah – but a minor point. However, I would have liked her character to have had a couple more solo (or longer solo) numbers as I felt her friend Sarah, the jazz singer, had more of a spotlight on her vocally and despite Sarah's role, Mimma was, of course, title role.
Mimma's brother, Aldo Marini played by Jason Barry-Smith was outstanding. He completely embodied the life and soul of a young man leading the resistance by running the family's underground newspaper while fiercely protecting his sister against his 'friend' Gino who seemed to be kowtowing to the Fascist regimen. A beautifully sonorous baritone voice with the smoothness of a fine Italian red wine combined with a stage presence imbued with subtly, depth and soul, Barry-Smith was the dramatic centre-point of the Italian side of the story.
The true mother of the cast was of course, Mimma's mother, Ada Marini played impeccably by America/Canadian soprano Suzanne Kompass. Her portrayal of the quintessential Italian mamma was exemplary and the operatic duet with her son Aldo, one of the highlights of the show.
A heart-wrenching performance by Brendon Hanson as Gino, whose unrequited love for Mimma falls on deaf ears as she focuses on her work against fascism despite being later exiled to London for her own protection. The development of his character gave an extra twist to a very enticing plot. Dramatic, convincing and always in character whether singing or dancing, Brendon Hanson is the "Every Man" in the theatrical world. He is Perth's very own Hugh Jackman!
Brilliant in this Italian role and light on his feet in the dance numbers, much-loved Igor Sas typified old Italian Uncle Lorenzo running his Soho night club. He was a joy to watch! However, I would have liked to have heard his strong Italian accent flowing into his songs not just his speech rather than the Noel Coward-esque style of singing he adopted.
Ian Toyne was a powerfully commanding force as Senior Constable Talbot – the archetypal bully, and one that stood for no negotiation but shear brutality – a symbolic character representing racism, the British treatment of alien Italians at the time, and mirroring Mussolini's macho movements in Europe.
Notable mentions must go to the Gardeners, Caroline McKenzie and Geoff Kelso, who popped up between scenes as way of commentary on the greater world events – when not pulling up weeds or transporting a Christmas Tree as if a dead body! Like the two old Muppets in their theatrical boxes, these characters punctuated each scene with their wit and variety of characters – and accents.
One point I would like to suggest is that in the sudden transition from the decline of Uncle Lorenzo on the ship would have worked better had the spotlight gone on to the decline of Ada Marini straight afterwards or in conjunction with. Then I believe the Trio with Mimma singing along with the two spirits of her loved ones would have been a more powerful. In its current form, the two scenes were abrupt, disjointed and did not work to their full potential. The killing of Ada should have been more shocking – even horrific – but it was a lost moment.
Despite this hiatus, the level of talent, script-writing, musical composition and production is worthy of the West End Stage with its epic cinematic special effects together with sweeping operatic melodies, big band brassy sounds and grand scale orchestration, all performed by the virtuosic versatile Perth Symphony Orchestra under the expert baton of Musical Director and orchestrator Sean O'Boyle.
Overall, Tosca meets West Side Story in this riveting epic operatic-jazz-musical that should – and must endure the tides of time with its historical content, poignant themes, eclectic characterisation, and mellifluous music. The collaboration of composer Ronald Siemiginowski and librettist Giles Watson is a new match made in musical heaven and I hope they go on to produce more breath-taking shows in the future. I wish the production – and the creators well!
Mimma is at the Regal Theatre until Sunday 21st April. Tickets and more information available from Ticketek.
Fiona Cooper Smyth
---