Review | The Play That Goes Wrong is just so right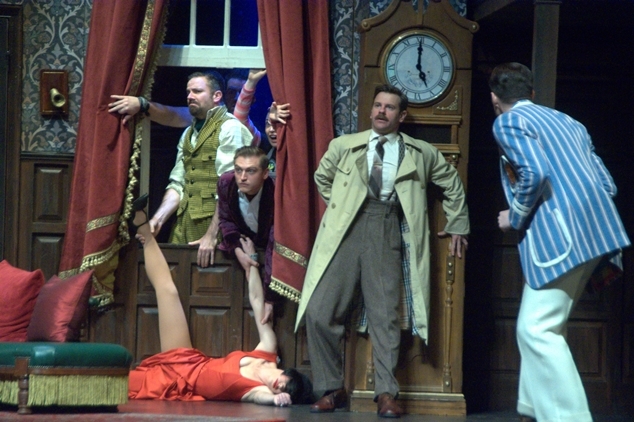 The Play That Goes Wrong | His Majesty's Theatre | Until June 11th |  ★ ★ ★ ★ ★ 
The risk of disaster has always been a double-edged sword in the theatre. Just one misstep could have the audience in fits of laughter. Whether they laugh with you, or at you, is in the performers hands.
The Play That Goes Wrong takes the live disaster to a new extreme, as an ensemble of actors fumble through their latest murder-mystery production with hysterical, and at times physically painful, results.
The performance opens with the fictional Cornley Polytechnic Drama Society director introducing the troupe's latest murder-mystery, setting the tone as he laments the group's past disasters and insisting this time will be different. (Spoiler: It wasn't!).
As the play unfolds, the murder-mystery takes a back seat as the audience howled on the edge of their seats waiting to see which set piece would fall from the wall, or which actor would be injured next, even whether they would even make it to the end alive.
The ensemble cast have the most incredible chemistry, delivering each line in deliciously hammed-up accents that can only be described as "generally British." Each character has their own foibles, whether it's the butler's delightful mispronunciation of complex words, the brother of the deceased performing over-the-top interpretive movements to each of his lines or Neighbours alum Brooke Satchwell making the creative choice to dance instead of walk – the cast were equally riotous in their intentional on-set failings and melodrama.
It's not hard to see how this show had such successful runs in both the West End and on Broadway, as there was hardly a moment where the theatre wasn't filled with cacophonous laughter from the His Majesty's audience. The Play That Goes Wrong is an incredibly silly and incredibly brilliant farce – an absolute must-see comedy.
The Play That Goes Wrong will be at His Majesty's Theatre until Sunday June 11. Tickets and more information available from Ticketek.
Leigh Andrew Hill