Review | Puppet Guy brings non-stop laughs to Circus Theatre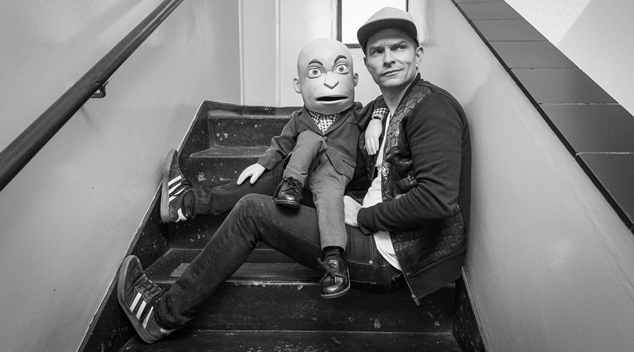 Puppet Guy | Circus Theatre / Comedy Shack Leapfrogs | til 26th Jan | ★ ★ ★ ★ ★ 
Now that I have regained control over my face, I can share with you the utter delight that is Puppet Guy! All I can say, is an hour was just not enough.
Conrad Koch has a performance write up that only seasoned ventriloquists can dream of! He is a double Emmy nominee, is proudly associated with Comedy Central and the Comedy Network and has performed at events like the Montreal's Just For Laughs! This South African ventriloquist is a mastermind of his field.
Every minute of Puppet Guy was filled with laughter and delight, so much so I had my first stitch in about 20 years.
There couldn't have been a Fringe tent better suited for Koch than the Circus Theatre at Fringe Central.
His witty political comedy teamed with his famous puppetry won the audience over within moments. His characters collectively and concisely deliver a cutting satire of modern society both within Australia and abroad.
Throughout the show he touches on many of the staple ventriloquism routines, but delivers them with exceptional flair and aplomb.
Of particular note, was Conrad's unique deconstructed puppet routine, and DJ Hoodie, but the characters didn't stop there.
He utilised the audience to add a one-time only spin to the show, using their excitement and amusement to add to his comedy. It's actually one comedy show that I am disappointed I wasn't in the front row for.
The end of the show came as a surprise, purely because I wanted the laughs to continue all night. There was not a dry eye in the house, young or old alike
For those familiar with ventriloquism as a performance medium, Conrad Koch's Puppet Guy is a must see and for those hearing the word for the first time, don't just sit there, introductions don't get any better than this!
Puppet Guy is at Fringe Central until Saturday 26th January, as well as a show at Joondalup's Comedy Shack Leapfrogs on Saturday 26th January. Tickets and more info at fringeworld.com.au
Brad Harris