Review | Swan Lake (Loch Na Heala) is not afraid of the dark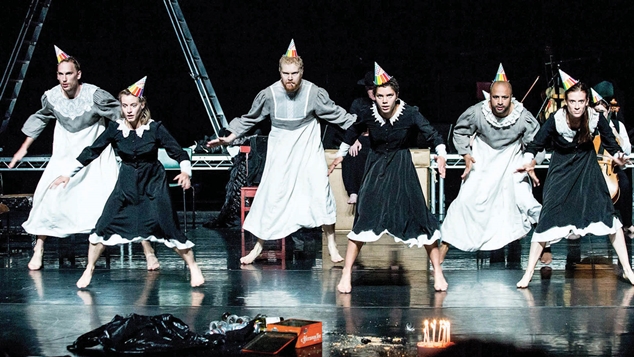 Swan Lake | Heath Ledger Theatre | til 17th Feb | ★ ★ ★ ★  
Dublin-born Michael Keegan-Dolan does away with point-shoes, tutus and Tchaikovsky's music for his dark retelling of Swan Lake, pointing out that the traditional ballet was based on a fairy tale that is much older than Tchaikovsky.
Keegan-Dolan has brought the sinister to the forefront with this uncompromising performance. It weaves Irish mythology, about a king's four daughters being turned into swans by their jealous stepmother, with the classical ballet story. Then the prince is replaced by John Carthy, an Irishman with depression who was controversially shot dead in 2000.
Not that the traditional balletic tale didn't have evil curses, depression, desperation and violent deaths. It's just that over time, in the original ballet, the grace and beauty of the swans has managed to overshadow the violent premise that women have been turned into swans in the first place. 
Haunting Irish-Nordic folk music replaces the classical orchestra and characters talk and shout obscenities to the audience. Slow Moving Clouds plays live on stage with the Finnish Aki playing the nyckelharpa, a medieval Swedish instrument; Irish Danny Diamond playing the fiddle and Swiss-American Kevin Murphy playing the cello.
This contemporary reworking comes with a warning that it contains adult themes including sexual abuse, suicide, swearing and smoking. Yet, despite the darkness of this desperate story, there are moments of exquisite beauty and even humour. Huge feathered wings are highlighted by the lights and become extensions of dancers' arms. The music is mesmerising, as are the dancers as they transform into beings of the dream-like fairy tale.
While the unsettling tale is somewhat familiar to the audience, the raw performance is confrontational and there were several people walking out on the opening night. This Perth Festival performance will divide audiences. While most of the audience stood to give the performance a long standing ovation, the couple sitting next to me were complaining that it had been a waste of time.
Keep in mind what writer, director, choreographer Michael Keegan-Dolan points out in the program – darkness is the absence of light and it is how we know what light is. "The darkness in any story is there to teach us something. Don't be afraid of the dark, it is your friend."
Swan Lake Loch Na Heala is at the Heath Ledger Theatre until 17 February. Tickets and more information available from perthfestival.com.au
Lezly Herbert