Review | Troye Sivan struts his stuff in homecoming show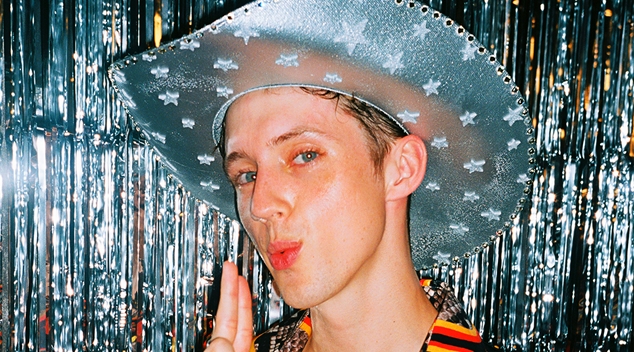 Troye Sivan | HBF Stadium | 16th September | ★ ★ ★ ★  
Troye Sivan received an enthusiastic welcome from fans as he returned home to perform his biggest ever Perth show.
Younger brother Tyde Levi greeted the crowd with a set of his own tunes. Last time Perth saw Levi in the support slot he was a DJ act, but now he's got a band and a decent set of songs. Triple J favourite Thelma Plum impressed the audience with her folk sounds and catchy songs. It was a relaxed set but Plum will have gained a stack of new fans.
The headline act stepped out from behind the red curtain and into the spotlight to rapturous rounds of applause and cheers.
Singing Seventeen the suit clad Sivan began the show with a low key delivery but soon he disappeared behind the curtain to join his four-piece backing band. Strutting and wiggling his way across the stage Sivan was full as swagger and was clearly having the time of his life.
The title track of Sivan's second album Bloom came next, followed by Plum. Sivan chatted to the audience, sharing that the last time he played in this space he was a teenager singing the national anthem for the Perth Wildcats.
Things slowed down for a moment with coming-out song Heaven but the dancing returned as we worked our way through Lucky Strike, Wild and I'm So Tired.
Each night a theme is given to the show, Sivan letting his loyal fans know in advance how they should dress for the performance, the Perth show's theme was '1999' a nod to his collaboration with Charli XCX.
Sivan dropped two songs from the published set list, he didn't perform Animal or Dance With You, his collaboration with Ariana Grande.
Instead Sivan added a different song just for Perth audiences, Suburbia is a song about growing up in Perth and Sivan said he wanted to sing it just for this audience. While some fans were clearly miffed at the two songs being dropped from the play list, it was refreshing to see an artist mix it up a little and not perform exactly the same show night after night, city after city.
An enthusiastic encore saw Sivan return to the stage wearing bagging pants, a nipple revealing corset and and a giant fluffy hat. His outrageous costume a homage to Pamela Anderson at the 1999 VMA Awards.
Sivan sang his breakout hit Youth with the standing area audience becoming a giant mosh pit of waving arms and flailing bodies. The show reached its crescendo with his dance hit My My My which changed gears midway cranking up the BPMs to become a rave-like euphoric climax. As the crowd went wild mountains of confetti burst across the auditorium bringing the  night to a close.
Two years ago we watched Sivan perform at the much smaller Astor Theatre to a crowd filled with teenage girls screaming at a Beatle-mania pitch. Now after the release of his more mature, and way queerer second album, Sivan's audience has diversified and now he's clearly doing it for the girls, and the gays.
Sivan is rapidly building arsenal of superb tunes and with each additional hit his live offering will improve, album tracks and weaker songs will quickly be replaced. Don't be surprised if the next show he plays in Perth is at the Arena.
Graeme Watson