Rugby club founder and HIV advocate among Australia Day honourees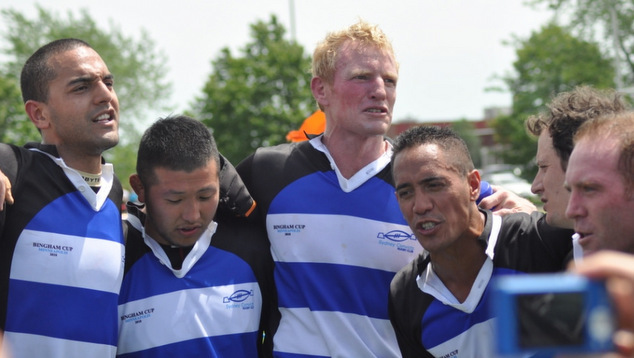 Andrew Purchas (pictured, third from left), the founder of Sydney's gay rugby club The Convicts, is among those named in today's Australia Day honours.
Purchas was awarded an Order of Australia Medal (OAM) in the general division. The award recognises his service to rugby union and the social inclusion of LGBTI people. Purchas told the ABC that he was thrilled to win the award.
"This represents the contribution of a large number of people in working towards equality in sport regardless of sexual orientation or gender identity,"Purchas said.
Alongside his work with The Convicts Purchas has also been involved in the development of the Bingham Cup and has served as a board member at ACON.
Also included in the awards in John Michael Rock, who is recognised for his advocacy work for people living with HIV/AIDS. Rock was named a Member of the Order of Australia (AM).
They join many well known and unsung heroes of Australian society who make major contrinbutions to the country in many different fields of endeavour.
From the world of music James Dixon Banes, Nicholas Edward Cave and Paul Maurice Kelly were all recognised for their work. On their covers of their respective albums they are Jimmy Barnes, Nick Cave and Paul Kelly.
Former Queensland premier Anna Bligh, former WA Labor leader Eric Ripper and former Prime Minister Julia Gillard were also recognised.
Local actress Jenny Daivs was awarded, she's currently Western Australia's senior of the tear, and 'stone the crows', actor Ray Meagher who plays Alf on Home and Away was also among the recipients.
Television presenter Andrew O'Keefe was recognised, as was opera singer Anthony Warlow, and journalist Peter Hitchener.