Sacked British teacher says all sins deserve the death penalty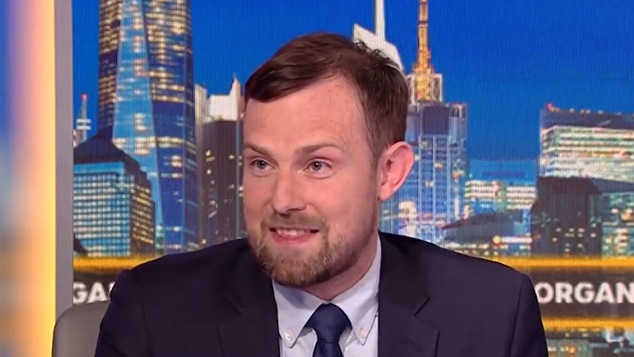 A British teacher who found himself de-registered by the profession's governing body has claimed that "all sins deserve the death penalty" while appearing on a British television program.
Warning: This story has comments about religion and violence which might be distressing to some readers. For 24-hour crisis support and suicide prevention call Lifeline on 13 11 14. For Australia-wide LGBTQI peer support call QLife on 1800 184 527 or webchat.
Joshua Sutcliffe was found to be guilty of "unacceptable professional conduct" and "brining the teaching profession into disrepute" by Britain's Teaching Regulation Industry. They found that Sutcliffe had failed in his duties as a teacher on multiple occasions over several years.

They documented accusations dating back to 2015 where the teacher had misgendered a transgender pupil in the classroom, in correspondence, and on national television. They showed that on multiple occasions Sutcliffe had expressed views that same-sex marriage and homosexuality was wrong, a belief in God could lead to people stopping being gay.
The comments were made during mathematics lessons at The Cherwell School, Sutcliffe failed to attend a disciplinary hearing back in 2017 and was dismissed from his employment.
They also claimed that after Sutcliffe moved to another school, he showed students a video that claimed society was lacking masculine men, children who grow up without a father are more depressed, and at greater risk of incarceration, teen pregnancy, dropping out of school and poverty.
Additionally, they found in the classroom he had made negative comments about Islam and Mormon beliefs. After a parent complained about his comments he resigned from his position.
Sutcliffe denied all the accusations, but the panel declared a significant about of the concerns had been proved, and banned him from teaching in any school, sixth form college, relevant youth accommodation or children's home in England. The teacher says he will appeal the decision.
Since the decision was handed down Sutcliffe has been out doing a series of media interviews claiming that he has been treated unfairly and appeared on Piers Morgan's nightly program on TalkTV. The program airs on Sky News in Australia.
Sutcliffe spoke about his advocacy against abortion rights and his devotion to biblical teachings, but things became unstuck when Morgan questioned his reliance on the scriptures.
The interviewer highlighted that the Bible also claims that people should be stoned to death for adultery, asking Sutcliffe if that was a view he supported?
'Well, that's the penalty for sin, Piers." he said.
Pushed on the issue Sutcliffe said he believed all sins deserve the death penalty. "All sin is publishable by death."
Piers Morgan said that while he agreed with his guests' views on pronouns and concerns about transgender youth, his calls for all sinners to be killed was too much.
Writing in the Australian edition of The Spectator, academic Kevin Donnelly from the Australian Catholic University said Sutcliffe's case was an "appalling and egregious attack on religious freedom and freedom of conscience."
OIP Staff
---
Do you need some support?
If you are struggling with anxiety or depression, support and counselling are available from:
QLife: 1800 184 527 / qlife.org.au (Webchat 3pm – midnight)
QLife are a counselling and referral service for LGBTQIA+ people.
DISCHARGED: [email protected] / discharged.asn.au
Discharged is a trans-led support service with peer support groups for trans and gender diverse folks.
Lifeline: 13 11 14 / lifeline.org.au
Beyondblue: 1300 22 4636 / www.beyondblue.org.au
---

You can support our work by subscribing to our Patreon
or contributing to our GoFundMe campaign.