Senator Janet Rice shares she's found love and happiness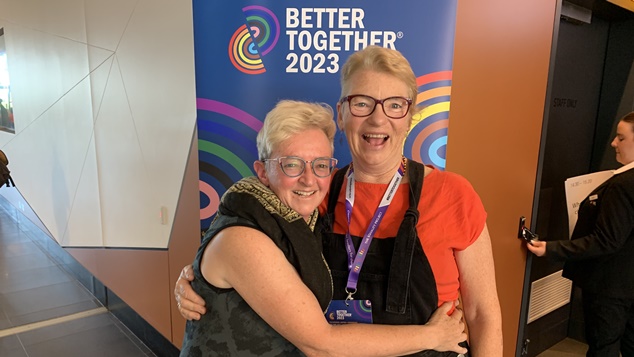 Senator Janet Rice took to the stage on Friday afternoon at Better Together 2023 to deliver a presentation on The Power of Love.
At the conclusion of her passionate and uplifting talk Senator Rice shared how she had found love again with new partner Anne.
Senator Rice opened her talk sharing information about her upbringing.
"I'm a middle child. I was the third of five kids, grew up in multicultural diverse Altona in Naarn, Melbourne. My mother was a teacher, my father was an engineer." she said.
"There was not a lot to go round with seven of us. Hand-me-downs were standard. But there was always food on the table, even if sometimes dessert saw us sharing a punnet of strawberries amongst seven of us."
The Greens senator shared that she always felt loved by her family.
"Growing up as a teenager in the 70's heteronormativity meant that, well I was heterosexual. I didn't have to go through any teenage angst or worry about my sexuality, I didn't have to any feel shame about who I really was. I believed in myself, and had no doubt that at some stage, I would fall in love. Which I did."
At twenty-one Janet Rice met Penny Whetton, who at the time identified as male.
"We married. We had kids. We lived and loved with busy lives. We had purpose in our individual lives, we negotiated everything and made decisions together. We challenged each other's mindsets and were flexible and accepting when things didn't go to plan."
When Penny shared that she struggled with her gender identity, Janet said the news came as a surprise.
"Penny had the courage to tell me about their struggles with their gender identity when we'd been together for 16 years and she had told no one up until then. I had absolutely no inkling whatsoever.
"She'd written me a letter that she gave me on going to bed one night, and we talked all night. My biggest shock was I thought that I knew everything about her and that she'd managed to keep this secret for so long.
"I didn't feel betrayed, just so surprised and amazed, and so sorry for her that she had felt that she had had to keep this a secret for so long, because she was so worried about what it meant." Janet shared.
Four years later Penny made the decision to transition, and Janet said it was a tumultuous time where the couples love was tested. One night when they were out dancing, Janet shared with Penny that she still found her attractive.
"After that her transition was absolutely unstoppable. And with our ongoing love, she blossomed, she was much happier, more outgoing, comfortable in her own skin. And I realized, of course, that I wasn't heterosexual. We went through a lot, and our love grew deeper through it."
When Janet Rice was elected to the senate Penny was her close confidant and biggest supporter.
"Our love was at the heart of the melodies, the harmonies, the rhythms of our lives. Our love was a collaborative process, creating music together, forming a living repertoire to be drawn from an added to.
"Our music came to an abrupt end when Penny passed away three and a half years ago, unexpectedly, of a suddenly cardiac arrest." Janet shared.
Penny had been staying at the couple's holiday home in Tasmania. When Janet hadn't heard from her, she asked some neighbours to look in. Soon afterwards she received a call with the devastating news.
Janet said she collapsed in the hallway of parliament house outside the senate. She managed to make it back to her office before she collapsed again. She describes the next few months as a blur, recalling endless tears and grief.
"Enormous avalanches of tears and grief. Grief, which is of course the flip side of love, and I remember the love of people around me." she shared.
As the months passed Janet shared that she began to find peace, and revisiting places that she and Penny went on long walks was a helpful part of her healing process. She spoke about how she began to appreciate that love was all around, with friends, family and colleagues, and the love she cherished with Penny still remained.
"The power landscape of love in my life has allowed me to be open to offering my love to the world, and to find the more love." Janet said.
Two years ago, she met Anne via online dating site Pink Sofa. The couple began dating, going out to dinners, and long walks in nature, and heading out on camping trips.  This week marks the first anniversary of the couple's second date.
"I want to publicly say 'Happy anniversary and I love you. I want to be with you forever." Janet said, introducing the audience to her new partner sitting amongst them.
After sharing how their relationship was progressing, Janet Rice left the audience with this thought.
"I wish you all the very best in finding love for yourself, your partner, or partners, your family, your kids, your friends, your community and then we can all feel that power that is interwoven with that web of life, that we're all part of, and let your loved ones know that you love them and know that all of life loves you back."
Graeme Watson 
We acknowledge that we are on the traditional lands for Kaurna people and that we respect their spiritual relationship with their country. We recognise and respect their cultural hertiage, beliefs and relationship with the land. We acknowledge that they are of continuing importance to the Kaurna people living today.

Better Together explores the current issues facing the LGBTIQA+ movement in Australia. Delegates representing Australia's diverse LGBTIQA+ communities and organisations have come together to share ideas and experiences, learn from each other, forge alliances and ultimately work together to build a better world for LGBTIQA+ Australians.
---

You can support our work by subscribing to our Patreon
or contributing to our GoFundMe campaign.