The Sex Party launch comical election advertisement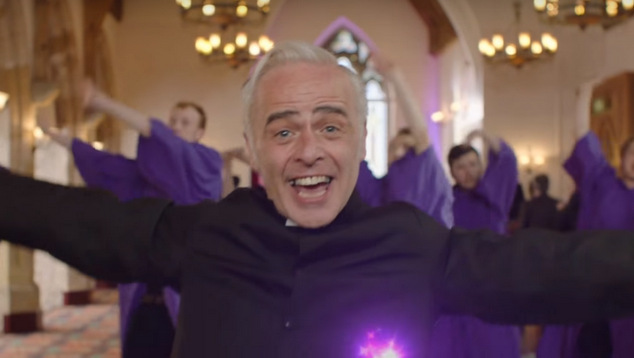 The Australian Sex Party has released their 2016 election campaign advertisement with a warning that it "smite offend some people."
The satirical video shows a priest singing a list of things that the Catholic Church does to make the "world less good." Performed to the tune of 'The Candyman', 'The Vatican Can' highlights the negative aspects of religious organisations.
Party leader Fiona Patten doesn't shy away from admitting many will see the video as blasphemous.
"It will come as no surprise that our election campaign ad is funny, irreverent, cheeky and well, blasphemous," Patten said. "But it highlights our legitimate policy of ensuring that religious institutions are transparent and accountable in Australia."
The party's lead senate candidate in the federal election, Dr Meredith Doig was quick to highlight the distinction between religion and charity.
"When we talk about taxing religion we're not talking about church schools or hospitals, St Vinnies or the Salvos – they can get charity status under 'Advancing Education' or 'Advancing Health' or 'Alleviation of Poverty'", Doig said.
"We're talking about cults like Scientology and mega-churches like Hillsong, which raked in nearly $80 million last year from operations like Hills Christian Centre, Hillsong Technology Services and Hillsong Publishing. They exploit this tax loophole to run businesses that otherwise would be subject to normal taxation."
"Yes our ad features dancing priests in a wonderful musical number 'The Vatican Can'", said Dr Doig. "Humour and music are often the best ways to communicate a serious message – it's time for religion to pay their way. I pay my tax – why don't they?"
"They do this in the name of advancing religion,'" said Dr Doig. "But what does 'advancing religion' mean? According to the High Court 'religion' means belief in the supernatural and acceptance of canons of conduct to give effect to those beliefs. In a modern and secular Australia, giving tax breaks for promoting belief in the supernatural is crazy!
"We say  'advancing religion' should be removed from the list of acceptable charitable purposes in the Charities Act once and for all.'
The clip has clocked up nearly 9000 views since it was released yesterday.
h/t OPI