Sharp Suits and Cutting Remarks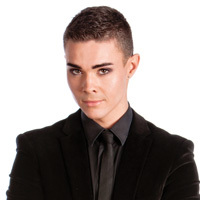 This year Project Runway Australia achieved a queer first, not only for the show, but for Australian television too. It was the first time on a reality TV game show that all three of the final contestants were openly gay.
Craig Braybrook, Johnny Schembri and Season 3 winner Dylan Cooper were all presented with $10,000 and two months to create a 10 garment collection.
It was clear from the outset that Cooper, the dark horse of the trio, had gone all out in the development of his final range: sharp feminine tailoring in outrageous '80s colours coupled with his McQueen inspired print on crushed velvet pushed bad taste beyond breaking point into something truly fabulous.
'I came into the competition with the desire and drive to win, but after the first episode and we got into the momentum of challenge after challenge, that drive certainly took a battering,' Cooper confided in OUTinPerth down the phone from Sydney.
'It was a hard road.'
While Cooper isn't the first gay man to win Project Runway Australia (avant-garde Antony Capon took out the title in Season 2), he is the youngest. At just 21 years of age, the sassy outspoken young designer – known for his catty comments and heavily pencilled eyebrows – has made the national fashion industry sit up and pay attention.
After all, we're only used to seeing crushed silk velvet when Elvis is painted on it, especially not as sharply cut modern suits and dresses.
'I've always really loved velvet. Especially when it is printed, because as a fabric it captures light really well. Velvets properties make it very luminous when it captures light because of the piles and the fibres,' Cooper explained.
'So of course that came up amazingly on TV.'
Cooper is now busy planning his trip to New York, part of his prize package as Season 3 winner. He also won a Suzuki Swift GLX, a six-page fashion feature in Madison magazine, and the opportunity to showcase his collection in a standalone runway show at Mercedes Benz Fashion Week in Sydney come May 2012.
Cooper's cut on the garments he showcased already smacks of a signature style. As do his cutting remarks during the show: he was particularly known for not holding back his opinion on the other contestants.
'Yes, that's accurate: I can be pretty cutting. In fact, all of the editing was an accurate portrayal of all of the designers. We were all incredibly big personalities. But as a group we got along really well.'
Series mentor Alex Perry might have to be careful: Cooper's cutting – both sartorially and verbally – could rival Mr Expensive himself, in time. And Cooper notes that Perry's input was invaluable: he taught Cooper how to edit, or have the guts to cut work that didn't fit, or was too busy doing it's own thing.
So what made the other contestants get cut from the show? Cooper believes it was stress that invariably lead them to make some awful choices.
'A lot of them just didn't cope with stress at all, so I learnt to take a step back, take a deep breath and come in with fresher eyes. Far too often they would over-think what they were making.'
So while this season coined the glorious catchphrase 'less stitching, more bitching', it seems the inverse is now true for Cooper: it's time to show the nation he can make it on his own. And, for the first time since Season 1 contestant Lui Hon, it seems Project Runway Australia might have found a designer who can maintain a relevance and career long after the cameras stop rolling.
'I think the key is to be as unique as possible and be honest, all the time. It's a rare quality. But it's respected.'
Dylan Cooper's collection with debut May 2012 at Mercedes-Benz Fashion Week in Sydney.
Scott-Patrick Mitchell
***