Switzerland explores the intriguing character of Patricia Highsmith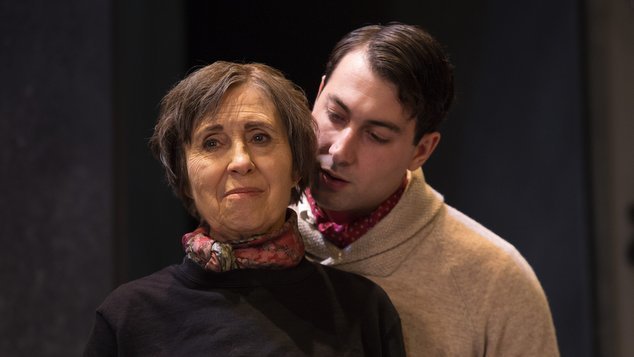 Switzerland | State Theatre | Until September 3rd | ★ ★ ★ ★   
There's been a lot of interest in the work of author Patricia Highsmith in recent years.
Her most well-know character Tom Ripley has featured in several movie adaptations, Cate Blanchett delivered an acclaimed performance in Carol, which is based on Highsmith's novel The Price of Salt, and Strangers on a Train made it the big screen as well.
Black Swan State Theatre Company have serendipitously timed this production, that dramatises an encounter with the reclusive author, at a time when political correctness is at the forefront of public debate. Highsmith is presented as a clash of new and old values, ideas and traditions, mirroring the battle we see in daily political discourse.
In her later years the author lives in solitude in the Swiss Alps, a young literary agent is dispatched on a mission to visit the prickly author. His goal, to convince Highsmith to write another book featuring her most famous character, the talented Tom Ripley.
The curtain rises on an lopsided set, the floor and walls are constructed on severe angle, giving the stage an almost cartoon look. The off-kilter world is well suited for home of a character who is not aligned with the modern world.
Literary agent Edward Ridgeway (Giuseppe Rotondella) arrives and begs Highsmith (Jenny Davis) to let him enter her secluded domain.
The pair banter back and forth in a exchange that plays out like the Wimbledon Grand Final. Highsmith argues against the use of email, freely fires off her racist thoughts, and launches multiple volleys of accusations at the timid young man who has darkened her door.
Ridgeway isn't an easy push-over though, and bit by bit he begins to get the reclusive author on side. They're two very different characters, but a flirtation and intellectual seduction is underway.
The intriguing part of this production is the ideas it provokes. In this fictional encounter Highsmith is presented as a woman who is at the forefront of pushing ideas about sexuality and gender, but she was probably repulsed by her own attraction to women.
She is shown to have a love of knives and guns, but also a great fondness for show tunes, which helps creates a complex multi-layered character. Highsmith has clearly racist opinions about people of many different nationalities, but also shows a disdain for America, the country of her birth.
With so much of our current political discourse dividing arguments into the simplicity of  'the left' and 'the right' it is intriguing to see this depiction of a woman who was progressive and reserved, groundbreaking in some respects, while also being a great traditionalist. Highsmith was clearly a woman who had many sides.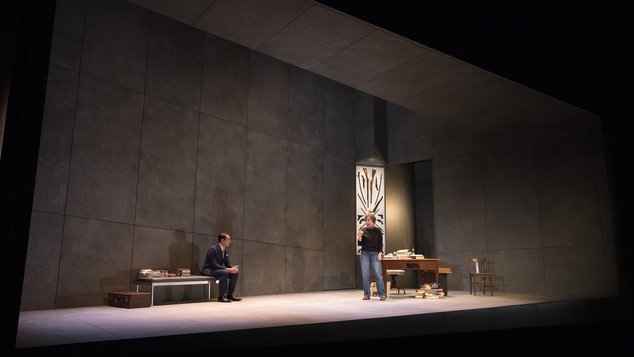 Joanna Murray-Smith is one of Australia's most prolific playwrights and off all her works I've seen this is the most engaging. It's fast paced, provocative and, as the story progresses, exceptionally creative. It's presented as a pseudo-thriller, mirror the style of many of Highsmith's works.
Jenny Davis delivers a great performance as the prickly curmudgeon author, it's wonderful to see one Perth's most experienced actors getting the chance to tackle and juicy leading role.
Giuseppe Rotondella, who recently graduated from WAAPA, successfully inhabits the part of Ridgeway. His character changes slowly throughout the play, developing in tiny increments, like a frog in boiling water.
The set created by Bruce McKiven is superb. It sets the tone for this surreal play, and possibly gives it an edge that previous productions of this work may have lacked when they opted for more traditional sets with views of the Swiss Alps in the background.
Director Lawrie Cullen-Tait has created a well paced, visually captivating and seductive work that allows many ideas to ricochet around a viewers head, just like Highsmith's character lobs books and insults at a young man who is brave enough to enter her world.
Switzerland is on at the State Theatre until September 3. Tickets available from Ticketek. 
Graeme Watson, images: Philip Gostelow
---
Support OUTinPerth
Thanks for reading OUTinPerth. We can only create LGBTIQA+ focused media with your help.
If you can help support our work, please consider assisting us through a one-off contribution to our GoFundMe campaign, or a regular contribution through our Patreon appeal.